North Shore Golf Club - Christmas Tournament ~ 12th December 2014
Fellow golfers,
I've been asked to pen a short note about the MWSS game at Nth Shore prior to Christmas, including a couple of stories from the BBQ at Macca and Sues.
Unfortunately I can't remember yesterday, let alone a month or so ago. So I have relied on Macca's good book keeping on the day to at least get the correct trophy winners.
And the winners are:
Virgin Chico won with an excellent 43 points just piping JA with 42 points leaving him with the plate, Bangers picked up the Shot AGAIN with 72 points and Chief took Glugs Mug as part of a Treaty claim with 28 putts.
The losers were:
Russ and The Phatz no more need be said about that. Both El Presidente and his Lieutenant were unavailable to play due to a rush of powdered snow in Whistler. (both was subsequently fined for their shit planning).
Macca and Sue kindly open there doors to us somewhere out in the bush, where we indulged in a superb spread, perfectly cooked by head chef Macca, and his son Lachlan washed down with some fine wine and the usual beer and bourbons. Virgin Chico having won the cash was extremely generous with the funds, so there was plenty flowing. The music always sounds better when the vinyl's are on the turntable, and the McGregor's had a good range of old school stuff to sing and dance to. Winners of the quick step/waltz, and jive went to Chris Utton and Ange Ferg, whilst the singing was a resounding draw. Schooner was once again the loudest! The Rolely Polly competition down the hallway was outstanding, but once again I can't remember who won. I think Dowdy got stuck half way down.
It was also great to catch up with the better halves … they don't care what we scored or how we did it hole by hole, a pleasant change with some refreshing conversation. Huge thanks to the hosts, which had us in Great Spirit with lots of laughs heading into the Christmas break … and to the Hattaway's for being a last minute taxi cab.
Happy New Year team

Ferg



Helensville GC ~ 14th November 2014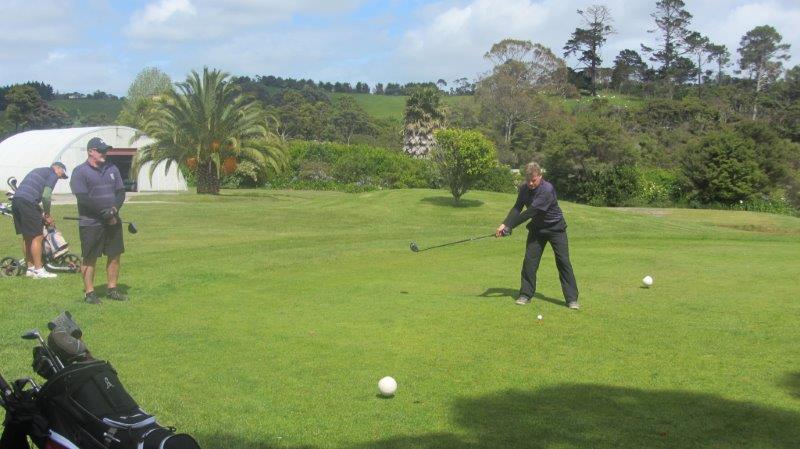 A great start to the day with a bus trip out to Helensville. Unfortunately Rat made a brilliant entry forgetting to take his car out of gear on stopping, sending it through a beam outside the coffee shop we were meeting at. No real damage to the car but he totalled the beam. After calming him down with a coffee and breakfast, the bus turned up from the Poe at Greenhithe and 14 players were off and the remaining 4 met us out there. The dubious weather held off and we experienced a great day of golf.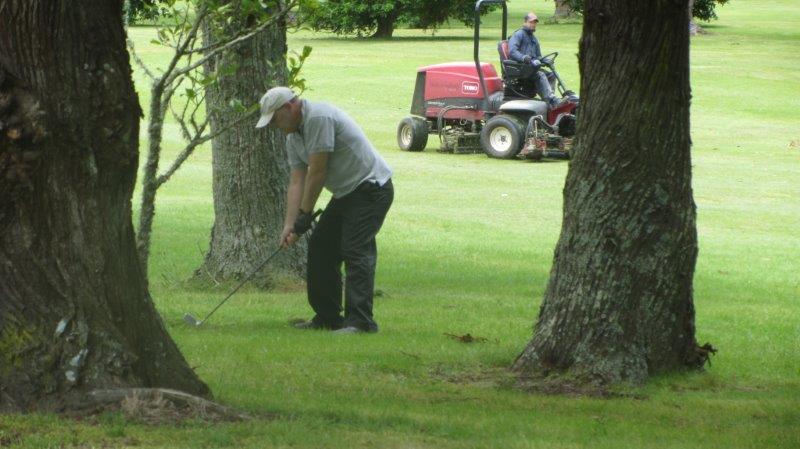 Four balls were drawn out using the lovely ladies of Greenhithe who also gave each player a player for the sweepstake for the day. The course was in great nick even with all the rain we had over the last weeks, but most still struggled with their lack of natural ability for the game of golf.
The story of the day on the course was Grandad coming under a bit of work pressure by phone that saw him walk off the course so he could concentrate on the problem at hand. This has not happened since the KP incident at the Grange back in 2011 Fortunately for Macca his disappearance left him able to win the final holes which wasn't happening with Grandad as his partner.
H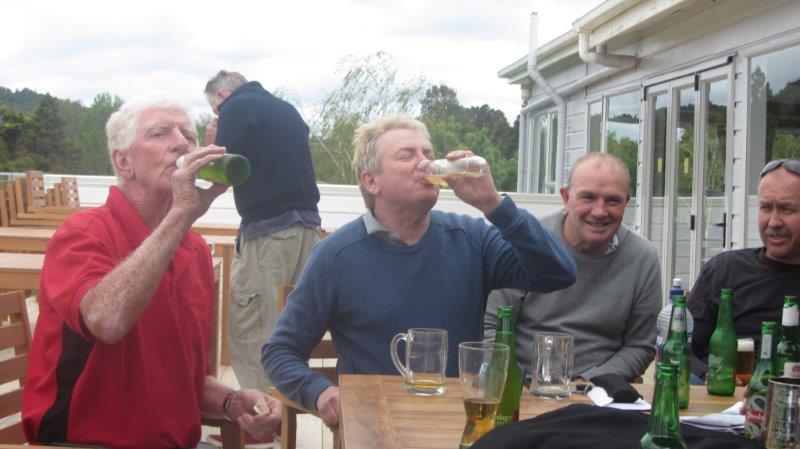 elensville has recently added a great balcony to the front of the club house which the group was drawn to with the sun now out.
New addition to the day was presented by the glass blower extraordinaire Chris Utton 2 glass Dicks that hold a nice amount of beverage. Of course to be presented to anybody that deserves it on the day. Fortunately we had two … one for Rat and one for Grandad.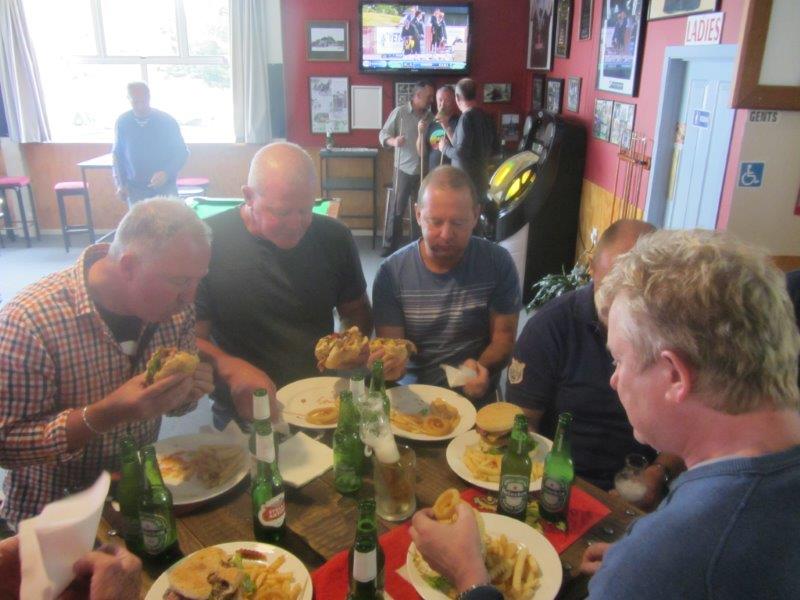 Unfortunately for Grandad he also picked up Putted Like a Pig, Played Like a Sheila and the Cricket Award for highest score. That's what happens when you don't finish your round.
Those that didn't walk off and actually played good golf were Bangers who picked up Glugs Mugs and the Shot for a great round of 78 and only putted 26 times. Schooner played well to his handicap picking up the Plate, but the winner on the day was Chief who was just short of the money with 39 stabies. His game from tee to green was outstanding and he was the deserved winner of the Trophy on the Day.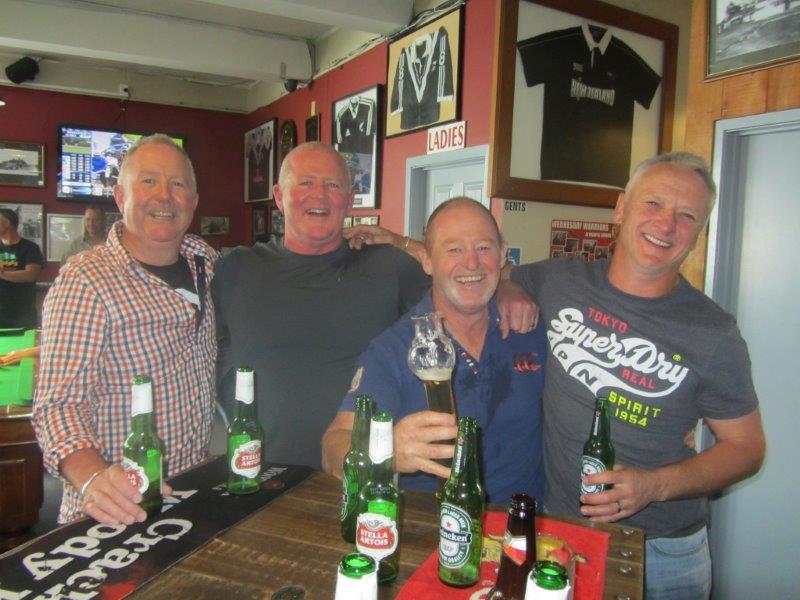 Beers consumed we thanked the club for their hospitality and began the pub crawl home. First stop was the Waimauka Pub for a hell of a burger, a few beers and a chance to show of the pool skills. Next was the Riverhead then to the Greenhithe Malthouse where we were met by Browny and Chris for a few more ales. The bus then left with the remaining group for the Poe and from there the story gets a bit vague … so I'll leave it there.
One more game to add to the list and a few more stories to add to the memories.

The El Presidente


Day 4 ~Northern Lakes GC ~ Blackout Day ~ 18th October 2014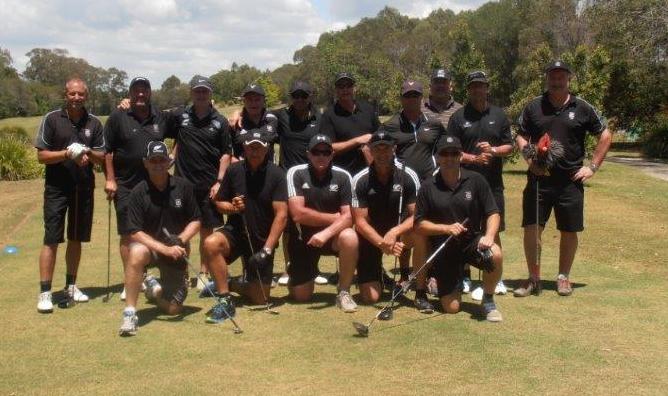 With my wife's final words before we departed "you're not 20 any more, behave yourself" ringing in my ears after 3 nights on the large (4 for Boba and Macca) I sat solemnly in the van contemplating our "Black Out Day" at Northern Lakes, the final golf destination for the Sunshine Coast Golf tour 2014.

Questions were thrown around, could Chief bring home a victory after 2 wins? Were Ferg, Bangers, Broomy or Ernie going to storm home? Would 2 Guns prove to be a pop gun?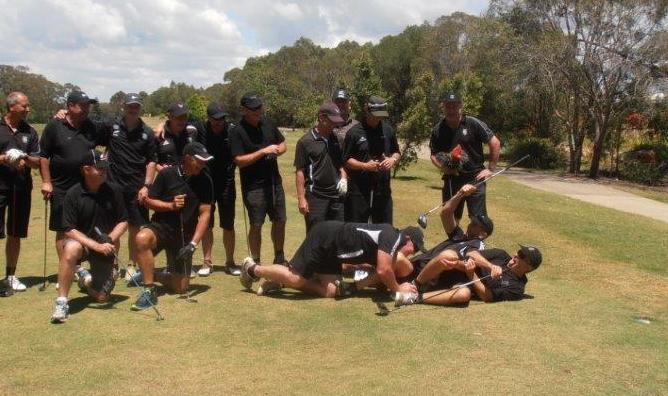 So, with much anticipation the first group tee off lead by Boba looking great in black (great choice of colour on the hottest day of the tour!!) Boba after spanking the ball down the middle all day the previous day pulls one straight into the woods, cruel day ahead!!
So the results:
Best gross/ stappies - Bangers (although test results have yet to be confirmed!) 79/35
Plate - 2 Guns (34)
Most Golf - Boba (117)
Most putts - Boba (41)
Glugs mug - Craisy (28)
Next to the pins - Ferg & Broomy
Longest drive Brutus
Team room comp - Bangers/Muzza/Broomy/Brutus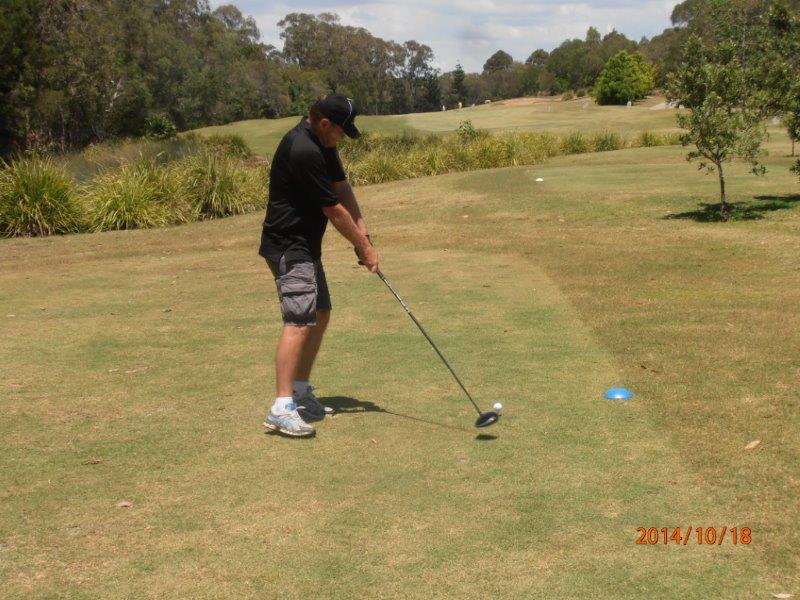 Awards were presented in the van on the way to the test, surprisingly a few more beers were consumed! A few man hugs after the final whistle then into Brissie!!
Day 5 is another story altogether!!
Schooner (aka Puna)
Minister of Alcohol

PS forgot least stabbies, must have been me (15)!

Day 3 ~ Noosa Springs ` 17th October 2014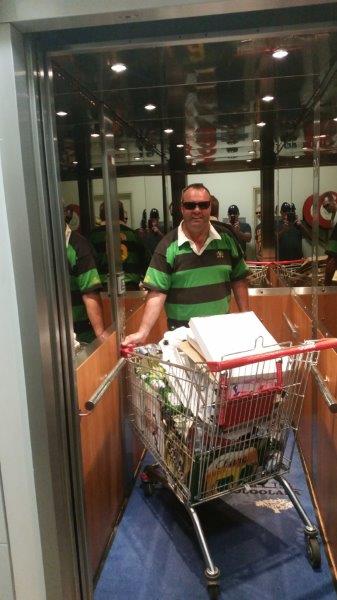 It's an accepted axiom that the 3rd day on tour is moving day. In fact we weren't packing our bags and moving to Brisbane until Day 4 but there were one or two notable movements following the previous evening's "party from Hell" – but more about that later.
Moloolaba served up another gorgeous morning though without daylight saving the 5am sunrise is a bit hard to take especially when the body clock is still screaming NZ time – 3 hours ahead. A few of the lads tested the beach front exercise station but most trickled to breakfast a little later. Our golf challenge for the day was to be Noosa Springs a 40 minute drive north of Maloolaba. This is a very well maintained resort course and should normally be an absolute pleasure to play. It boasts 69 bunkers, 10 fresh water lakes (in play on 12 holes), abundant wildlife all fitted into the par 72 course.
Despite the heavy late night before we arrived at the resort course with plenty of time for most of the guys to take on a bucket of balls and warm up appropriately. The practise facilities were arguably the best of the 4 courses we played with a large putting green and separate chipping green with bunkers to hone one's short game before the challenge ahead. The practise seemed to work for many of the lads as there were some impressive tee shots off the first, a tight enough fairway with trees left and right.
Just a quick note here about the dress code for the day. Originally it was to have been wear the socks from the rugby club you played your senior rugby with. Apparently this was far to hard for 16 out of the 17 tourists and the theme morphed to "where what the fuck you like day". You can imagine the author's surprise when accused of downy behaviour for proudly wearing his University of Canterbury socks, newly obtained from the Club Captain who thought the rugby socks theme was an excellent call for the tour.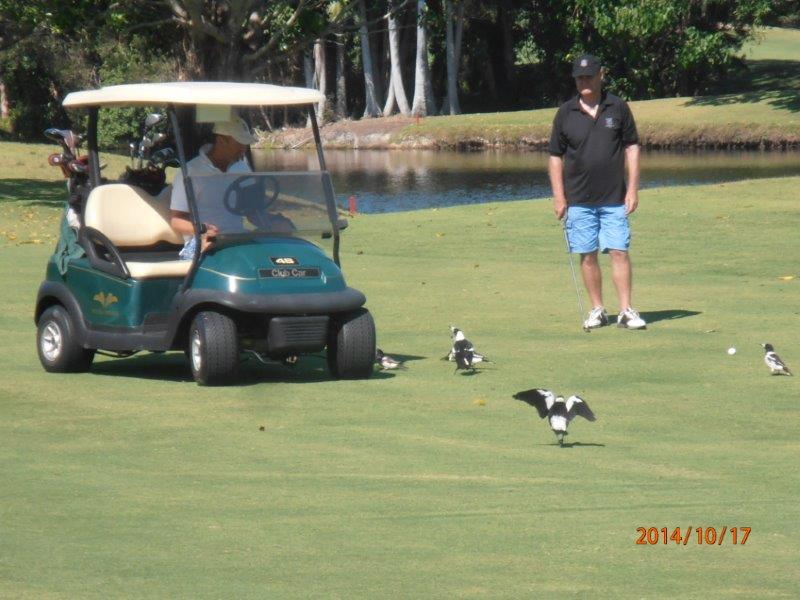 Chief had shown such good form winning the first 2 rounds on tour that I was ecstatic to have him as my playing partner against Ernie and Jonny Leylow. Unfortunately big Nev had other plans and spent most of the previous night (party at Ferg & Co's) making it his sole aim to ply the Chief with Tequila. Chief and Muzza were actually doing their best to find the bottom of the bottle of Scotch they'd bought on the way home so needed very little arm twisting to follow Nev's encouraging lead. The upshot is that Chief needed a half hour nana nap in the men's locker room while everyone else was hit balls on the driving range; he didn't really talk until about the 6th hole; he didn't start playing any decent golf until about the turn and didn't become really animated until after his second beer at the 19th. Despite this I'd have to say he finished in 4th with a creditable 27 points.

For those that haven't toured you may wonder why all the stabies are much lower than you might expect. It's a combination of difficult courses; lots of water; plenty of bus;, no shortage of wet and/or lost balls; most are playing the course for the first time so don't really know the best way to play each hole; and it's just being on tour – late nights, time zone affects, etc. I think the highest winning stabies on any of our 3 o/seas tours was achieved on this trip being 35 on Day 4. 31 points won the day on the 1st day. It was 33 points at Noosa Springs and a different format on Day 2.
And so to the winners on the day:
• Top effort by Ferg to take the trophy with 33 stabies
• Dowdy won the plate with 27 points
• 2 guns Phil and Ferg took the closest to pin awards
• Ferg smashed the longest drive in the 18th with what was a monster, though there was at least 1 20m head wind blew up as our four arrived at the tee
• Macca took home the putting trophy with a very creditable 30 putts and to that point on tour informed that he hadn't had one 3-putt
For the record at the other end of the field was:
• Brutus who reckoned he was fortunate to get 14 points
• And Bobba who clearly didn't find the greens much to his liking with 43 of the little buggers
All in all a fantastic looking course which generally we probably didn't do proper justice to. However that is the story of the tour. To balance this once more we were able to conjure huge camaraderie; stacks of laughs; and a fantastic memory with all the very good bastards on tour.


Hatt
Minister of Photos

Day 2 ~Pelican Waters~ 16th October 2014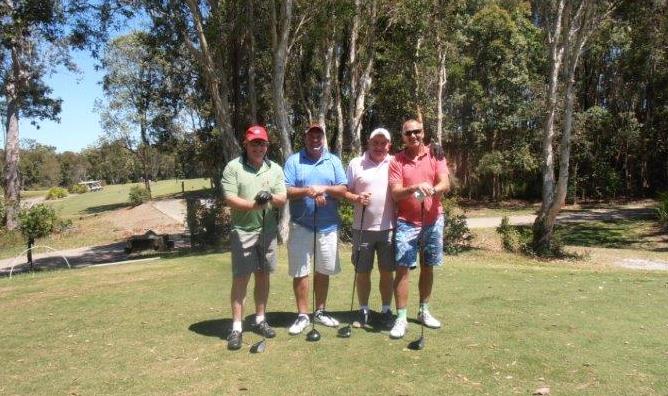 Located in the stunning surrounds of Golden Beach "Coloundra"
It is the first Greg Norman designed course to be created on the Sunshine Coast, it is also ranked No 1 for the Sunshine Coast and #55 in the top 100 courses in Australia. This spectacular 6289 metre course also features an amazing club house and spa facilities and that is when I made my 1st mistake, should have stayed in the clubrooms for massage and spa (happy ending), Happier than I did anyway.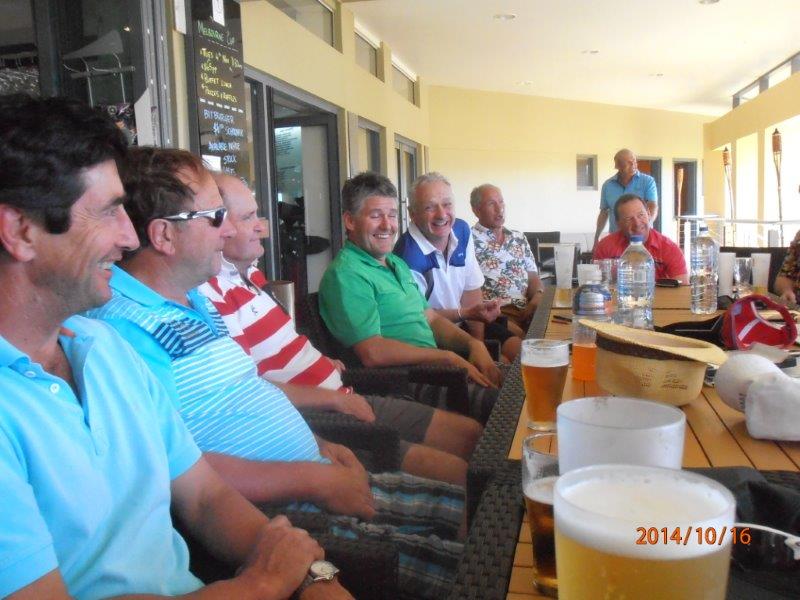 Another great day, warm and sunny we also had a bit more time to practise on the putting green before heading off for an excruciating game of golf. The course has 66 bunkers and is surrounded by water and the odd Pelican, anyway I think I found all 66 bunkers and as Neville said should have been named Archie.
Anyway the whole game was a bit of a blur, I sincerely believe I was in a catatonic state, which I might add didn't improve for the rest of the week and beyond.
Anyway finally back at the clubrooms for many a Peroni in large glasses, yum one glass in particular seemed to follow us on the bus "Ferg".
So for day 2 - Chief managed to pull off a double header for a win with 34 stb, Sandy (aka two guns) close 2nd winning the plate with 31stb, Ferg – glugs mug with 30 putts and Bangers on best score 83. Well done boys, I was right behind ya.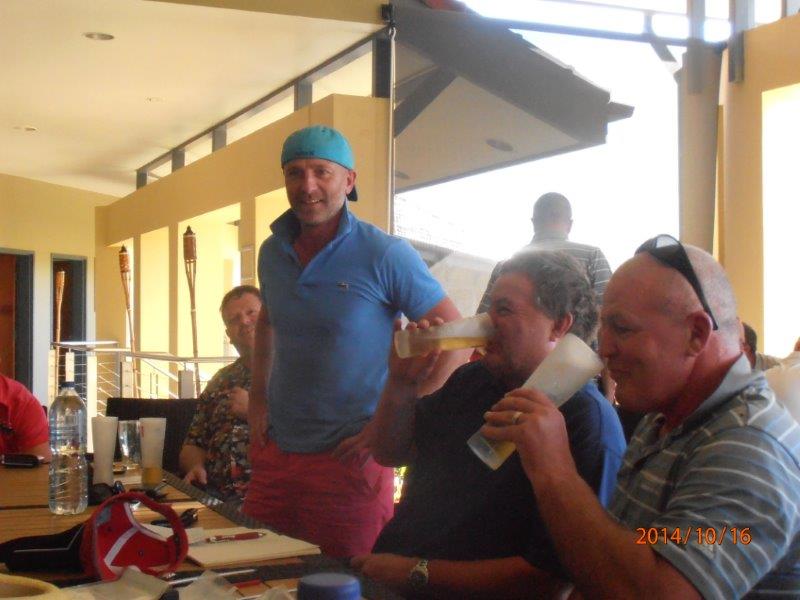 Then the main event began, no sooner on the bus and we stopped to pick up a few supplies, myself of course and Hatts were the beer bitches, well-earned I might add, bus trip home music and bad singing. Back at the apartment Ferg offered his room for some light refreshments, (beer bitches) on a mission to get some "more" refreshments and snacks.
This is when any sane person would have said I have had enough, "yeah right" the night went on as the party from Hell continued and the conversation and clothing became more animated and less of and this is also where my memory gets terminally/permanently affected, all I remember is that it was the most expensive Pizza's I have ever had in my life and apparently they make lousy doormats.
All in all another great day on tour
Boba
Minister of Finance
Day 1 ~ Palm Coolum GC ~ 15th October 2014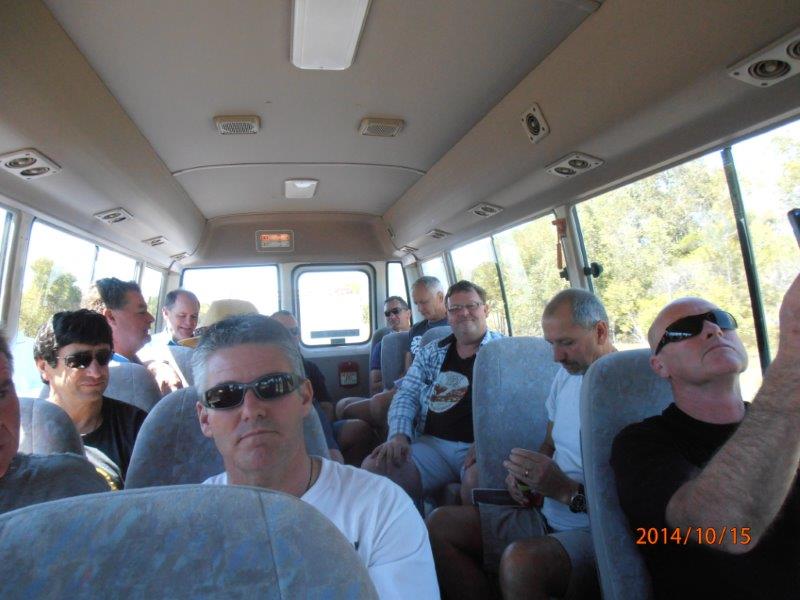 2.15am… awake… in anticipation…. 3am .. alarm was meant to go off…..
3.30am en-route to the meeting point …. Dowdy's neighbours were mighty impressed with the excited chatter – the Bays boys like little schoolgirls as usual….
4am.. finally Ernie and Cat arrive.. we are off….
We loiter in the airport and do the usual procedures… check clubs, bags, Dowdy weighs in at 22.9 kgs… plenty of room.. could have bought that block of cheese after all!!!
As we are all on different flights.. the first of us leave and head the "West Island"….. getting thru customs at Brisbane was like spaghetti junction on a long weekend Friday at 5.45pm!!! Bedlam…..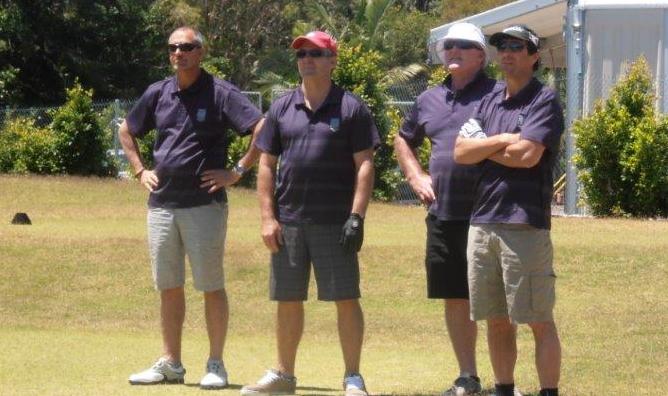 Finally we are thru – and into the van – Macka greets us all and we are off… a 2 hour drive.. so the banter starts..
We arrive at Palmer Coolum ready for the challenge.. but starting to wane a little from the travel… the locals are really friendly.. whilst putting on the practise green Dowdy turns to see one of the local Crows skulking off with his $8 sandwich – complete in the plastic wrapper – taken from the pocket of the cart!!! You can imagine how much that upset Dowdy… only one thing worse than stealing his food… stealing his beer!!!!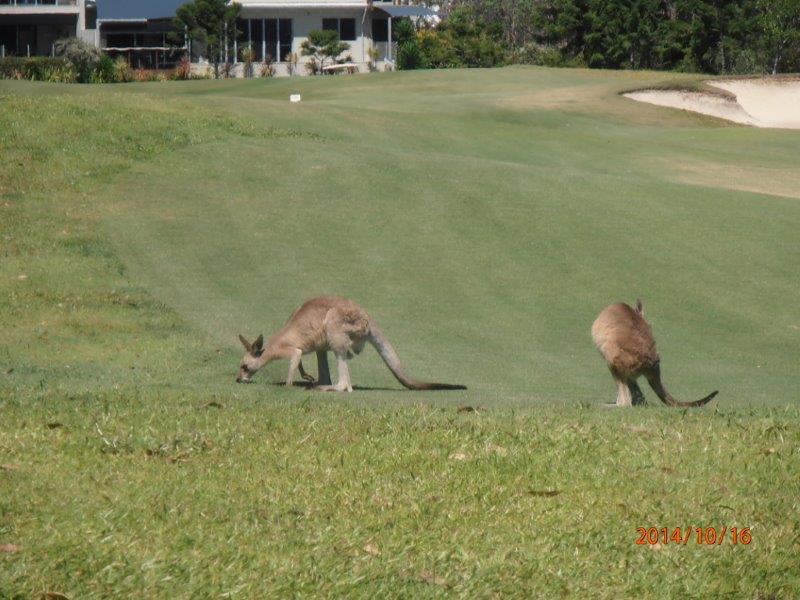 The first tee.. and we are all there to watch Schooner (Puna) set off in his cart at 100 km/hr and off falls his bag and clubs… rule 1.. secure your load!!!!
The golf proves.. challenging…. Hole 1 - hatt pulls out a 5… the rest of us.. 7 8 8…… !! mmm
3 holes in .. playing blind and if you don't hit the fairway you are toast… water or snake infested undergrowth…… sometimes both…
The course proved challenging for ALL… tho the Chief sneaks in with a reasonable effort and takes away the $...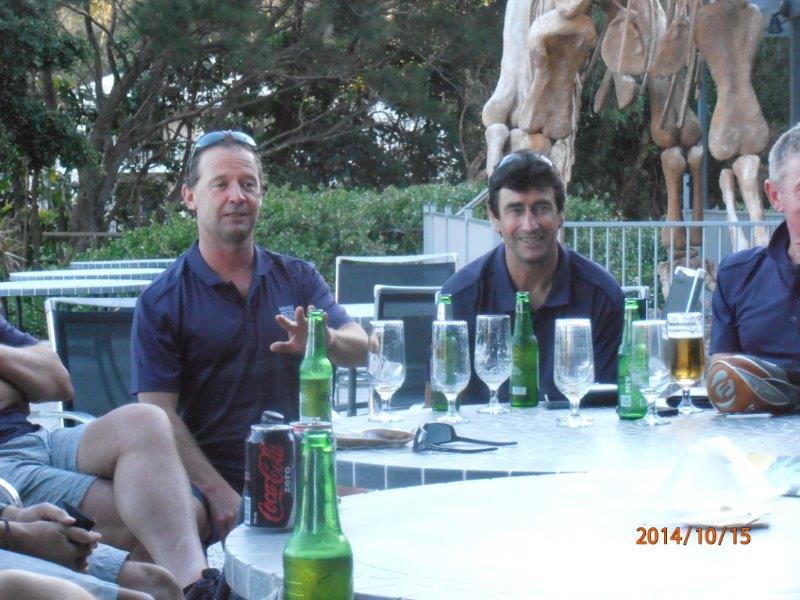 The 19th… a welcome relief .. a few quiets…. Then the 45 min drive back… hitler driving the bus informs the boys that there are to be no beers on the bus…. This went down like a pork chop at a jewish wedding…. Needless to say.. there were a few grumbles….
But we get to our accommodation in Mooloolaba and are quickly ensconced in Macca's room, where Nev entertains us with his dj skills and a few of the local brews are consumed….. nice effort Scoon and Ferg for making the long journey to the supermarket and back to secure those…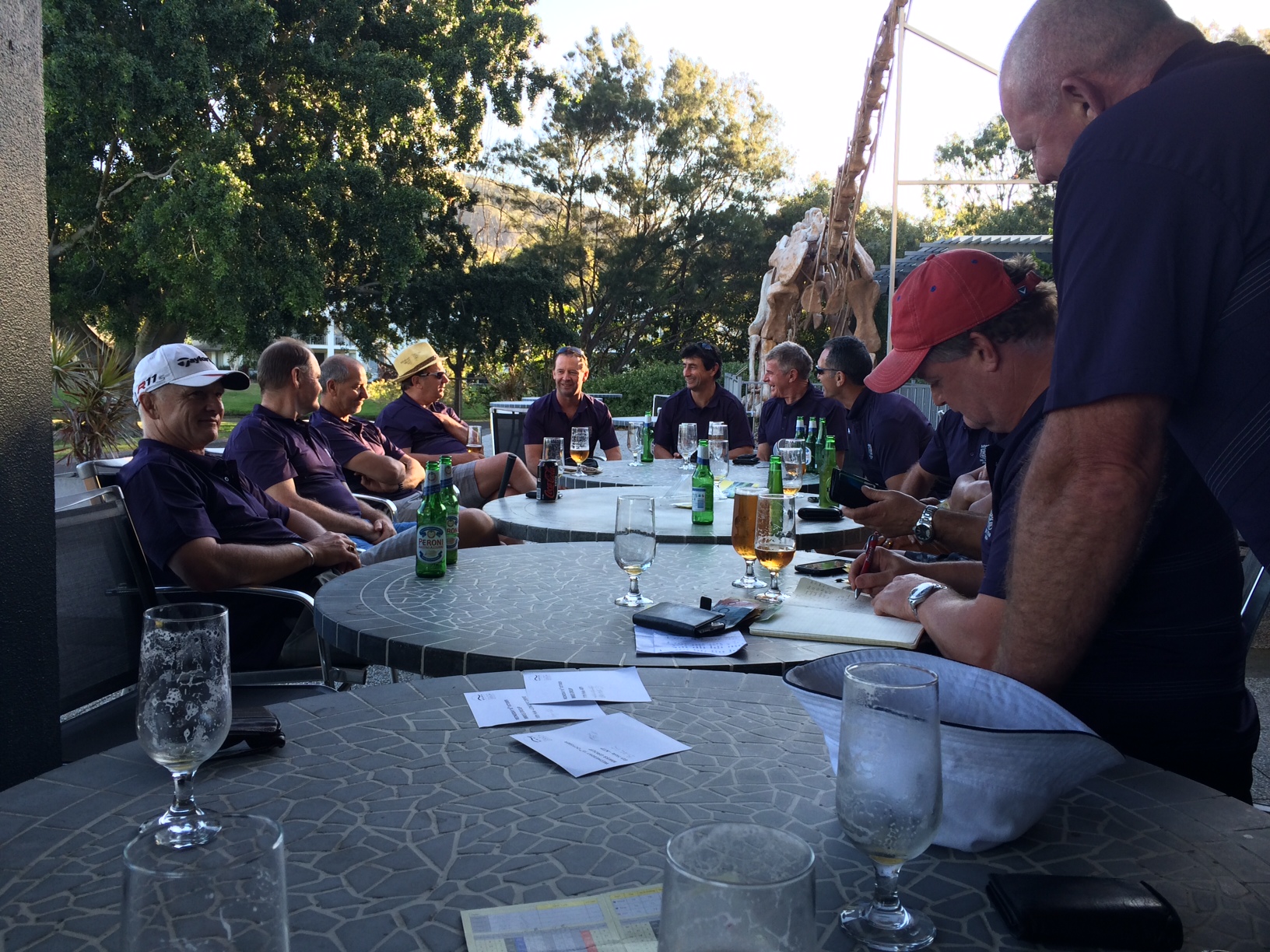 We then head to the local thai where Dowdy shows his quantity surveying skills that enabled him to pack a bag to within .1 gm of the weight limit extend to food ordering… a feast fit for 16 kings… we nail them, a few singhas and few vinos….
By 10pm.. most are knackered and back in the hut… a few.. "hungover, played sh$t golf, had a few beers" .. headed to the surf club…

But – after 23 hours up on the road… most were ready for bed… especially as the body clocks would have us awake before 5am ready for what day 2 could bring…. !!
Prizes: to be confirmed!!!
Best Gross – Ernie
Best Stabbies – Chief
Least Putts – Bangers?
DFL - Boba
Crazy
The Lucky Tourist


Waipu GC…. Gulf Harbour ~ 12 September 2014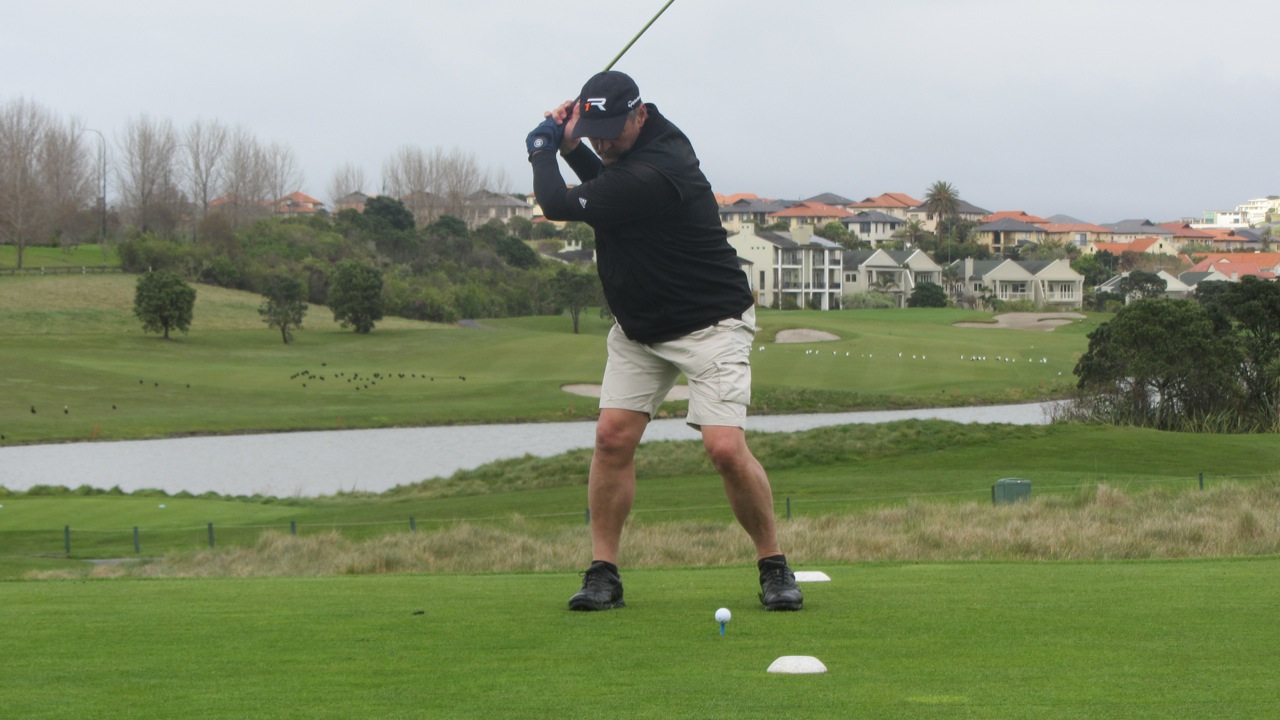 The plan for the day was to hire a bus and cruise up to the beautiful Waipu GC an hour and a half north of Auckland. Unfortunately it was not to be, we only had 12 takers for the day so we borrowed a people mover off KB contracting, rough and ready and purple it was but perfect for the rough mob we had on board. The second problem was the weather looked dodgy and the met service predicted heavy rain at Waipu about 10:30am when we were supposed to be teeing off. Plan B agreed by the quorum, out to Gulf harbour, tee off at 8:30 to try and beat the weather. Unfortunately we lost Begg on this call as he was half way up there as he was going to stay at his bach over the weekend. He was all good about it.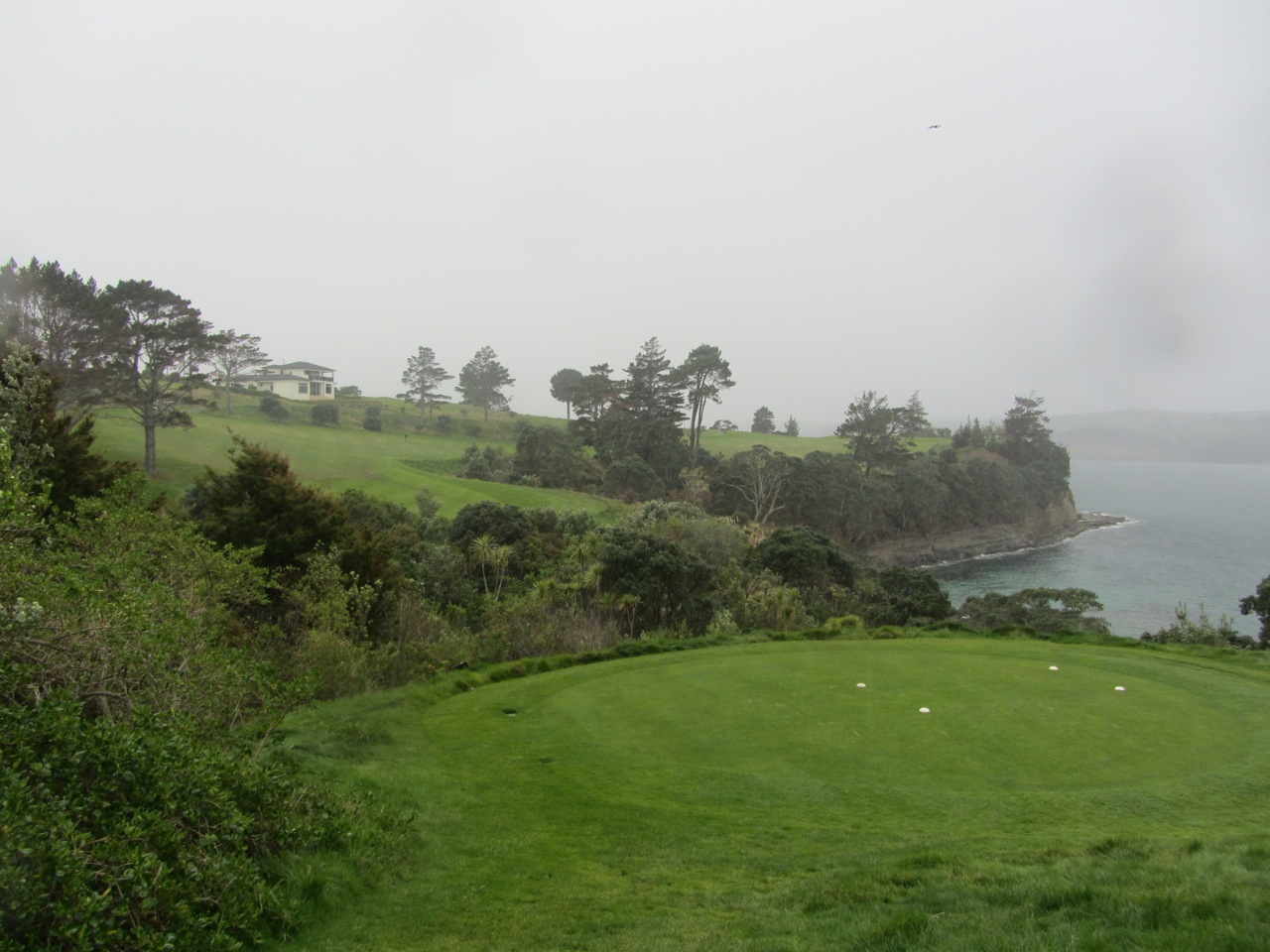 So off to Gulf Harbour we went, straight into carts and off we go. The course was wet in places but not bad, unfortunately the greens had been cored a week earlier and still on the mend, so pitching close was needed to keep your putts down.
All in all a great day until the first group was on about the 17th fairway then the heavens opened up. It only rained for about 15 minutes but it was heavy, then it was gone. It didn't matter as hot showers were waiting in the club house as was a good beer.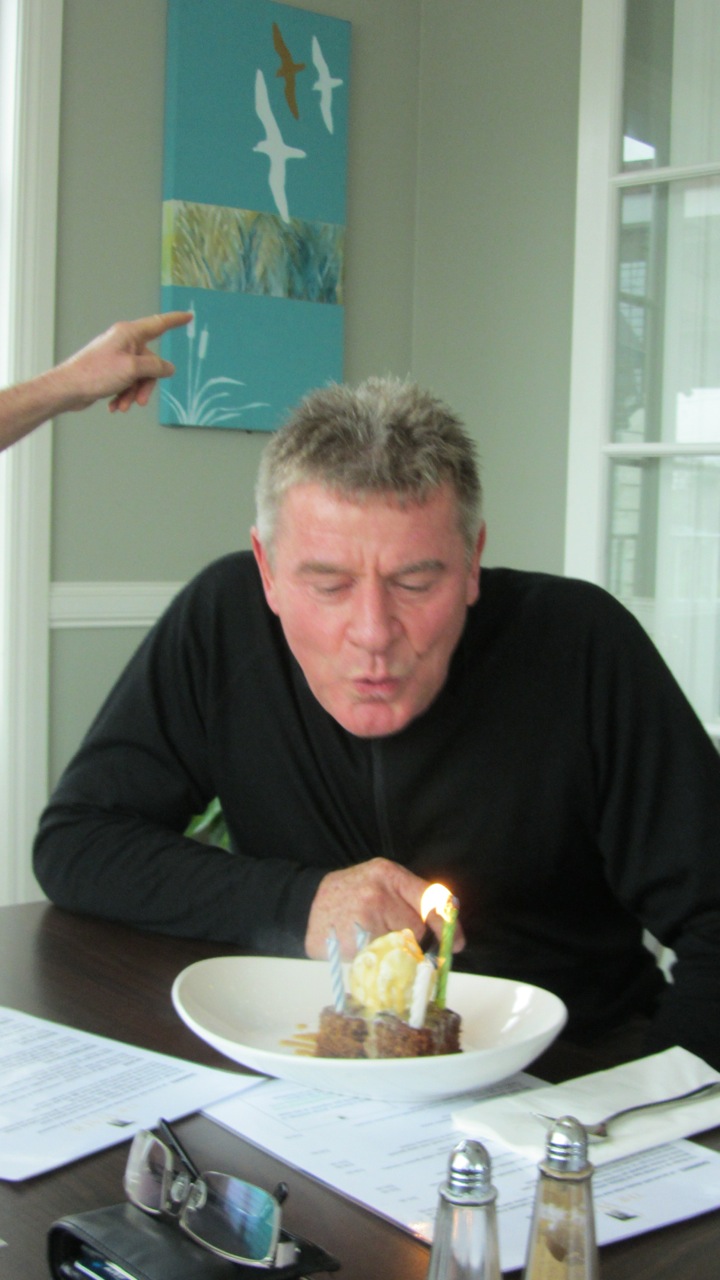 We had a quick beer and prize giving at the club house, as we had ditched breakfast for an early tee off we were all hungry.
The loser's on the day were PC with 39 putts, Hatts with the Cricket award with 111 and also the least stabies with 25. The winners on the Day were Ferg picking up Glugs Mug and plate with 31 putts and 35 stabies. Ernie retained the Shot with 76 off the stick and winner of the MWSS trophy, first time for a while Broomy with 36 stabies. From there our winner Broomy drove us first to the first wholesaler for some traveling beers and then onto the Wade for a great feed. Also a cake was provided by the pub for Bangers who let it slip was his birthday. From there we went back to Taka to the Elephant Wrestler for a few more before some got settled in and others drifted off.


The El Presidente



MWSS V F.L.O.G Muriwai GC ~22nd August 2014
The second annual game against our rival at Muriwai was dampened by sudden death of Kevin Barry a friend to many within the group through Rugby and Romini College. His funeral fell on the same day as the game and of course the priority sat with supporting the family. So of our initial 24 we lost 10 but we still put up a strongish team.
The weather wasn't great actually it was bloody cold with a strong onshore breeze coming into play. The golf course was in great order as usual with greens fast and true.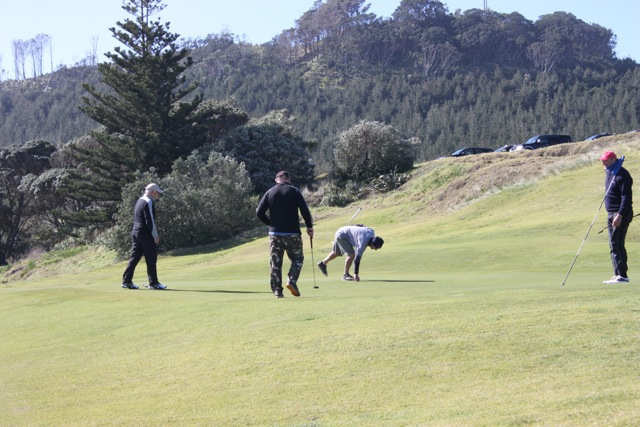 We split into pairs with similar handicapped players playing against each other. So the format was one of ours plays one of theirs, then a combined team score of 2 playing their team of 2. It all seemed a bit complicated at the start for some of us but when it came down to it you just had to play good golf to win.
Unfortunately we went down 24 points to 18, with FLOG just too strong for us on the day. Some great battles with us actually winning 3 games losing 3 and drawing 1 but when it came to the points we hadn't picked up enough. A great break from our normal day though so we can only hope for a win next year.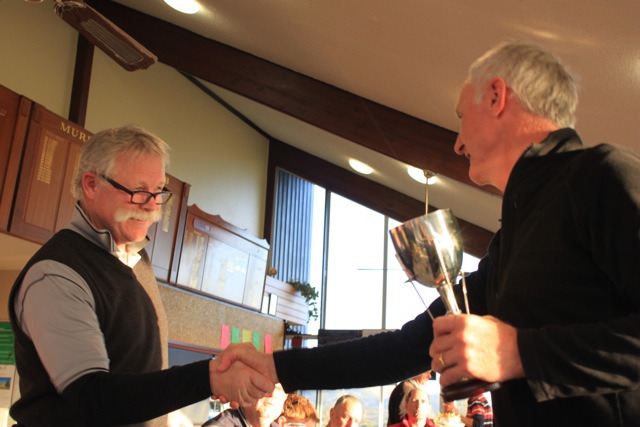 The MWSS winners on the day picking up our four main comps numbered 2 Steve Williams picked up Glugs mug and the Plate with 29 putts and 33 stabies, and Ernie picked up the shot and The MWSS Trophy with a 76 off the stick and 34 stabies. This was a bit of déjà vu as both had picked up the same trophies on the same course back in March 2012 ... very spooky!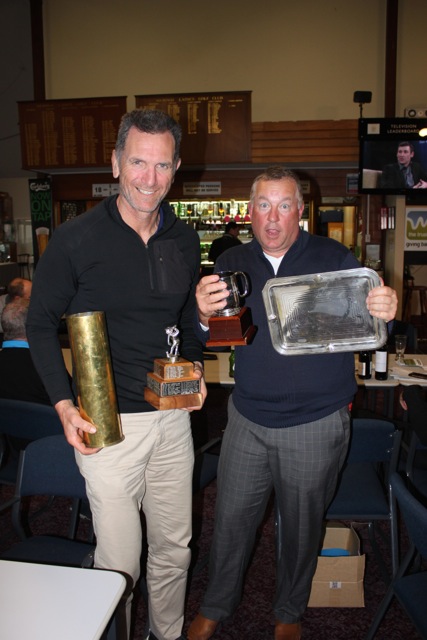 The most putts went to Muzz with 41 which was totally understandable. Begg picked up the Cricket award with 108 and Mox only scored 19 stabies. But that just impresses how hard the course was playing on the day.
All in all a great day another good day with the FLOG boys and another good day that we weren't at work.




The El Presidente


Omaha Golf Club ~ 4th June 2014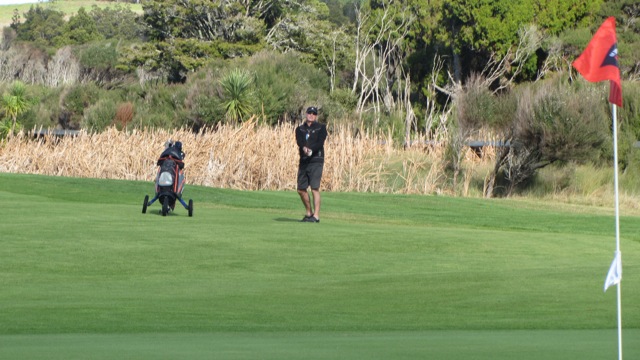 Very dodgy start to the day, we woke up to some pretty consistent showers that showed no sign of letting up. But the Met Service said it was going to clear about 10am so we carried on in our small groups in cars to Warkworth. Little hitch here "was it
Café' Q or was it Café' Quince" the El Presidente had said to meet at? The El Presidente got it wrong and went to Quince but didn't matter … we all got feed and then up to Omaha.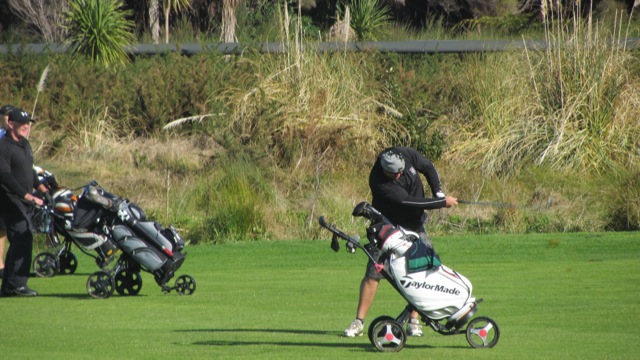 Now faith is a great thing, of the 19 who said they would be there the day before, all turned up on the day, and as if to reward that faith God stopped the rain as we stepped up to the first tee and it clear skies for the day (you know god is on the mailing list).

The course threw up a bit of a mixed bag, the newer course and greens were well drained and played well, whereas the old course held the water and it was very wet under foot. The greens had good cover but the amount of water sitting on some greens made it imperative that you chipped close.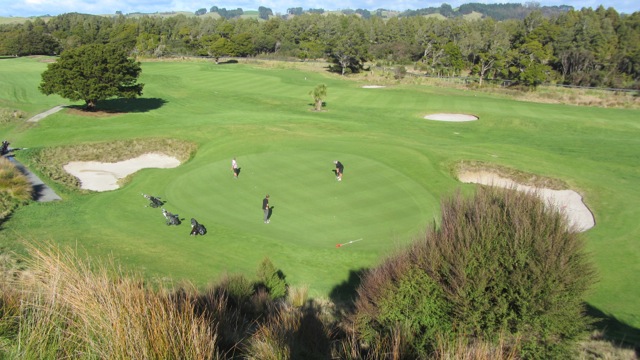 Now … we had the Jet Star crew out in front setting the pace, Hatt, Ferg, Schooner and Dowdy eager to get back to the bar as usual. So when most of us got back they had already sorted the prizes out using the Chris Cairns methodology … which looked really good until we looked at the real scores!
Ferg took the court session in the unusual situation of Crazy being absent from the day. He was told to make it quick and bring in some good coin to offset some great burgers being served up. He did not let me down with some outstanding fines being served up.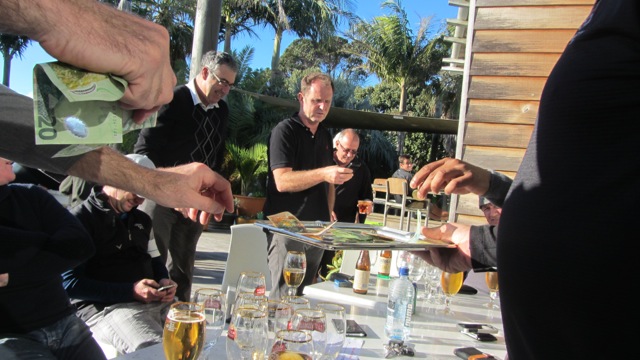 When the real scores were collated by the same group the outcome was not nice for Risty who came in with 39 putts picking up a Pig of a head cover. Hatt who scored a true cricket score of 104 and Marto the present holder of the Green Jacket who had an off day and played like a Real Sheila only accumulating 29 points. We can all feel for them as we have all had those days ... but they still got a hard time.
To the winners … all two of them, Ferg picked up the plate and by all accounts just couldn't finish off, the last 2 holes being his nemesis and holding him back at 39 points. He was pushing hard but it was probably fitting that our 100th winner (yes we had a game called off at Titirangi) won it with a clean sweep of Glugs mug with 24 putts, Bangers Shot with a 71 off the stick and a hall of 40 points for the MWSS Trophy. The first time the trifecta has been taken out. $1,400 to boot which he was very generous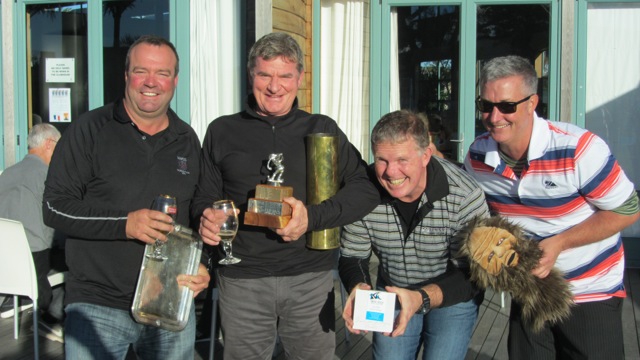 with. Well played Bangers well deserved!


The beers always taste better when it comes from some ones victory and it flowed well at the Omaha club that seemed to be the centre of the communities Friday night activities, no shortage of people. The last of us left about 6 with about half the field ending up back at the New Brew for a couple more before leaving Bangers and Chief to push on.
All in all a great day, thanks to all that kept the faith.
The El Presidente


Gulf Harbour Centennial Pro Am ~ 23rd May 2014



The 100th game…. And it ended up a very pertinent number as many of the group trudged their way up to donate some cash to the 100 plus fines…… I was glad I spent some hard earned cash buying new balls too… as like many others…. I left a few out there….. But the course was great, the company ideal and the pros made the day a better by showing us how you can actually play…. And confirmed that we too can play like them…. When they 3 putt!!!!
An outstanding group of golfers set off from the Poe car park and meet up with some pros who were in for a fun day… What a collection of gents we had and a great group of pros who entered into the spirit of the day and made the 100th one to remember.

Highlights were many… apparently Ryan Fox's long ball is one to behold.. tho not quite as sharp as Parvez's 6 iron into the 14th…. The Eagle did land!!!! And helped Parvez on his way to a fine 36 pts on a trying day… not made easier for him that he had to carry his partner around all but a few holes .. .but we still won the beers!!!! Dean Sipson's story was a goodie too…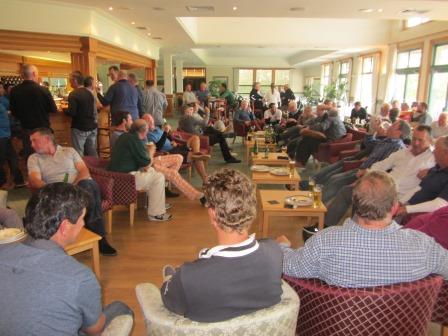 The wind & rain mightn't have made life any easier out there.. but the greens were superb and when you did get one on the fairway it made life a lot easier… altho many of us reported back that we spent more time in the undergrowth than David Attenborough on a trip to the Savannah.
Despite spending this much time in the rough.. we all looked very comfortable in the surrounds of the 19th and the Elephant Wrestler later on… The awards went to some of the usual suspects….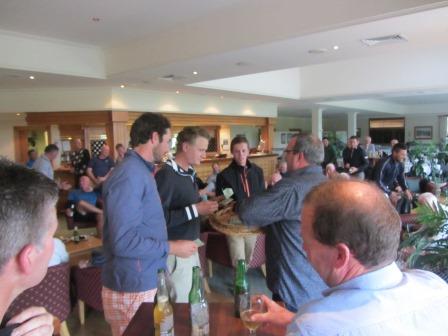 Bangers Shot went to Ernie .. who had a 79 who did better than many of the Pros……
Glugs Mug went to Muzza with a 28 putt effort
The Plate – went to Kevin Kennedy… For the second game in a row with 33 points….
The 100th presentation of the MWSS Trophy went to Praveesh with 36 points a great effort under pressure.

Cricketers Award of 115 not out.. went to Squeezer.. a great effort to grab that Squeeze with the Brown brothers and many other boys putting up some pretty interesting scores…!!!!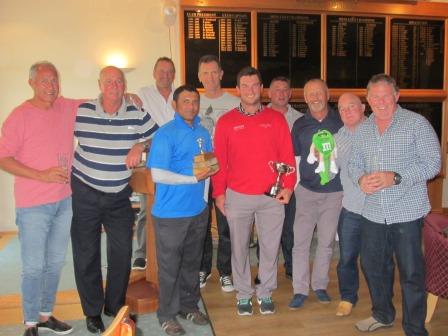 Closest to the Pin – Kevin K and longest drive to Brendon Compton. Of course the Chief ran away with the lucky draw.. hope they don't arrest him at the Aussie border!!! Ryan Fox really showed up and shot a great 67 … leading the pros home… OVERALL – Awesome organisation by BT & Broomy – inaugural Hall of Famers and the day was thoroughly fitting to celebrate 100 games of golf and a couple of quiets with some great company… if you weren't there.. you were the loser!!! Roll on the next 100 …..

Happy Birthday MWSS

The Crazy
The Fine Master


North Shore Golf Club – Masters Monday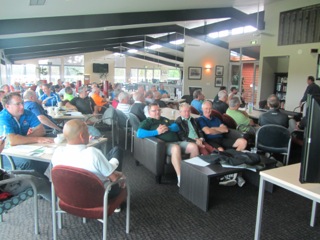 Masters Monday is growing into a nice little tournament with 30 MWSS guys and another 30 odd North Shore Club members … positions around the TV was prime property.
There was a good core of guys there when the club opened at 7.30am. Breakfast was served probably not up to a number of the teams high standards but filled a gap and put a good base down for the big day.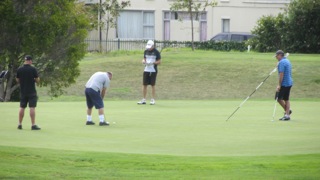 We watched Buba bring it home again and hold it together for all of 30 seconds. The first winner in our group for the day was Leylo who picked Buba in the sweep. He picked up the money and this time took it home to his wife as against spending it with the boys. At that point it was time to hit the practise area. The club had organised the fours for the day alphabetically on christian names, so generally it was pretty easy to remember your playing partners name as it was the same as your own. The course was well set up and showed little effect of the renovations done 2 weeks earlier. At 11.00 o'clock we were all off with a shotgun start, which meant a timely return to the club for all.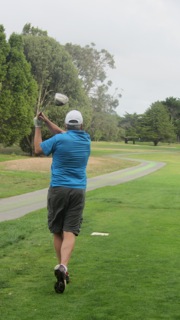 Back in the club we had to share the space with the rest of the club members but we dominated their prize table taking most of the prizes, which was a nice added bonus for the day.

Unfortunately without too much heads up, the microphone was thrust into El Presidente hand to formally present the MWSS prizes. This not being a natural process of MWSS threw a few spanners in the works. Hard to get our 2 virgins of the day to stand up and give their version of their first sexual experience or run a decent fine session when you have the attention of a large number of club members sitting there.

Anyway the Green Jacket and the money went to Mike Martin with 41 points. The Jacket fitted him like a glove, almost tailored you would say, and he paraded himself around the clubroom like the true winner he was. A close 2nd was Kevin Kennedy with 39 points,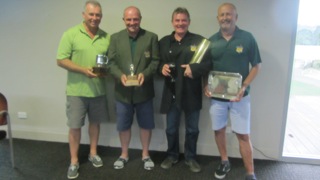 Bangers took the shot with a best gross of 79. Rat amassed a stunning 20 points to take out the play like Sheila award, and Millsy hit 40 putts to take the putted like a pig.

Another great annual event in the MWSS calendar that should not be missed. Looking forward to th 100th game next month which is set down for Gulf Harbour on the 23rd of May

Good Golfing

The Broomy

Ngaruawahia Golf Course ~ 21st March 2014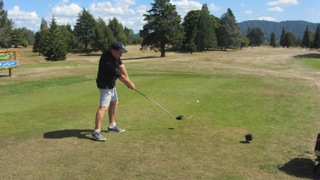 Due to small numbers attending this tour, a minivan was selected as vehicle fit for purpose. BT kindly offered to drive the selected few down to the mighty Waikato to play the always spectacular Ngaruawahia Golf course.

Stopped into the Pokeno Bacon Café where the 'Fat man' breakies were consumed, with sides of fries to soak up any alcohol residues from the night before.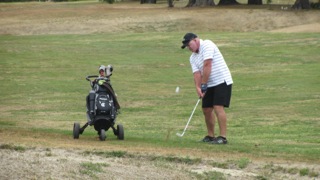 Unfortunately, when we arrived at the course, the greens had just been cored, and the fairways looked like they had just been bailed for hay by the local farmer.

Nerveless we marched on with 10 Harbour ites and Alan the 'POX' McCulloch based in Hamilton. Golf was over early for one four, beaten 9 and 8 and could have been worse except for a miss put on the 9th green by Pox. Bangers won everything except the Trophy and the money Leylow picked that up with a Bays effort to come in with 42 stabies.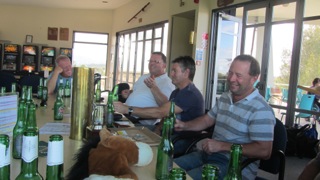 Hospitality was of a high standard, and most punters got a taste of the infamous 'POX SHAKE'. Leylow won the money, which on tour is always important for the back pocket. He was extremely generous with the winnings, (Bangers, you were wrong. He's not a tight ass), so headed back via the local wholesaler, to the Rangiriri Pub for a bite to eat and some good old darts and pool. Can't remember the results, but no one got stabbed by darts, or had a pool cue taken over the back of the head. (Obviously not a 'BAYS' trip)

Got back to the Shore safely, thanks to BT and dispersed in various transportation, except for a few hard core of alcoholics who don't know when to say when!!
Trips no matter how small in numbers or distance, always have lasting memories, and this venture down state Hwy 1 was no exception.

Sorry for the guys that didn't' make it, and well done to the ones that fronted.Can't wait for the next one. Think it may be the 100th down Matarangi.

Ferg
Minister of diatribe

Akarana Golf Club ~ 14 February 2014

A great day for glfl … as usual was a balmy Auckland day and a good turn out with 26 players in the field. This was a bit of a shocker as there was no bus trip, no breakfast and people had to make their way, for most to the other side of Auckland.

This was a first visit to the course for the MWSS and it was in great nick, still plenty of grass for Feb, the greens were quick and water hazards were wet, what else can you ask for, but to play well.

Instead of the El Presidente making up the 4s the old pull the name of the hat was used to make up groups … it made for some interesting match ups for the day but it went down well and took a bit of pressure off me.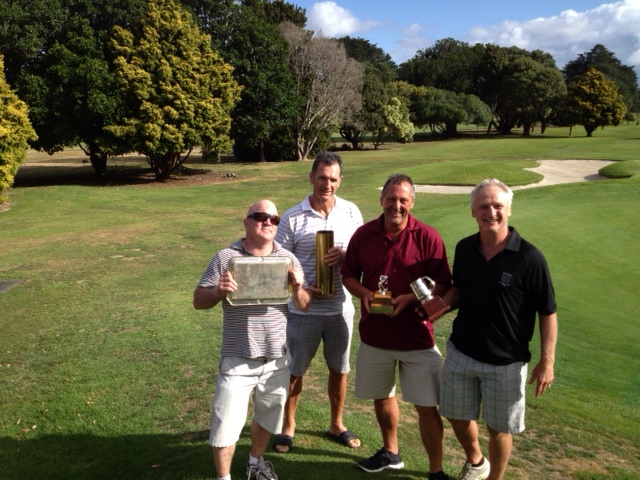 To the winners and losers … Glugs Mug was taken out by Schooner with 39 putts while Crazy took out putted like a pig with 39 putts. Best Gross went to Ernie with a great 72 off the stick while Rusty had a bit of a doozy even for him with The Cricket player award with a 103. The winner of the losers picking up the plate was virgin to the day Squeezer who came in with 38 points. But way way out on his own, standing on a huge podium finish PC Paul Cheetham carted a 45 pointer for the day. 45 is our highest score and he now holds it alongside 2 other dubious golfers Macca at Helensville in Nov 2009 and Big Andy / The Phat who produced it back in Nov 2007 at South Head. At the other end Leylow came in with a 26 pointer to round off the day.

PC played his part well and put a major amount on the bar at the course and then at the Stafford wine bar a little later on. We
had a bit of a raffle for a box of balls, the balls were not as much interest as were the tickets themselves. Everyone got home safely so all was good and all in all not a bad Friday.

The El Presidente
Dunes Golf Club, Matarangi ~ 3rd January 2014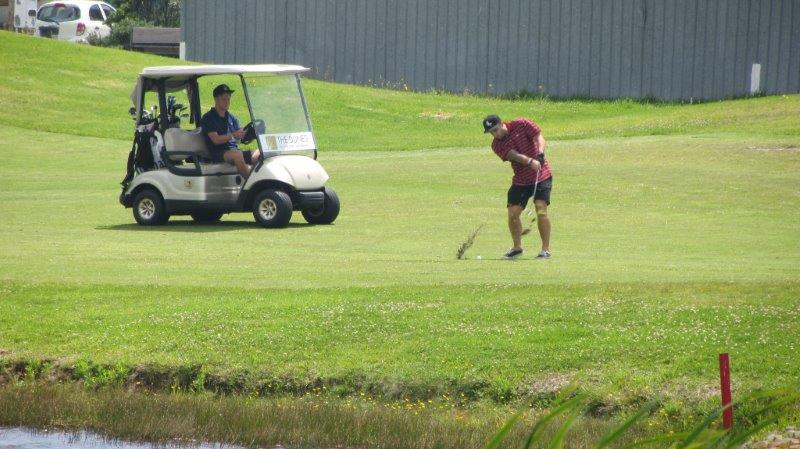 On Friday 3rd January 2014, some committed wannabes made the special trip down to Matarangi to join the regular Matarangi reprobates in an effort to secure some of the silverware in the MWSS's first competition of the year. It was a cracker of a day with the course in great nick, be it with a hint of a wee zephyr challenging accuracy on the approaches and on the long par threes.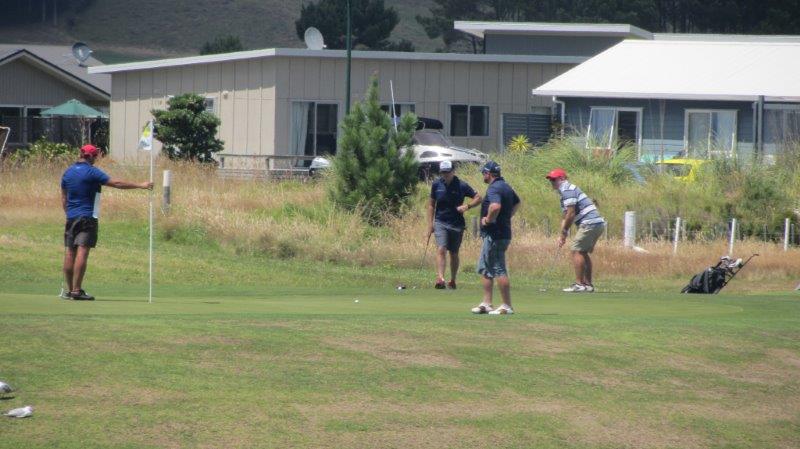 There was a good turnout with 25 (only 21 finished) attendees which included the next generation of MWSS trying to emulate the golfing proficiency or in some cases not, of their fathers. Well done to those young fellas who stuck it out for the whole 18 holes.
On that note, young Elliot Aitken managed to expertly hook a shot through Banger's and Birdie's golf cart whilst they were in transition much to their surprise. Fortunately, Bangers had his head down as he was still suffering with blisters caused from ill filling shoes worn in order to gain a better podium finish with his Danish delegation. Perhaps Birdie took a leaf out of his book. On the 6th fairway unbeknown to Birdie, he had shanked a ball into the yard of a bach narrowly missing some bikini clad ladies sunbathing on their deck. Apprehension that followed from his fellow golfer was quickly alleviated upon hearing loud female laughter with Birdie's comical comment that he had hit like a girl. MWSS' reputation as cunning linguists remains intact.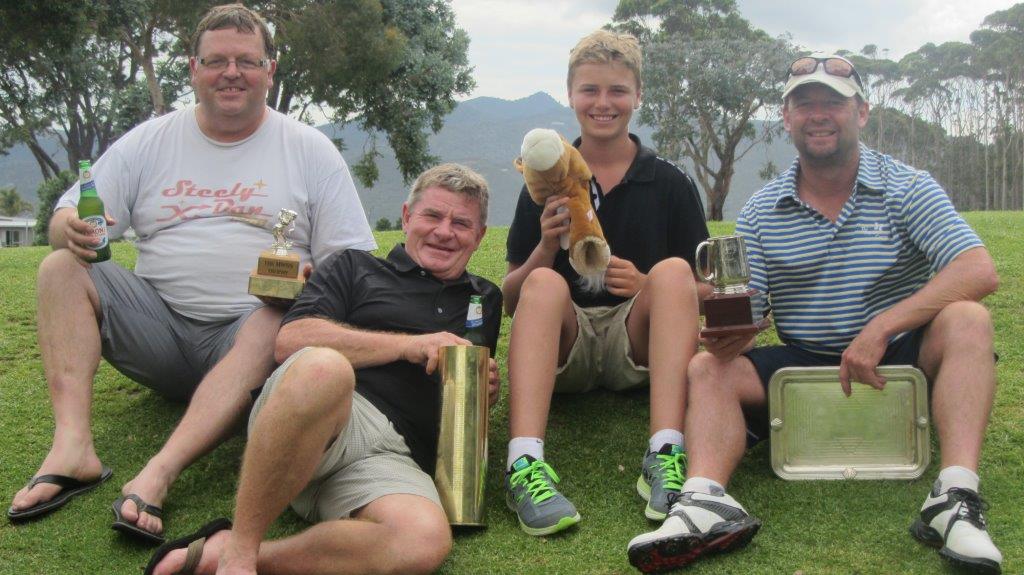 In the end it came down to a two horse race with Broomy and Slim, playing partners on the day, coming home with 40 and 42 respectively. So Slim won the MWSS trophy and money pool and went about silencing calls for the wearing of a balaclava, with the tabling of copious amount of cold Heineken and Peroni for those looking to further quench their thirst on this glorious day. Nice to see some of the wives along enjoying a drink and the after match fines and banter.
Broomy having picked up the Plate also won Glugs Mug with 25 putts and just missed out on taking out the Best Gross which was retained by Bangers with 78 shots..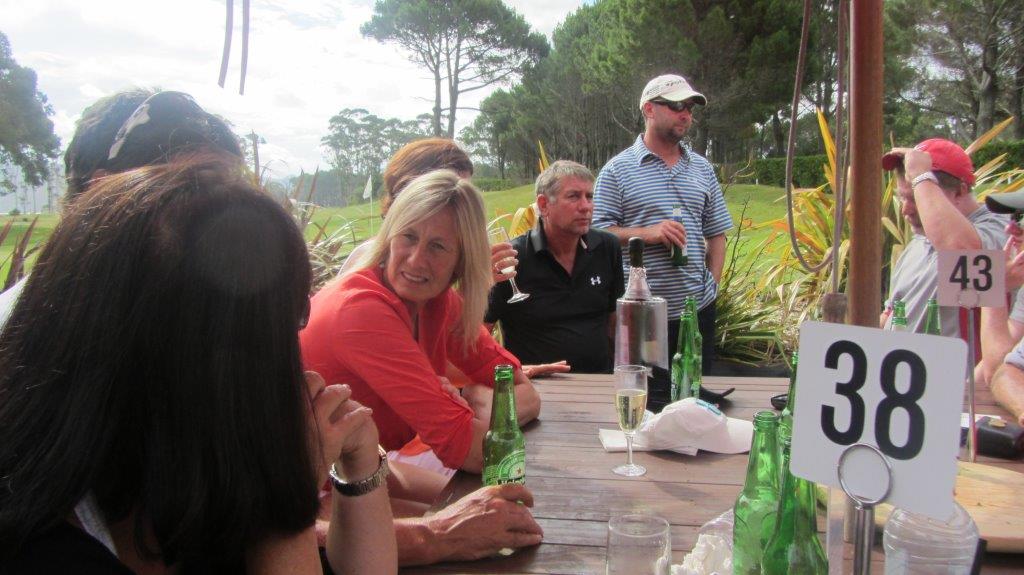 Our Junior member Elliot it must be said Played like a Shelia and Putted like a Pig struggling from tee to green but with a creditable 42 putts and a just 14 stabies he was grateful Dad was along to pick up his fines. To his credit he took all it in his stride and was not shy in giving back a bit of lip at critical moments. It was good to see him and Zane finish the day with us in the club house.

For those that dared, rapid consumption continued at the aptly named dark side of Matarangi, a collection of baches strategically located and known as the triangle of evil. Bangers had kindly allowed Ferg and family to use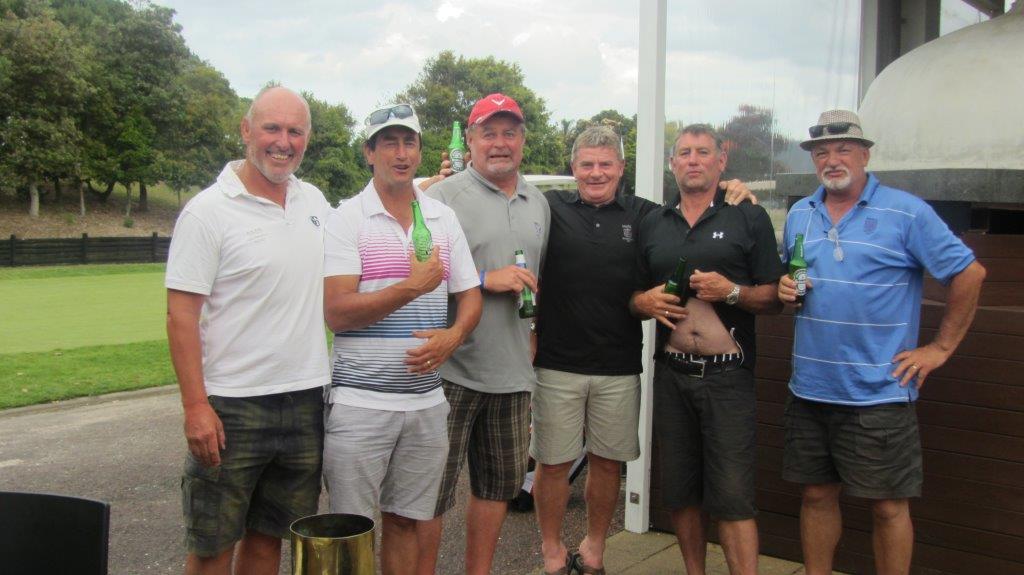 Casa La Banga for the weekend and Ferg "Master f Rules" went about entertaining us with his ill conceived stories of East Coast Bay's rugby prowess.
Macca spoiled us as well himself, judging his physical state the next day, with some dam fine vino while Birdie throw out the sounds. "The Nicesiders" absenteeism was duly noted having obviously experienced life in this shady hollow previously.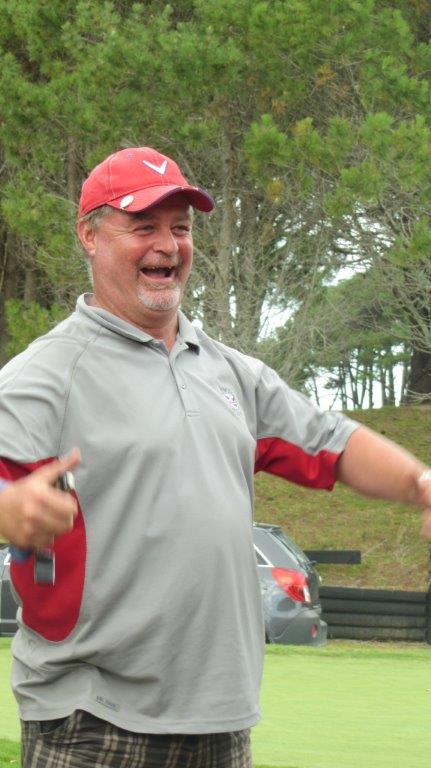 KT kindly retrieved Slim before the stroke of midnight to ensure no transformation occurred and a return normality by dawn.

Mention must be made of Bobba's imminent departure for Nelson. We will miss his Puhoi crate balancing trick and propensity for consumption via the short glass. A trip to sunny Nelson beckons the MWSS and no doubt Bobba will have sussed out the best Nelson has to offer in terms courses and watering holes before we get there.
MWSS Matarangi is a must attend for those yet to enjoy the holiday hospitality.
Winner on the Day
Slim


Day 4 (and 5) Arrow
Town Golf Course ~ 8th December 2013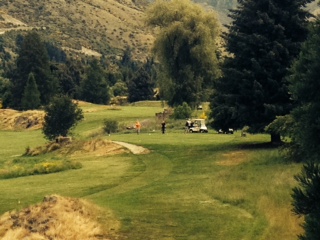 Challenging day as Saturday night dinners always spill into Sunday morning. Off to Arrowtown Golf Club via the "Z Service Station" where copious amounts of Powerade and water were purchased. Challenging course that presented plenty of comments like, "where's the fairway we aiming for", "and your joking, is that it"
The tee blocks were stunning (elevated) and the course overall was superb for a country course.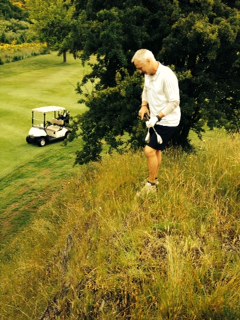 The pin placements were at times awkward, but not to our eventual winner, Cam who pipped Maca out of the money by one point with a 43 stabies. But Macca had the best Gross with a 74 off the stick and Bangers came in with the least putts 27. Risty continued his fall from grace from
his win on the first day still not sober after 3 days coming in with only 27 points and Boba wasn't sure what to do with the greens with a total of 40 putts for the Pig cover. The cold beer afterwards was a little chewy and going down slowly, but little did anyone know what was about to happen. Off to the Airport via our superb bus driver - Nick, who we tipped accordingly.
Air NZ on time and departs, leaving six soldiers from JETSTAR, (who didn't have the balls to come and land) stranded at the Airport.
After establishing that JETSTAR were going to flip the bill for accommodation, and meals, it was decided to head back into town and proceed to drown our sorrows. Money was short, so the Schooner and the Ferg headed to the Casino with contributions from the other lads to see if we could increase our slush fund.
Needless to say, the darts were finally bought out at the local Irish bar, followed quickly by free beers, spirits and pizzas.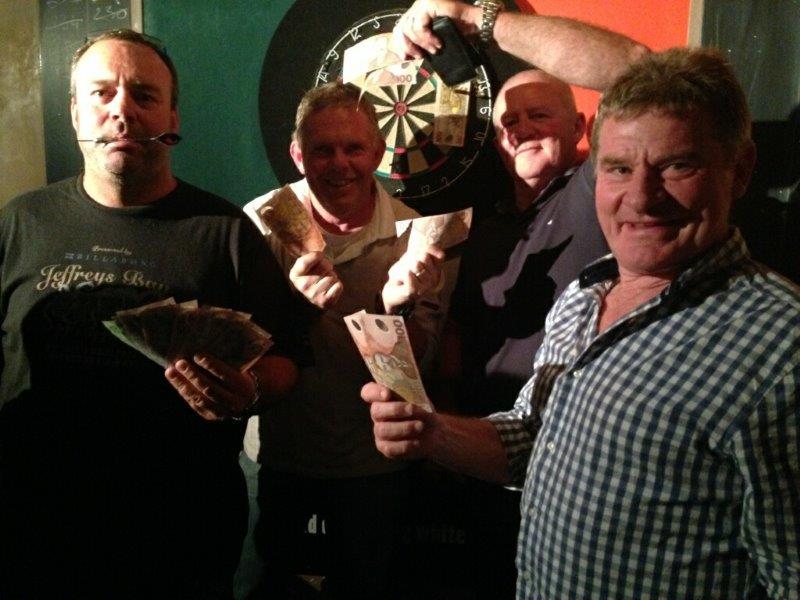 JETSTAR got there shit together the following morning, and we departed on time.

To everyone who came down, great friendships were established and lots of laughs were had … can't wait until the next one, but not next week please.
Ferg
Master of rules
Day 3 Jacks Point (Moving day) ~7th December 2013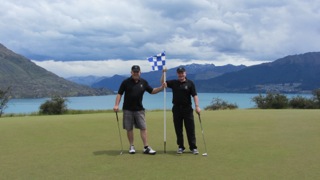 Finally the main advent had arrived "Jacks Point" … this being the most talked about course of the tour in the last few months. As with all MWSS golf, preparation was again the key and as always it started the night before, this included: A Healthy meal, limiting ones alcohol to a minimum, not talking shit and a good night's sleep ! Even with all these items ticked the bus ride to "Jacks" was one full of apprehension, there was the usual laughing and joking but also a quiet feeling of fear when considering the challenge ahead. The first challenger for the day was to predict your own Stabies and the fine being $5 per point you ended up in arrears, we didn't know at the time but some of our very best were to falter. Fortunately with the touring experience of the Minister of Alcohol, he had predicted the feeling amongst the group and had
prepared Jagermeister shots for the first tee (what vision). Talking of vision, somehow against all predictions we picked a pretty good day weather wise with only a bit of wind picking up in the last few holes. With the course looking in great condition the scene was now set and we sent out 3 of our very best to pave the way for the group! Quite frankly the rest is now history and if you weren't there you missed out and your only experience of the day had are the results below: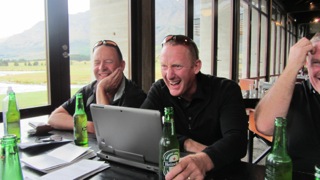 Played
like a Shella (Ferg) he being the victim of what we suspect was a server pollen attack on the back 9, we arestill awaiting results of swab testing taking on the day.
Putted like a Pig (Russ) the greens were tricky?
Glugs Mug (Ernie) A consistent recipient deserving of a podium finish.
Best Gross (Bangers) Another consistent recipient deserving of a podium finish.
Plate (Dan) Backed himself when predicting scores earlier on the bus, wouldn't have handed out too much money and came close.
MWSS Trophy (Robin) A big call for an Aussy without a nick name to fly to NZ and win, well done!
Pick your own Score (Hatt) this is subject to an ongoing police investigation.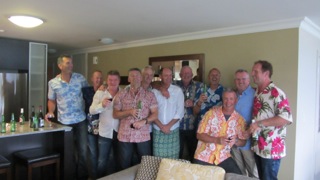 All in all … one of the most memorable of days on simply a stunning course with
scenery that would be hard to match anywhere in the world, a must for a revisit!

NB Results just in on Fergs testing, apparently he caught "Alcohol Eye" from all accounts it's not a new condition and been around for a while ,symptoms include: sore eyes with difficulty focusing, redness of the eye (sometimes all 3) feeling like shit, wanting to chuck up and a bad swing!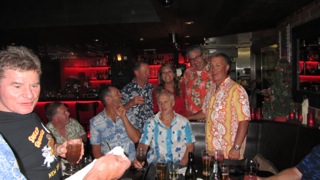 Apart from being highly contagious in any group situation it's also very common among middle age men. If you noticed any of these symptoms the say the cure is to stick at it and eventually you will pass it on, but be clear it's like Herpes, never really goes away, can sit dormant for long periods of time and then reappear without warning!
Dowdy
The Judge



Day 2 Kelvin Heights GC ~ 6th December 2013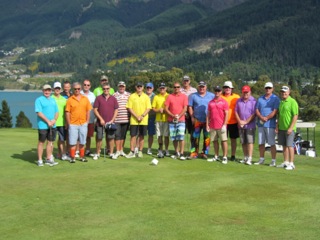 So after day one and some outstanding golf and night one with a long and arduous debriefing session we fronted to the lake side course of Kelvin Heights.
It was 'colourful golfing' day as deemed by the committee, and saw some tourists scrambling to the pro shop to don the brightest shirts to compete in the attire race.
Being true to the laid-back Nelsonian style, Boba (or whomever that guy was!!) turned up in his boardies looking for some killer breaks! Macca's trousers which looked like someone had had too many shots the night before and parked a few Midoris and Baileys over them stole the show… whilst Ferg's attempt at colour with that ugly Westlake jersey was just 'bad taste' not colourful at all!!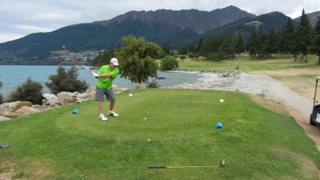 The course and vistas were outstanding! The golf also reflected some good efforts with the visiting Panza posting a very credible 41 pts to take out the trophy and Cam showing glimpses of his form to come by picking up the plate with 39 pts.

To say the giddy heights of the Millbrook win got to Wristy would be an understatement. He plummeted from the previous day's high to Played like a Sheila with 24 pts.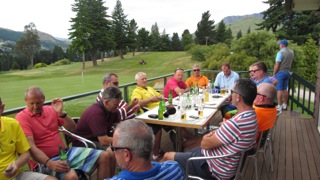 Someone did comment that he scored more the previous day on the front 9 at Millbrook!!!! Not sure if it was the pressure of leading the pack, or the red wines that had the most impact? Clayton was obviously contemplating the wisdom of entering the Ultra-marathon the next day whilst lining up his putts… as he found the greens particularly difficult and picked up the Putted like a Pig with 38 putts on the day. Ferg had all his clubs working and posted a nice little combo of 79 gross and 30 putts to pick up the SHOT and Glugs Mug.
A hardened tourist is our Ferg and a little late night activities were never going to dampen his golfing ability.

All in all a good night and a few quiets on the deck were enjoyed by all as we planned another assault on the Queenstown nightlife. Any report on this day, wouldn't be complete without a passing mention of Dowdy's first hole. This saw him playing his 5th behind the ladies tee & if he wasn't the judge, I am sure would have come in for a lot more punishment at the fines session!!! In his defence it may have been the reflection off his flouro top that caused sun strike on that tee?
Crazy
The Fines Master
MWSS Queenstown Tour
Day 1 ~ Millbrook Golf Club ~ 5th December 2013

After much anticipation and many sleepless nights we boarded 6 different flights from 3 different destinations to come together in Queenstown for the 5th MWSS Tiki tour.
A quick stop to book into our accommodation at Pipers, well placed to the township and all that goes with it. Then Ferg's new text mate Johnny picked us up and delivered us to the stunning Millbrook Resort. Everything was great … the weather, the course, the playing groups and for most the golf. Millbrook is
always a pleasure to play but you never want to find that rough and that was to
become a bit of an issue with most of the courses on tour. We had 21 in the
field with our touring 18 joined by Mesh and Paul for the day who were touring
with a similar type crowd, and Clayton who was to join us on day 1 and 2 before going off to run a 60km off road ultra-marathon on the Sunday.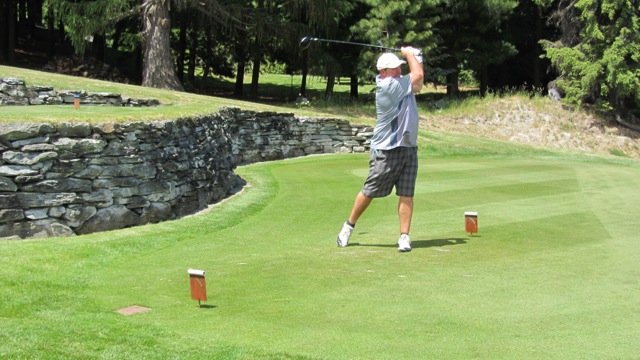 The touring trophy's made their first appearance at this game … a cut down version of the real things they were easier to cart and less expensive to replace if alcohol took its toll and they were lost. The other first was the winner on the day, Risty showing true form coming in with an outstanding 44 stabies which shocked the group but no more than Risty himself. His good mate Dan newly baptised Shanklinjogn was just behind him on 41 stabies to take the Plate. Ernie took out the Shot with a 74 and Bangers putted outstandingly to take out Glugs mug with 27 putts. Unbelievably Risty had 40 putts and still won but also picked up the pig. And Dowdy struggled with only 29 stabies for the day, so he got drunk.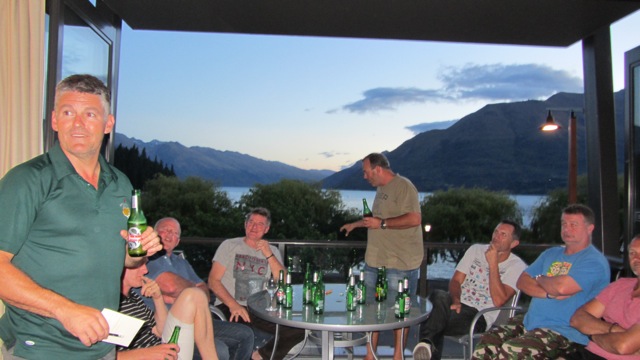 We had a quick beer at the club house before heading back to our digs for a bit of a debrief and prize giving in room 206 … the biggest of the rooms. The groups split up to eat at different venues and drink at a number of different spots, most had reasonably early nights but there was a group of four that didn't!!
The El Presidente
Huapai Golf Club ~ 29th November
The final home game prior to the upcoming tour attracted a small field to head out west to take on the Huapai track. After some late scratching's a mixture of
the usual suspects plus some recent newbies took to the course. Some hard
fairways lead to some fairly long drives off the tee downwind, but any holes
heading back towards the clubhouse required a drop down a couple of clubs.
The prize table was shared among 4 with Big Nev picking up least stabies 26 and most putts 37. Bangers picked up Glugs mug 28, and "The Shot" with a 74 off the stick. Rat took the plate with 37 stabies and Paul Atishwar took the
Trophy in his 1st tournament with 38 stabies. Unfortunately 38 was not enough to win the money and the money jackpotted to the tour. The boys in the travelling party walked away fairly happy in the fact that they would get another chance to win the money.
Whilst the prize giving was short this allowed the relevant parties to depart early for prior engagements. The Taka / Bays axis of evil left for Friday raffles
at the Albany Tavern. The boys were well looked after by the Bar owner
and a great night was had by all . The Northcote / Birkenhead team headed
to the much more refined Stafford Rd wine bar where the bar owner was not quite as accommodating cutting off service to the boys who were only commiserating with Big Nev. Obviously Nev has done a bit of commiserating at this particular bar as apparently he was not surprised by the owners actions as it may have happened before.
Another successful day on the course had by one and all.
The Broomy

North Shore Golf Club ~ 27thOctober 2013

With the El Presidente and his able sidekick Tonto tearing up the courses in Hawaii, it was left to Tweedle Dumb & Dumber to manage the event held at the pristine track on the shore.

The "dirty dozen" fronted and some fine golf was played on the track and some great lies on the 19th! The going was too tough for Big Andy who cried off after twisting his knee … the pain was too much to bear despite some self-administered pain relief. Even the Chief turned up with an arm in a sling …. to drink the winnings and tell us of his great adventure back to where his ancestors
departed from so many years ago … I just hope your trip wasn't as exciting BT!!!!!

Re the scores …. some people were on fire, others were all over the game … but we were all winners … especially given how the pool went again and we had a few quiets!!!
Winners & Losers: Glugs Mug –Cat – 28 putts – just held off Bangers on 29 – note the mug well restored and looking like a new piece of silverware! Gross - Bangers with a finely constructed 74 !! Plate – Bangers as well from memory… the kitty started to kick in and the recording of winners diminished…!!! But he had 39
points … no it was him and he promised to get it polished up to look as sharp as Glugs Mug. MWSS Trophy – Crazy – 43 points … was on fire, a week later... someone had REALLY pissed on and put out the fire!!!!! Nags Head – least Stabbies – Schooner!!! A well compiled 29 points & the Horse's Head cover will no doubt proudly be displayed on his bag until the next game. Thanks to JamBoy for recovering the head off the driveway at Titirangi!!! (the previous winner will be identified and fined severely at the next game – so I would suggest an early guilty plea by the offender could see the fine mitigated!!)

A good day had by the dirty dozen & The Chief an able sub in the 19th for the injured Big Andy!!!

Crazy
The Fines Master
Muriwai ~ F.L.O.G versus MWSS Challenge 23rd August 2013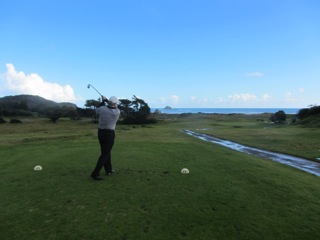 The inaugural FLOG V MWSS Challenge saw a field of 48 players, 23 from FLOG and 25 from MWSS. The format for the day was 2 from each
play off as singles and doubles utilizing the handicap system. It was developed into a point system that gave us a nice little competition between the 2 likeminded groups.

Now the format was a nice change from the normal MWSS format, it put a little pressure on you as an individual to play well but it also was great to look across and watch your partner covering you with his good
holes. Well that was the way it was supposed to be if all went right.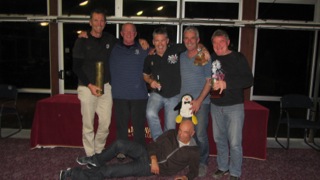 The day started out with rain, and heavy rain at that but to the credit of all playing there were no questions about calling it off although there was a little hesitation when the morning field was caught in a record down pour that saw greens look more like swimming pools. Once past that, apart from a 5 minute shower it was all good and the weather was great.


The course itself was in great nick, greens were a bit slippery but plenty of cover on the fairways and tees and rough was … gone burger for your ball. Tight but fair is all you can ask for. Now I must thank my fellow leader from FLOG Bill O'Brian who along with Broomy in my absence at the start organized the field in military style into a happening thing … well done! And again because I was one of the last off thanks to Crazy and his FLOG mate pulling the scores and everything together at the end.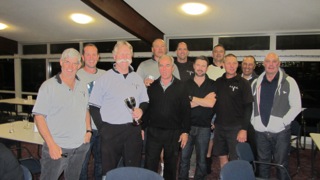 To the winners which was done in association with FLOG on certain parts, closest to the pin and longest drives and of course overall
group winner joined … MWSS trophy's separate as was FLOGs such as beer bitch and bottles of wine left right and centre. So to the MWSS winner was Browny, he picked up all the minor awards, most golf and most putts, just piping Luka his son in both, great to see them out with us. The actual best golfer on the day went to Ernie coming in with a 78 to put his name yet again on the Shot. Glugs Mug was picked up by Bangers with 30 putts, the plate went to Dowdy with a very credible 37 stabies. But the Incredible Crazy came in with 43 stabies which got him the silverware and the cash for the day. Which he spent over several bars that night.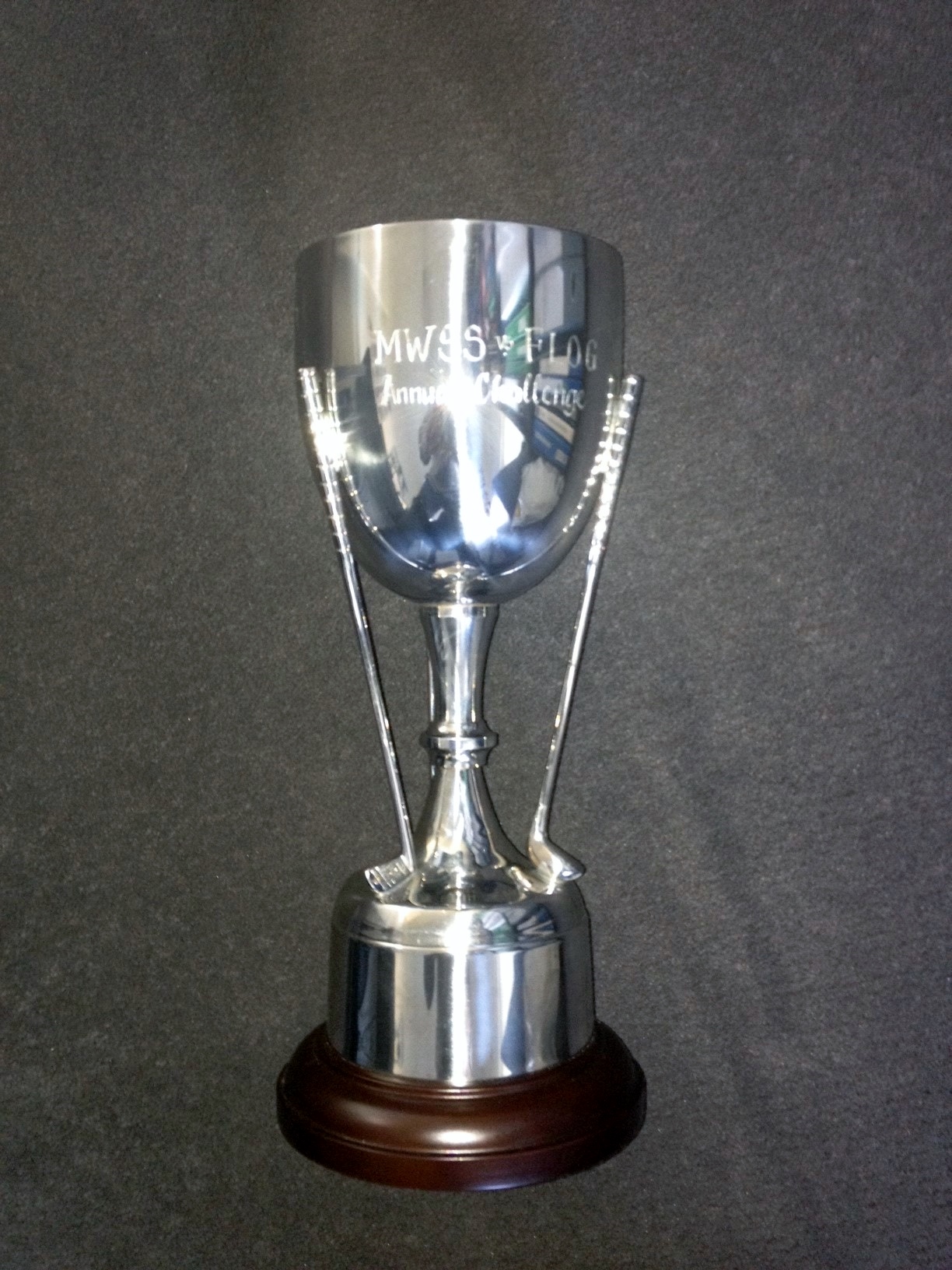 Unfortunately the first FLOG V MWSS Challenge trophy engraving was not to show MWSS 2013 as we went down 36 to 34 to FLOG. A great format that takes a bit of work but one we have already cemented in place for August 2014.

Unfortunately with the rain and the large field we only had time to have 2 or 3 beers before we hopped on the bus and started back. No time for a pub crawl either although the first drop off stop at the Greenhithe Malthouse went on for a little longer than planned. All in all a great day and worth a revisit next August.



The El Presidente


Titirangi Black tee – 29th June 2013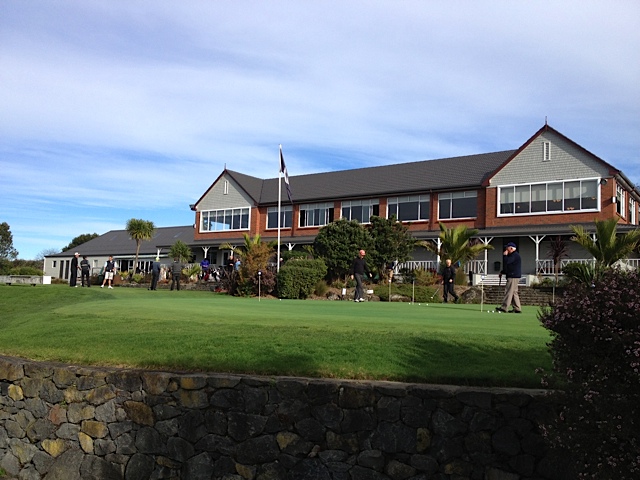 Great turn out for the Black tee day at Titirangi,well done to 4 Door for organizing it on such an excellent day. We had 28 turn up for the big day out, good to see a few faces we hadn't seen for a while, Clayton, Big Russ and Matt and Steve Williams. Others that turned up we were less happy to see but happy to take their money.
The course was in excellent order with greens running fast and hard to read for us mere mortal handicappers. Titirangi is one of those internationally ranked golf courses that is hard on a normal day, off the back tees and with slick greens scoring more than 30 points was always going to be hard and it proved impossible for 23 of us.
We were a bit more organized this time around and tee times were set and loaded so there was minimal wasted time, but the negative was not too much time to say hello and throw some shit. But there was plenty of time at the 19th which was well utilized by the group.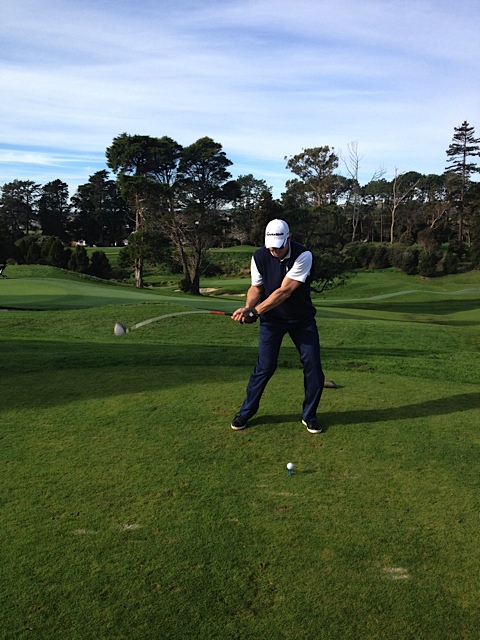 Probably with the toughness of the course this is the first game we had more players in contention for the minor prizes with so many well below their potential. But special mention must go to Browny, who to be fear is still learning the game and if he had a handicap would be playing around a 30. He turned up and at no time gave up, the rough killed him, the greens confused him and the share length stretched his competitive nature to the hilt (what he didn't know was he wasn't alone in his pain). It did kill his score and at 10 stabies he picked up the "played like a Sheila" club cover. It also must have been hard for Chopper Callander always competitive, who I have seen play two rounds of golf in a moon boot with a shot Achilles, must have been devastated putting 40 times to pick up "Putted like a pig". This was the nature of the day some couldn't cope and a wee minority did cope.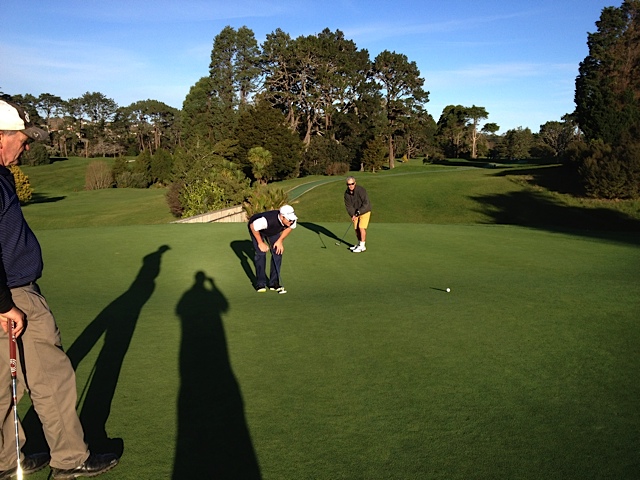 Those that did have a moment were Big Russ with closest to the Pin on the 11th, Steve Williams closest to the pin on the 4th, Grim with closest to the pin on the 14th and the longest drive went to Ferg on the 10th. Thanks to 4 Door for
organizing some great Triumph and Disaster grooming packs from Dion Nash to
help make the day, it was bloody good stuff, I know there was one left over and the El Presidente needed grooming.
To the Five guys that scored over 30 points on the day Grizzler, Fruitboy, Leylow, Sparrow and 4 Door that was a triumph in itself. Sparrow was probably the most surprised winner I have ever seen actually asking for a recount, but with 34 Stabies he picked up the Plate and even more amazing if you have ever had the luck of playing with him, 29 putts gave him Glugs mug … I wish I had a photo of his face.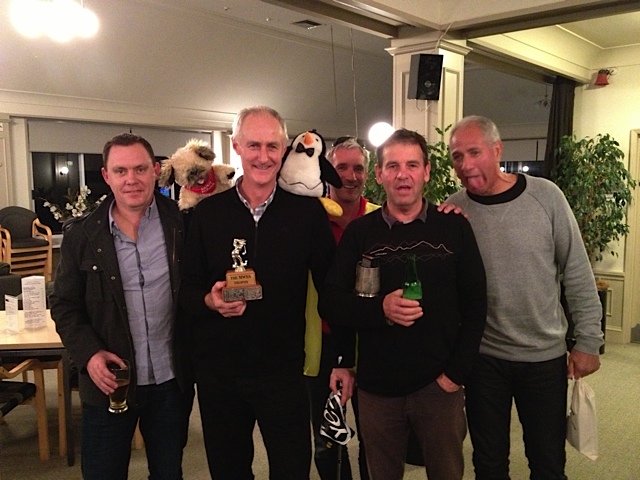 But there can only be one winner and on this day he was out by himself, no mention that it was on his home course on the day he organized … 4 Door off a 74 net with 38 stabies picked up Bangers Shot, the MWSS trophy and a nice amount of money for an outstanding day at the office. Well-earned and well organized 4 Door!

We went on to pick up the majority of club prizes for the day as we had combined with the members for the day. Most of us were homeward bound after a few others followed through with a few bars on the way home. I am
happy to say everyone made it home at some stage and in some state of order.
The El Presidente



Taupo Tiki Tour 2013
May 24th 2013 ~ Day 1 Wairakei Golf and Sanctuary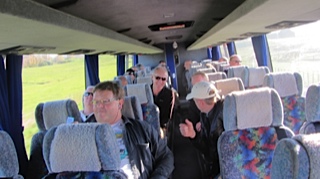 Our luck was in weather wise although it was hard to tell at 5.45am in the morning at the first bus pick up at Greenhithe shops. The bus was on time but as always Browny was scampering to make it, his wife Juliet was out for a run and got us to hold up the bus. From there on we hit all our target times, Grim at 6.40 at Manukau auto barn, breakfast at the Kaimai Cheese factory at 8.15, where we caught up with Schooner and Dowdy and one hell of a breakfast. Then Wairakei GC at 10.25 … lucky if it had been 5 minutes later Broomy would have had a large baby on board.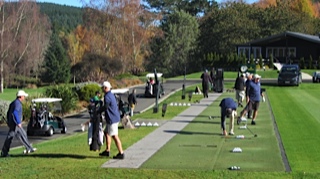 As mentioned the weather was perfect, a large hole in a dirty weather pattern gave us every chance to enjoy this spectacular golf course … you don't get much better, it is a truly great course with a very New Zealand flavor. The boys were prepped up and 4 X four balls and 2 three balls went out to tame Wairakei. The tees were in perfect shape as were the fairways with plenty of sand in some bloody big nasty bunkers. The greens were in perfect shape apart from a little soft on the approach. All in all there wasn't much to moan about.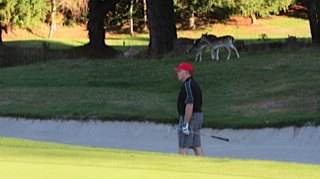 With the late start it did get a little cold coming into the shadows of the last 2 holes, but there was a nice fire blazing in the secondary club house at the gate house, which many of us thawed out on. Unfortunately the bar and kitchen did not think to be ready for 22 guys coming of a course so they lost out on a profitable bar and restaurant take. They also decided that after an hour and half they wanted to close up, which was a bit of a disappointing end from such an outstanding course.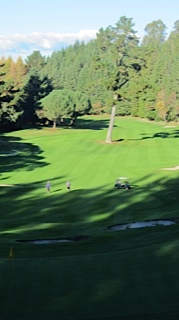 To the official part of the day we had 2 Virgins to the MWSS … Staithie Tzitziras and Pete Battell who both spoke well of their first sexual encounter, but both had plenty of material but neither good on detail. The loser on the day was outstanding to distraction with Granddad coming in and picking up both the "Played like a Dog" head cover with a sad 18 points and the "Putted like a pig" with 39 putts a truly bad day at the office. We also had a longest drive that went to Dowdie and a closest to the pin that went to Ferg. Thanks to the generosity of Neville and his business they got a bottle of wine each.

The true winners on the day, Ferg took out the Best Gross " Bangers Shot" with an 80, which was good scoring on a hard course. Best putts " Glugs Mug" went to Larry who part way round slipped down a bank and twisted his ankle. 26 putts is an outstanding effort that puts him right up there with the pros. "The plate" went to the Brown that was on time for the bus, Terry who played nice golf and played to his handicap. I got to play with the winner on the day andhe was consistent all the way round putting his handicap with doubt at timesbut with some moments of brilliance. Playing off an official 29 he came in with38 stabies to take out "The MWSS Trophy" but unfortunately not enough to getthe money and complete one hell of a night.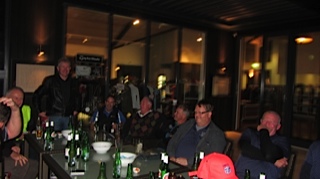 So as we had the bar closed on us we headed back to our digs for the night at Wairakei Resort where rooms were waiting for us all. A quick shower and our nice bus driver dropped the group into the Shed bar in Taupo to watch the Chiefs pip the Crusaders on the TV, have pizzas for dinner, and consume varying amounts of alcohol. From this point on it was every man for himself, some choosing to preserve their livers and head back to the house bar and then bed. Others carrying on till past the time even taxi drivers go to bed, and finding out that it is an hour and 15 walk from the Taupo CBD to Wairakei Resort. All in all a good day, but how the next morning would tell.
The El Presidente
May 25th 2013 ~Day 2 Waikare Golf Club
A bit of a slow start for some after the night before, but worse for Broomy, Schooner and the 2 Brown brothers that departed by car at 6am to return to Auckland for funeral and rugby commitments. The rest of us were up packed and ready to go at 8am. We grabbed a breakfast at the Wairakei Resort hotel because it was there and easy, although not as spectacular as the previous days it did a great job of filling a hole and the coffee was good. There was varying accounts of smelly roommates and as with me legendary snorers but all in all everyone was looking reasonable. We left 4 Door, The Kid, Stathie and Stu to play Kinloch while the rest of us jumped on the bus for the 2 hour trip through to the Waikato and the Waikare GC.

Now Waikare is not in the same league as Wairakei but nice little country club with great greens and friendly locals. We were welcomed with open arms and the $25 green fee was a nice start to. Brutus and Thomo had made their way down from Auckland to join the 13 on the bus. Unfortunately Larry was in no shape to play as his ankle was pretty swollen so he kept the bus driver company while 2 x four balls and 2x three balls headed off. Now we
weren't as lucky with the weather with a drizzle accompanying us for about half
the holes played, but it wasn't windy and it was not too cold. The course
played well, with the greens being surprisingly quick, fairways a little wet
but nothing to really complain about. A course you would like to play in the
summer, with a nice little 168 metre par 3 down over a pond to tough little green as there signature hole. Not one of our 3 hit the green and I was again playing with winner of the day.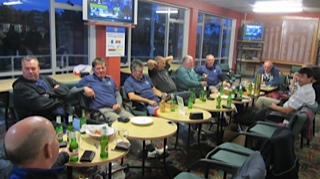 We joined a stag night crew in the club house, who Hatt had gone out of his way to kill out on the course with a stray pulled shot. But they were in the same frame as us, there to have a few beers and a good time. The beers didn't seem to be flowing as readily as the previous night for some reason, but everyone including Larry who was in a bit of pain were in good spirits. After a very short fine session, we got into the prize giving. Ferg had a bad day on the greens taking out "The Putted Like Pig" with 37 putts, and I took out the "Played like a Dog" with a dismal 24 stabies for the day. Ernie took out "Bangers Shot" with a 78 off the stick, nice for some … he only played 22 less shots than me. Brutus took out "Glugs Mug" for the second time this year with 27 putts, nice nice.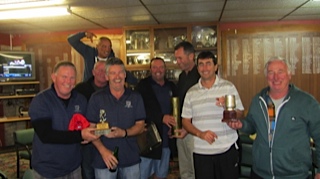 "The Plate" went to Dowdy with a 34 stabies, he was 2 behind Hatt who came in with 36 but was ineligible as he won the Trophy the Day before and is as such in another league (at that moment in time). But 34 was outstanding … but again having to watch someone hit 5 shots below his handicap when I had hit 12 shots above rubbed salt into the wound. Crazy was on fire and came in with an outstanding 41 stabies, 5 clear of his closest rival Hatt. He picked up the MWSS Trophy and a nice little $1,300 a good note to finish a nice couple of days on tour.

Everyone was a little tired so after a couple of rounds over the bar we headed off in the bus with a few beers and home. God we are getting old!!!!


The El Presidente


April 15th 2013 ~Masters Monday ~ North Shore Golf Club
We shared the club house with the NZ Herald who had used the same format as us, The Masters, golf then drinks, so we struggled a little with prize giving. But after the initial hat going around to pick up moneys for Sweeps, Breakfasts, Snakes and of course MWSS, we started to get a roll on. We welcomed the 4 new guests to the day Steve Allen, Mark Armstrong, Michael Poll and John Cobb who did outstandingly well with there on the spot overview of their first sexual experience. Fortunately they were short on detail. Unfortunately Brian got hit early with fines by providing us with our first fatality on tour in over 10 years in first his hit outing. Cobby hit a Pukeko with his golf ball killing it out right, in his defense the guys playing with him were sure it was impossible to think he was aiming at it as he definitely would have then missed it. The question outstanding is what Polly did with it. The fine session was reasonably short and painless for most.
Gary had provided yet again some merchandise for the day which included Masters Monday Green Shirts for our past and Present winners plus had a couple to give away. Also Crazy added some wine bags that the Virgins picked up for their stories. All in all a great day despite the weather, if not a long one, but every year Masters Monday has got a little more momentum.
To make it a little more special a number of people came forward to fill a great prize table for the day. With fishing gear, wine, golf balls, shirts, bags, Golf bags and more … it added to the day and to those that helped out THANKS!
For the day we added a longest Drive picked up by Sparrow, a closest to the pin picked up by Macca, Bangers shot had been contested 31 times with Bangers picking it up the most, 15 times, this time it went to 4 Door with 80 off the stick.
The Plate celebrating the Winner of the losers has been contested 84 times with Hone picking it up 5 times. To be fear to Hone, he had a bad run on tour in Australia. Dan picked it up this time with 38 points.
To the all-important "MWSS Trophy" contested 84 times and no matter how you argue the fairness of the Stableford game, good golfers show through with Bangers picking it up 12 times over the years. This time it was picked up by Matt Martell who came in with 41 points. I had the honour of playing with him and he just had one of those days when it all came together. The 41 points gave him the Trophy … a golf bag and over $1000 in prize money. The rumour is that he put more than he should have on the bar for the boys.
To everyone who has played over the years, thanks for joining us and may it long continue.
A great turn out to celebrate 10 years out at Muriwai golf club. There was a great prize table, great golf, an eventful bus trip and many a laugh along the way.
Back into the nineteenth for some food, we were joined by the resident Pro Richard Ellis for a beer and to oversee the fines session administrated by Crazy for the day. We were also honoured by the presence of our two side-lined members Granddad and Boba, both out with injuries but made their way from Tairua for a beer with the boys.
A big welcome to the Virgins on the day, Stuart Brey, Nigel Douglas (winner of the plate), Alex Sharp, Kevin Brown and Dan Meiklejohn. Its always good to see new faces I hope you enjoyed yourselves.
After the club for those that were on it, the bus went through the Coroglen for a drink with the locals then onto Matarangi and our bach for a few more drinks and a bit of food … nice nice!