Matarangi Dunes Golf Club ~ 2nd January 2010
Many of the 24 that turned up to play there first golf game for the year and looking for a good start, were disappointed as it was hard going on the course. The course was in great shape but many were feeling the effects of the holidays and the body abuse that comes with it
As I mentioned, there was a great turn out and after a late change in the date to catch many before heading home, we got 24 in the field with many well organized coming from Tairua, Pauanui and Hahei and having drivers organized or as with Ant and Matt playing the 18th again to see who could drink and who was going to stop and drive.
As with last year we had some young guns play in the group, a few of the sons who having taken up the game and are showing some real promise, unlike some of their fathers.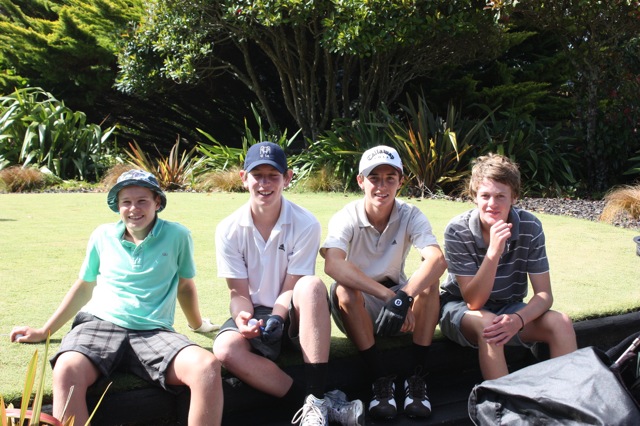 We have capped the youngest age to be 14 based on they hit a descent ball, they don't drink but look old enough to drive us home.
Now to say we had a diverse group is a bit of an under statement. We had 36 even handicappers playing, but again stableford is a great equalizer and as stated so was the course. The Dunes is a tough course at any time … rated harder that Titirangi, so you need to be hitting straight or you are in the shit, water, long grass, bush or sand, of which there is a bunker about 150 meters that sits between the no 1 & 2 stroke holes.
Thanks to Crazy our Fines master on the day, many stories were pulled out and dealt with honorably, breaking clubs, walking into ponds, not hitting past the ladies not once but twice, all good stuff and done in good humour. But it also extracted $197 for provisions going forward.
Now … a big thanks to Greg the local Pro for helping with the day. He organized the longest drive who went to a young gun Mitchell … JA's son a not bad drive for 14, and closest to the pin which went to Bangers.
To the winners on the day of which we could present two of the pieces of software, Brutus forgot the plate. Glugs mug went to Mark Callander, a virgin to the day who with 29 putts took the cup and $60 which lasted about two minutes at the bar.
The Winner of the loser Plate went to Begg who likes to turn up to try and beat Broomy, unfortunately he brought his game but Broomy was at a Family reunion and missed the game. But all good with his 34 … he is finally on the honours board.
We had a good winner in Birdy who with his 36 stabies played a good game and celebrated with vigor with the rest of us at the 19th. To hit 36 on that day was outstanding. Unfortunately … Birdy resides in Whangarei and is keen to defend his title so I think we may need another bus trip north to meet him halfway in February. All good though.
The El Presidente
Helensville Golf Club – 30th November 2009
Not a great start to the day with there being confusion on the start time for the first 4 ball. Emails to everyone said 11.45, the Web site said 11 and starter said we were booked in from 11:17. I was working on the 11:45 so was surprised to have the starter push those standing around onto the course around 11:30; thank god there were 12 standing around so off they went. Unfortunately that left me and Matt as a 2 ball, him hitting his usual single handicap game and me playing in between my new and old swing. Matt took it all in his stride. Then there was Peter O, Rusty and the 2 lawyers who turner up at 12:30 and made me think "No matter how you organize it there is always some one who is late"
To the course, greens had great cover but a bit slow, fairways in good nick as was the rough and all the bunkers I landed in. The weather was good, only got rained on briefly but all good. All in all not a bad day to be out of the office.
My second foe par for the day was raised very quickly in that I forgot the animals which seem to have gathered a nice little following from the golfer's ranks. But with or without the pieces of plastic, the Fine master for the Day, 4 door Ford got the fines well and truly out of the group. For the third time on tour we had one of our players hit on the head with a ball … Rusty went down on the 18th Green decked by his good friend Peter O and instantly he had lawyers at his side. Lucky Peter hits like a girl and the damage was minimal, nothing a beer couldn't help fix or a hefty fine would make him feel better.
To the golf … the Glugs mug putts record was smashed by 4 door Ford putting only 24 times within his round of 73 Gross. Great effort on slow greens. To the winners of the Loser's Plate, Glug thought he had the trophy having his best round ever 88 of a 21 giving 39 stabies, but then Peter O did better, hitting 42 stabies and Rusty. Which on a normal day would have taken the money also, but this time just the plate… but still something to take home.
No the winner (and didn't we hear about it) was Macca who came in with 45 stabies to take out the trophy and the small pot in place. Well done not often a 14 handicapper beats a 5 and 10 handicappers of the stick. That's golf. Macca the organizer of the Ausie trip in August gave it another push and I think we are up to 8 so far with a few others penciled in. so all good.
December is a right off as many of us have to much on so hopefully we will catch up down at the Dunes at Matarangi on the 5th of January. Have a great Christmas.
The El Presidente
Waipa Golf Course - 16 October 2009
Well ... it was a bit of a dicey call as the weather people couldn't agree if there was just going to be rain, thunder storms or even Tornados in the north, but good old Newa said it was going to be fine. And they were correct.
We had 19 turn up for our big bus with a toilet, starting off with a coffee in the Poe Car park thanks to the coffee man sent by Crazy. We headed off to our first stop the "Top of Dome' for breakfast entertained by Grim's quiz that totally passed the time. Breakfast was waiting for us and JA wasn't last, good old fry ups for most but there was the odd hole grain toast for those watching their weight.
Back on the bus for another 3/4 of an hour then we turned up to the club house with blue skis and an empty car park and one hell of a beach view. We split into 4 X 4 balls and a 3 ball. We headed out using the 1st and 10th as start points to a course that was well set up for a 72 hole comp that was happening over the weekend. The greens were a good speed and not too fast.
There was good cover on the fairways but the rough was a little rough in places, but you shouldn't be there any way.
The weather held on beautifully and to finish off the days gold was a frenzied boil up that extended for about a km along the beach with hundreds of birds, great ad for getting out of the office.
After a quick shower it was out onto the deck with a few beers, homemade burgers and chips, potato and kumara for the Chief. Now we had reverted to our original Fine Master, Crazy who had taken to the heavy hand of fining as Johnny had started with too much ease. Not that he needed to work too hard with accusations and stories coming out left right and centre and as usual the Chief and Grim were right in the middle. A couple of the newies were a bit thrown as was the couple sitting on the deck having a quiet drink. But it was all good. $223 later... we spent $526 on food for the day.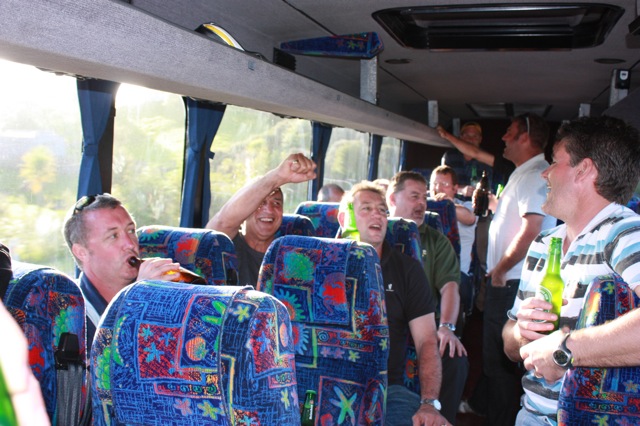 To the golf, the best gross which usually doesn't get a mention was a 78 by Bangers just ahead of Peter Ford with a 79 both off 4s, no prize but worth a mention, wish I could hit in the 70s at least once. We also had a longest drive that went to Macca and Boba picked up closest to the pin, but then 3 putted ... work that one out.
Glugs Mug went to Crazy which was nice as he had forgotten his glasses and was struggling to see the ball so he made the best of when he could see where he was going finishing with 27 putts for the day, the silverware and $50. Now Glug himself turned up to play and thought he had it in the bag coming in with 38 stabies and a big smile but only earning him the plate. A great round and on a normal day, but Big Nev had other Ideas and wiped the floor with 44 stabies taking the the trophy and a good amount of cash which he put a great deal of on the bar over next 3 hours.
Well time was ticking, so we grabbed some beers from the club and headed back to Auckland a very quick stop at the Puhoi for a walk down memory lane with quart bottles and 2 rounds of Ouzo's, thank god it wasn't tequila. We arrived back to the Poe about 6:30 for the bus driver and most dispersed over 2 bars in the Poe for a few more.
Now ... it was a great day and I found out a few things. When you have a toilet on a bus, you don't really need it, usually 3 hours of drinking on a bus, you stop every 10 km. We had no piss stops but no one used the loo on board either.It must be a head thing.
The other thing is never leave your camera around.
Grim has one uuuuugly ass.
The El Presidente
Grange Golf Club ~ Friday 4th September 2009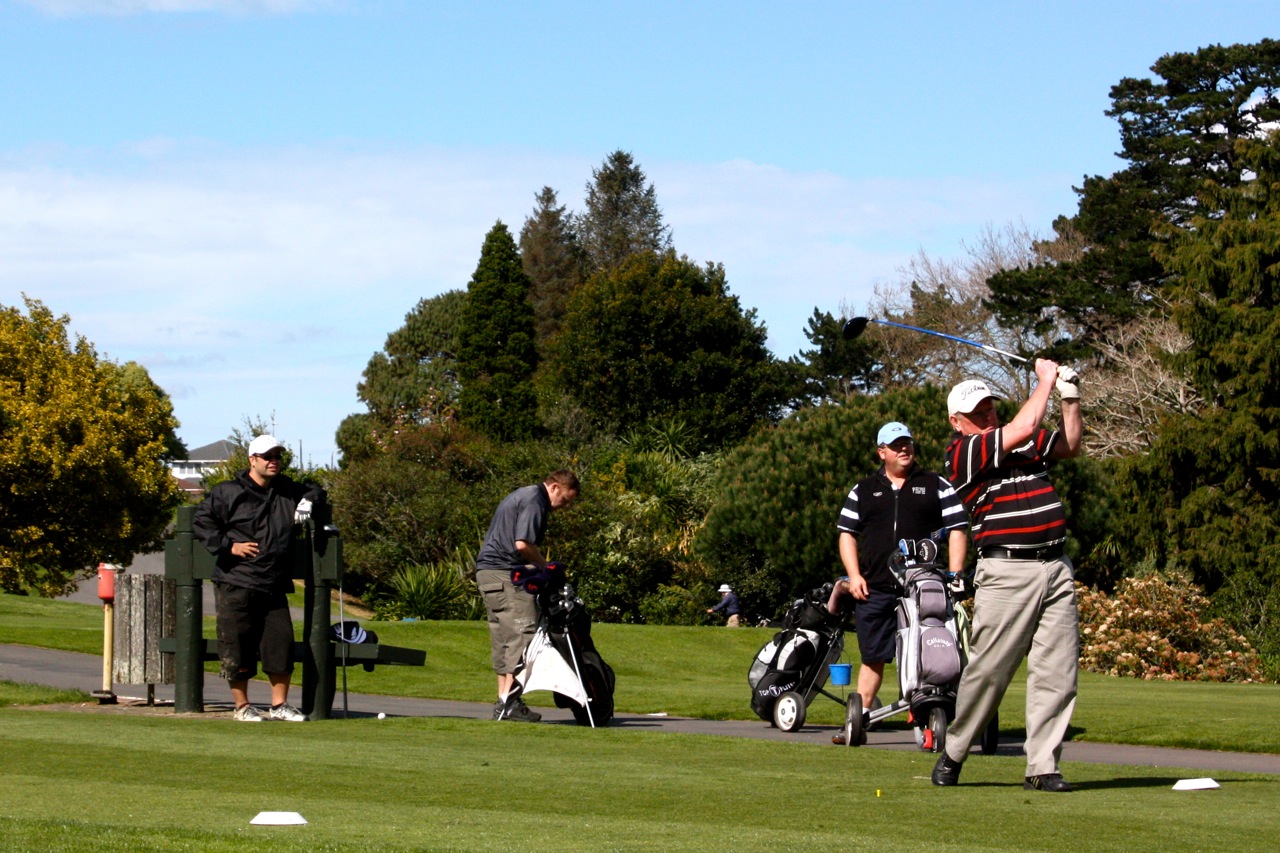 Great turn out to our "Putt & Pint" day at Grange Golf Club and then the DB Breweries, funny that, all I had to do is add a Brewery and I doubled our turn out. Well, I can't take full credit for the day, that goes to Neil who pulled a few strings and caught up with Mark Campbell from DB who made it all come together.
Anyway there was some golf played on a course that was in pretty good nick, tees and fairways had good cover as did the greens that were quick, the only negative was some of the pin placements on slopes that had you missing a 2ft putt and ending up off the green.
We had 29 in the field which unfortunately added a number of 3 balls. A good mix of player ability of which I endeavoured to sort with like ability. We actually had 36 handicappers through to those on 5s with gross scores from 120 through to 75. So as you can see we take any one of any ability.
We actually had a bit of a slow round, but the 2 tee start helped to bring us in reasonably close. A couple had time to get a f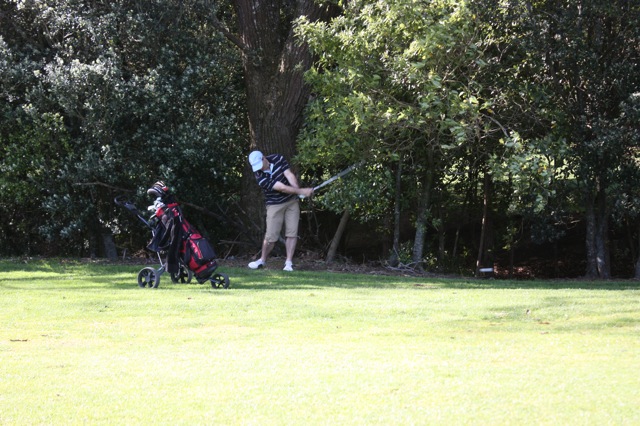 ew beers in at the club house but as the last group came in we all headed off down the road to the DB. Mark welcomed us all into their great private bar facility and gave us our drinking glasses and showed us to the bank of 16 beers on tap and instructed us to help ourselves, which of course the boys were happy to do. Food then appeared on the tables, as a good host does, and the scene was set. We were going to do a quick tour of the facilities but our late arrival put that to bed unfortunately.
Now our Fine Master has been taking night classes in being a prick and was in fine form. His new animal's, lizards, monkeys and ducks adding to our snakes making for a bit of fun and money. He was given plenty of material to help build the funds and 1 story would lead into a counter story so it was all good. Three broken clubs during the day was one that sits in my memory.
Thanks to Bangers we finally worked out some winners. The quick greens playing havoc with putts, 44 putts at one end but at the other End Ernie only needed 28 which is impressive, so he picked up Glugs Mug and a nice bit of cash for his efforts.
To the scores we had to go to a count back for the plate Allister and Peter Ford both ending up on 35 stabbies. Peter took out on the 1st hole but good scores with greens like that. To our winner and it is only right that he does take it out as he organised the day. Neil came through with 37 stabbies, a great win. Unfortunately he needed 1 more point to pick up the money but it goes into the kitty which was added to with another $100 by Paul who took the money at Gulf Harbour. His reasoning was he hadn't shouted enough that day … great gesture!!
It was great day and many thanks to Neil, Mike and the other DB boys for their hospitality. It was also great from the perspective that we had a lot of new faces, a lot of regulars but also a few we hadn't seen for a while. See you on the Bus next month.
The El Presidente
Gulf Harbour Country Club ~ Monday 17th August 2009
Not quite the perfect day we expect when turning up to a MWSS golf day, by the look of the photos taken it all looks picture perfect but the reality was we had a howling nor easterly in our faces for most of the round. I thought we might have had a few pull out due to the big blow as Gulf Harbour is well known for feeling the wind and the cold, but we had 17 turn up to play. After the el Presidente got his act together and worked out 17 doesn't go into 4s and not wanting a lonely 2 any where we ended up with 2 x 4 balls and 3 x 3 balls.... eventually.
As it was, the course was still wet from some big dumps the week before so there wasn't much run on the fairways, but the course was not in bad nick apart from the greens that looked like they hadn't been mowed for a couple of days. But you can't fault the spectacular holes that make up that back nine especially.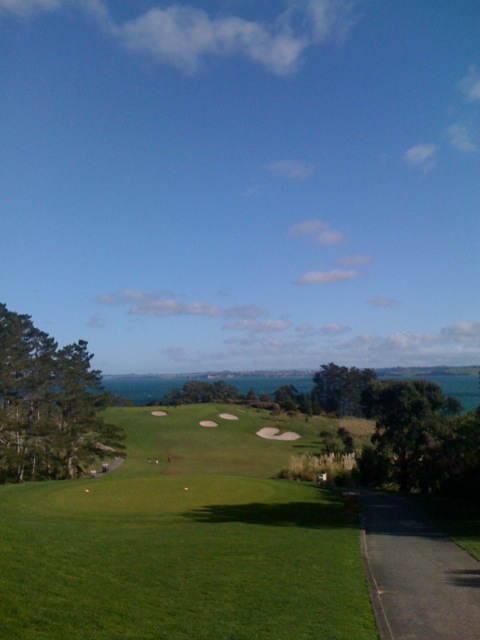 Now it was a reasonably slow round but the first 3 ball that teed of first came in, had a beer left their entry fee, snake money and a small token fee for their fines and ran off to a "meeting". Now this just isn't done and the money left for fines only covered Rods fines so their is work for the Fine Master.
Now the Fine Master has added a couple more animals to the rules so it is worth looking at the rules before you go out again. He is stating to get a roll on and nothing goes unnoticed or if it is some one usually dobs you in. The money is building up and will go towards a bus for the October away trip. So don't think of it as fines but as compulsary saving..... or tax if you are that way inclined. Best fines were late ones the El Presidente engraving the plate with the wrong name and the Johnny for throwing a club, not his own.
To the scores, varying from 75 gross to 116 and it must be added that half the field hit triple figures so it was a hard day at the office. The greens were a big part of the hard work with only 1 player cracking 30 putts, and that was Bill who is becoming a regular to the days sinking on 28 putts which was impressive on the grainy but slick greens.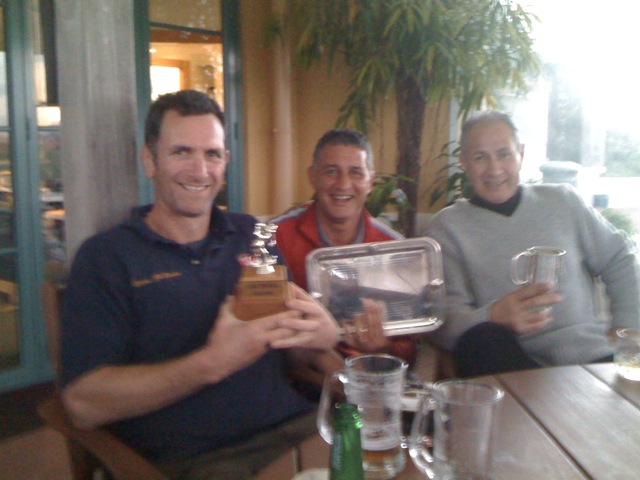 Now there was only one play that lapped up the conditions which we will get to next but there was a bit of a bottle neck for second place. Well actually Grim picked up second place with 33 stabbies but you are of course exempt of having to hold the "losers plate" if you have won the trophy in the last 12 months which he did last time out. So it came down to Jimmy, Boba, and Glenn all sitting on 32 stabbies. Going to count back starting from the number 1 stroke hole (rule change) Glenn picked it up on that hole so well done Glenn.
Now there was only one person and by all reports Paul Lenard played outstandingly, hitting 75 of the stick and bringing in 38 points picking up a good wod of cash and the beautifull trophy that is the MWSS. The story goes that he even added a stroke when the ball moved with the wind when he had adressed it, can't imagine we would have anybody with that much integrity playing amongst us.
Great Day even in the wind see you at the Grange
The El Presidente
Muriwai Golf Course ~ Friday 30th July 2009
Well it all came together at short notice for Muriwai and as ususal, we got the weather and conditions pretty goo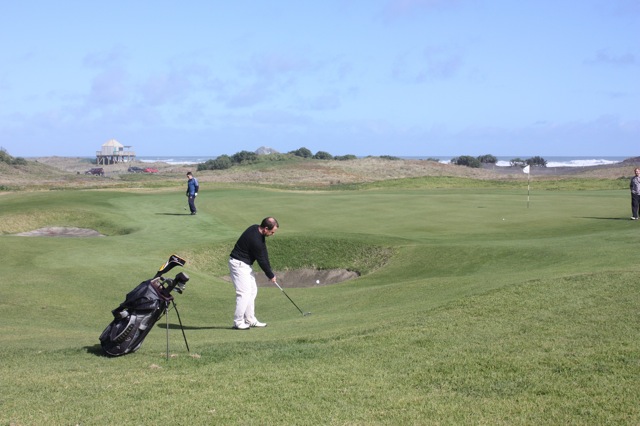 d. No wind to talk about, temperatures a little cold but ok and the course was as usual in great nick. Now we were happy with only having 12 in the field although there were a few playing with the St Peter Old Boys group later in the day, who had decided to go with god rather than the El Presidente but that will be brought up in the next fine session.
Talking of fine sessions, I nominated a new fine master for the day with the name Johnny Coogan, who set a new bench mark in dragging the skeletons of fellow players out of the closet. He opened the door and had a number of players happy to give the stories of the day. The number of 3 putts was a target as was hitting a ton, being hit by a ball was a good story but the the best was from Bill who was playing his first game back from a triple bypass and was arguing that he should be aloud the use of a cart. He took his shirt off and dropped his pants to show the extent of the surgery and his scars. Johnny let him off half his fine. The El Prisdent was the hardest hit having to pay up for non performance over the last few months and I now know, not to argue with the fine master.
Showing our usual diversity of golfers, scores ranged from 109 to 80 of the stick and putts ranged from 31 to 42 so you can see where most had their problems for the day. But that is why we stick with the stabies being the measure of a good game. Now we are usually around 28 putts for Glugs Mug but on this day Bangers was happy with 31 putts $30 and his name on the cup yet again.
The big question, is the money in still in the bank?
Well yes it is, close but not close enough, we had 2 players come in with 36 stabies Big Russell Meloney and Grim.
Now Grim picked up on count back on the 18th where he finished with 3 stabies agains t Russes 2. So all hail the new holder of the trophy Grim and to winner of the losers with plate Big Russ. Now there was mention of a couple of dates that we were looking at and the next thing Neil is on the phone and booked the first one. So we are booked in at the Grange on Friday the 4th of September for Golf from 11:30 tee time, 2 tee start 24 player field, first in first serve. Then after that we are off to the DB Breweries for a 40 minute tour before a tasting session at the bar. So book yourself in for that one ASAP.
The El Presidente
Huapai Golf Course ~ Friday 13th March 2009
Weather was unpredictable for the day. We had all four seasons in 18 holes, not knowing whether we were putting on suntan lotion or raincoats.
The course was in great condition, fairways were a little sparse in the grass department but tees and greens were great with the greens putting well, fast and true. We had 17 in the field which was a good turn out for this time of the year. Most asking why we weren't having more, which really just comes down to our El-Presidente getting off his arse. We had a mix of 3 balls and 4 balls go out with a pack well mixed so people had to get to know each other quickly.
By all accounts, there were the usual scandals happening in the 18th with an intriguing whiskey on the first with all eyes looking on from newbee Mitchell, but by all accounts his game just got better. We had club throwing reported, balls hitting the clubhouse, people on performance enhancing drugs and one member having lessons from not only one pro but two. All of the above were penalized through the court system resulting in $80 in the bank.
To the results – to be honest the prizegiving was a fiasco. The El-Presidente did not perform well under pressure. Coming off the course most had one or two beers under their belts and I set about trying decipher some ugly cards. As a result, I tried to dish out the trophies to people that did not win and without having our simple rules in front of me, fell down on a number of long standing rulings. The only positive is I was not fined for it, well not yet!!
The results as they where given out on the day, Glugs' Mug was contested by Grim and Wix both on 27 putts. On countback, Wix picked it up on the 16th with only one putt. The mug itself is still lost but Wix pocketed $50 from those left holding the snake. The Plate was contested by Bangers and El Presidente both sitting on 37 stabbies on countback, Bangers was ecstatic to the point of vomiting that he had finally won the Plate. To the Trophy itself, the winner was finally identified after the El Presidente stuffed up was Wix with a comprehensive win with 40 stabbies, of a 24 handicape that the El Presidente gave him. Picking up the trophy for the first time along with $170 which most went on the bar.
But no 2 days later there is an inquiry, the siren is sounding, the El Presidente is not always right (Rule 1) it seems on checking the rules Rule 4 is clear on how Wix's predicament should have been covered on the day as below.
Rule4 Handicaps~non registered~ amateur status ~ the player can be set a handicap by the El Presidente after consulting with the players and friends. He will pay $10 per time (No catch up $5 as in rule 6) he plays but is only eligible for the MWSS plate and Glug's Mug. In the unlikely event of a dispute...see rule 1.
So the correct winner of the Trophy is Bangers and Wix picks up the plate and the El Presidente is fined the balance of the moneys outstanding after the bar tab was sorted. You set the rules, you live by the rules you die by the Rules even the El Presidente. Sorry Wix
The El Presidente
The Dunes ~ 3rd January 2008
It was a sweltering day at the Pines and a packed field of nearly 50 MWSS members and supporters of Denis Crosland hacked their way around the 18 holes of the beach course. The day doubled as a MWSS event and co-sanctioned by Hedgehog Promotions' Bangers as a fundraiser for Denis who has had some health issues of late.
Fast fairways and good greens contributed to some fine scores (but not by the author) – best of the bunch was Matt McCardy with 43pts closely followed by another burglar from his group with shooting 41pts. Matt obviously did the right thing by the boys and put the funds directly onto the bar and the group enjoyed a fine afternoon of banter and sun at the Pines clubhouse.
The Crosland tourney was well patronized by the MWSS boys, locals who knew Denis and many a Cote man who doesn't swing a club too often. But the likes of the Menzies boys and Pete Blackett (who ventured out from the "Triangle" for the day) are well versed in the rigours of the 19th and so easily slotted into the routine.
The president couldn't make the golf due to a family bereavement in Perth, but an admirably effort was made by BT to get to the 19th for the beers – I am not sure that he even went home first to see Nat before heading to the clubhouse!
Other notable achievements were Beej toppling Broomy on Stabies, a feat that you will not be able to let forget Broomy (although as the noble & humble man that he is, Broomy immediately defended his position by saying that all scores should really be counted as "off the stick" not on handicaps!!......be strong Broomy and maintain your line!)
The putting cup was not awarded on the day…..as without BT's organization … we fell away… never had cards and didn't remember it until the 19th….. but alas…I am sure the mug was in the travel bags of Jimmy en-route to the USA for safe keeping….so we will have to drag it out again next time.
It was great to see a good turn out – full credit must go to BT & Bangers for organizing the day for Denis and the support shown reflects how the boys rally around when it's needed. The man himself made an appearance at the 19th and this was great to see.
BT is getting his act together again this year, after a year of mis-starts for our little group – so look out for the emails and make the effort to get to the next event.
See ya then.
The El Presidente
North Shore Golf Club ~ 12th May 2008
Well there were a few guys sitting at work thinking I should be at golf last Monday as again the El Presidente picked day made for golf. Peeeeeeeeerfect Autumn day no wind 18deg. Greens were holding fairways were wide, rough was short and we had 3 four balls that were mixed well to increase the bull shit out on the course.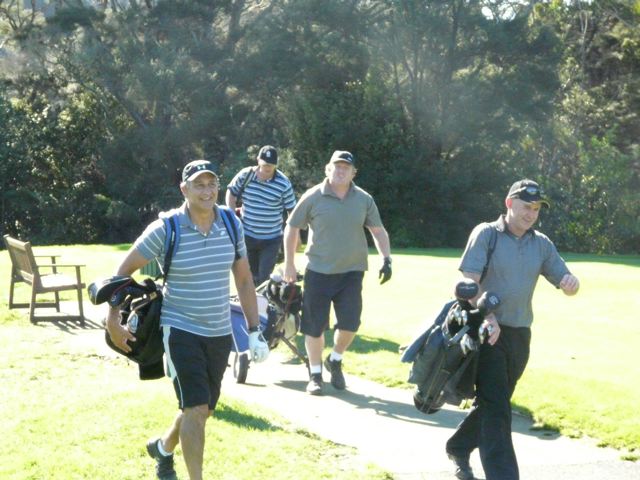 In the field we had the big boys Andy and bangers and then the rest of us hackers with Glenn, Grim, Boba, Glug himself, Broomy, Clayton, Brutus, Jimmy, Myself and newbie Andrew McQuigan who flys jets in his spear time. As I said as usual a bunch of once a month golfers with 2 pros in the mix our regular field.
As I said the course was in good nick, the only thing to put a spanner in the works was the sand on the greens initially slowed the putts down but as it dried out it just made you think they were slower than they were. Not that it hindered Big Andys read of the greens picking up Glugs Mug with 30 putts and the Money with it.
To the other Silverware the MWSS trophy came in at a tye on 34 stabies, yes silvware but no money, this month. Broomy and Bangers both on 34 but Bangers took it out on count back on the 18th hole. Well done Bangers.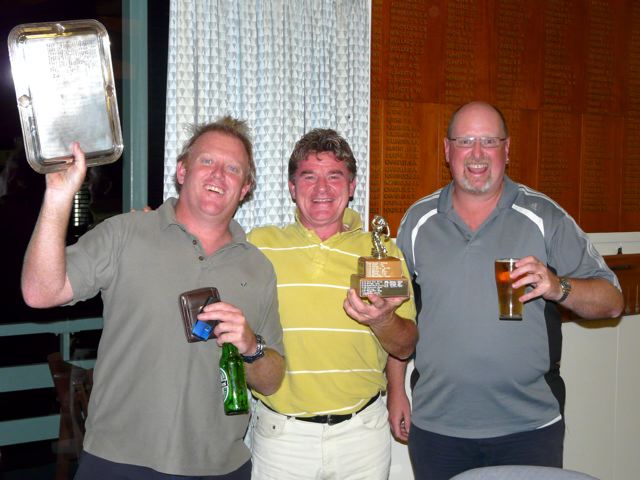 To the Plate section , Winner of the loosers plate, As you may know if you have won the MWSS trophy in the last 12 months you can't win the the plate so it started, Broomy 34 stabies no won in January at the Dunes, next Big Any 33 points.. no won it at South Head in November, Brett… no won it at Muriwai back in August.. Glugg on 28 Stabies .. yes aligable last won the Trophy back in February 2007 at Mungawhai. Just to rub it in.
Change of rules Rule 11 on the count back instead of counting back from hole 18 we will count back from the no.1 stroke hole as per international MWSS rules
Just like to thank those that made the effort to get there for the day and thanks for putting up with me as the stand in
The El Presidente
The Dunes ~ Saturday 22nd March 2008
After postponing the road trip up north because of business commitments by the El Presidente (I need to listen to my own spin on priorities) it looked like March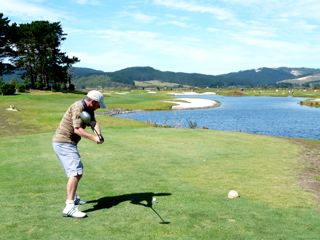 was going to be another dot ball on the calendar for the MWSS. But then standing on the tee at the Dunes on Easter Saturday with 7 other players, 6 of whom were MWSS past players, we agreed to sanction the event as we had a quorum and the El Presidente thought he was in with a chance.
Now I can hear a few disgruntled guys moaning, but there was no money in the kitty, as Bobba had cleaned it out at Waitakere, the end of March was coming up quick and at such short notice I couldn't organize the Carlsberg girls.
So the two 4 balls teed of on a very dry Dunes golf course. Greens were average, fairways were a little bald in places but, as usual, the course layout itself kept us honest. There was an assortment of golf played with 2 single handicappers in the pack but most of us averaging 19 handicaps.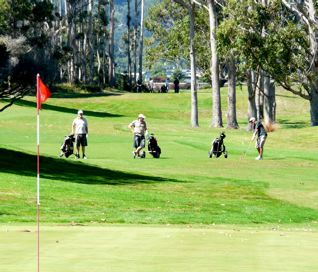 With such a small group it is hard to get a lot of money out of them for fines but between losing a club in the water and "using cart" fines we added another $25 to the travel fund.
As I said the greens were average showing the effects of a long hot summer, a bit poxy in places but two guys had no problems with them Bangers and Steve Rod both low handicappers coming in with 28 putts. Steve got it on count back after both 1 putting on the 18th Steve also 1 putted on the 17th whereas Bangers dropped it in 2. Steve had actually 1 putted the previous 2 as well. 4 putts in 4 holes has to help your score.
So down to the games, again as at the last match at the Dunes young local Dennis stepped up to be counted
coming in with 38 Stabies. Unfortunately we won't see Dennis during the year as he is attached to the Coromandel by some invisible umbilical cord, which is a pity because he is playing some great golf and is good company at the after match, especially when playing waiter.
But Den was only to be presented with the Plate again, as his mate Bangers takes out the Trophy and the petty cash with 39 points hitting 75 of his 6 handicap. In the Zone yet again, Bangers couldn't do much wrong he had eight 1 putts, and this is usually because he is putting from within a metre because he has chipped in so well. Bars…..tard.
But that's what golf is all about and why the handicapping system is right for the MWSS as we can all be competitive…. even if we only hit 1 green in regulation.
The El Presidente
Waitakere Golf Club ~ Friday 22nd February 2008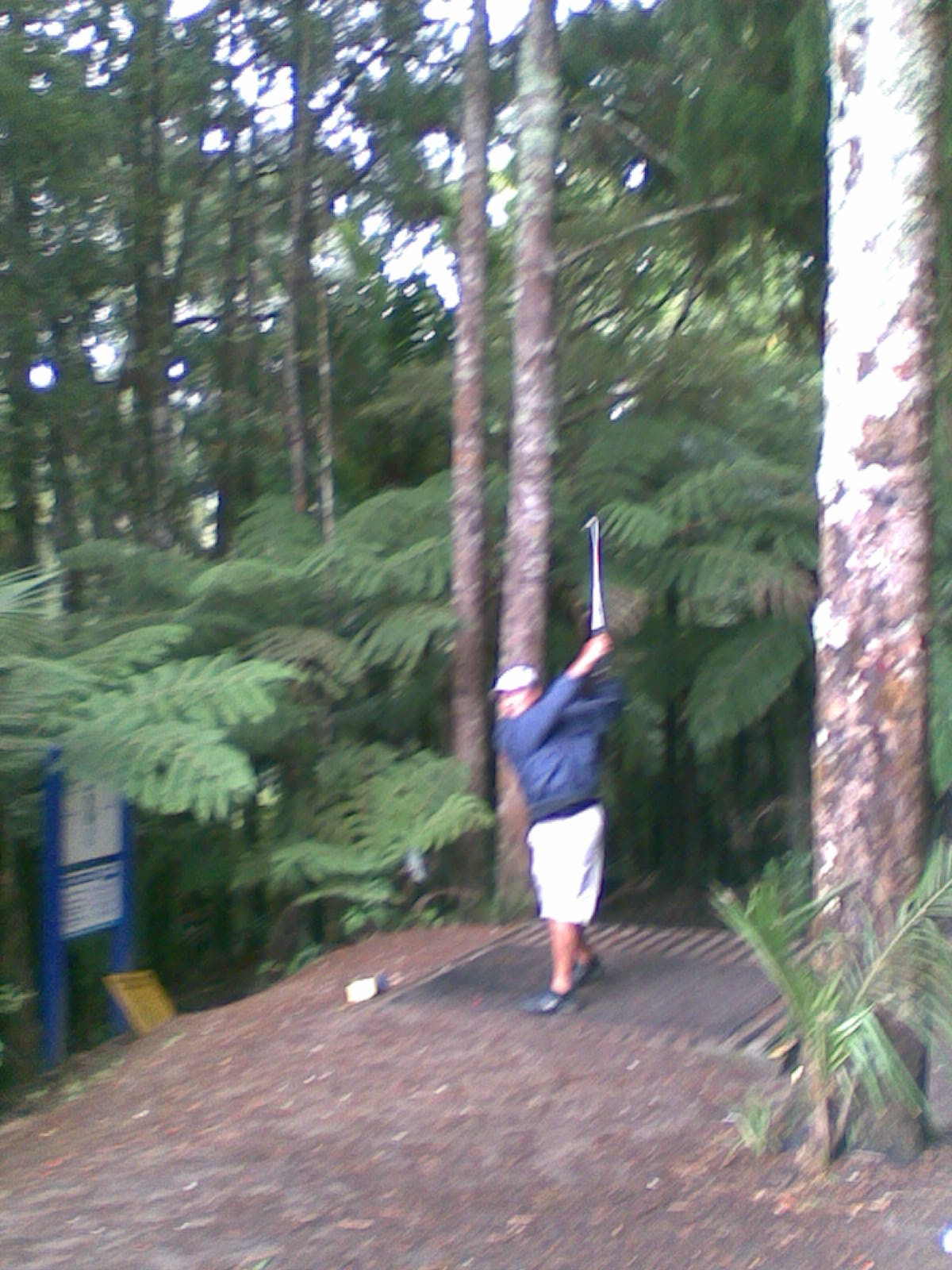 Well it was a big call as to whether we should cancel. It hadn't rained for weeks, the clouds were as black as black and we were heading into the Waitakere Ranges where the average rainfall is twice that of the rest of Auckland. However, El Presidente was told to harden up by a number of the group that had taken the day off from work to play, which was a great call. Now we weren't all hard men on the day, we had some late withdrawals but we still mustered three 3 balls to tee off on a blind hole 1.
Now for all those that have not played the course, it lived up to the hype of being hilly, but it was in great nick and a great test of your golfing talents. There are two testing par 3s which see you hitting out from inside the native bush. Although off mats may not work for the golf purist, you couldn't question it suited the course and the terrain it was built from.
Many of us had grabbed carts as the weather was drizzly at the start, which was entertainment itself, with a wet surface and solid base it was like driving on ice at times.More than once I saw my medium length life flash in front of me as we went backwards down a bank.
The golf was just as exciting, but before I get into that – a special mention to a mate who joined us for his first 18 holes of golf ever and lasted through the weather, the hills and the bullshit that goes with playing with Wixy and Boba. Well done Chris hope we haven't put you off attending future events.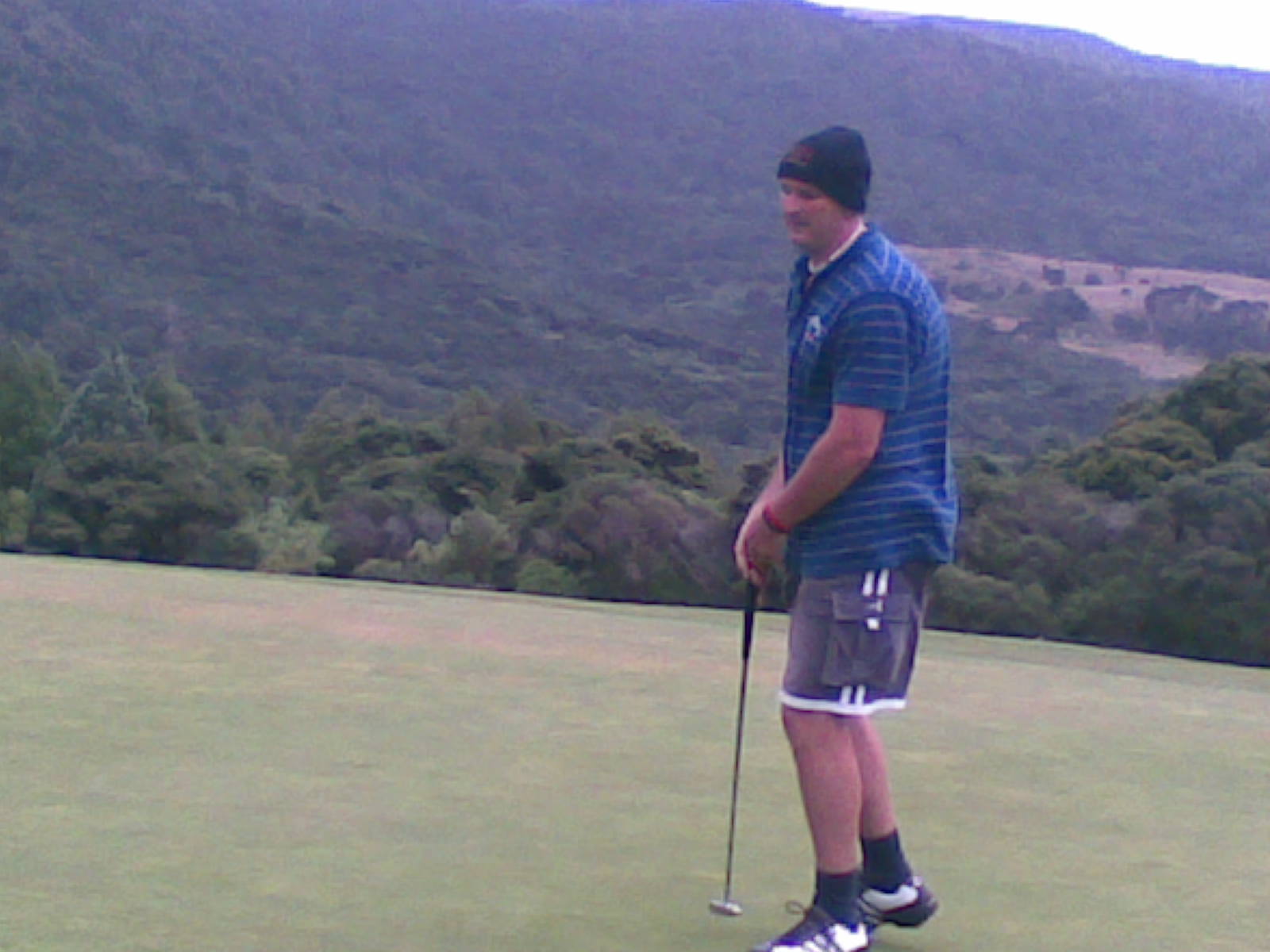 To the winner of Glugs Mug, for a big man he has a soft touch on the greens - Big Russ with only 29 putts on some slippery greens. That was great putting on such a day.
The plate went to Wixy who was real keen to play on the day, he must have felt he was ready to fire and did with 36 points which was a real good achievement when you have never been on the course before.
The winner was in the same boat, had not played the course before. But even more astonishingly is how you can then have a game that produces 41 points, well done Boba.
A great day for golf
The El Presidente
The Dunes Golf Club ~ 4th January 2008
Not the greatest of planning or communication went into the last golf day. As you may know half of Auckland move to the Corromandel over the Christmas break, so it is always a good bet to get at least one game in over that period. Unfortunately the computer was down, so a general invitation was not sent out, the day before Crazy went home, the defending course champ Ant played in the morning, we played in the afternoon. So all-in-all not a great start.
But to the golf, we had a field of 9 which included Jack Bancroft, Bangers' 12 year old son. Our youngest player ever and he wasn't last in the field, but very competitive. The Course was at that drying out stage, the wind was moderate, greens were medium pass but the course was playing its usual honest self. Stay on the fairway and you were ok, in the rough you would struggle and the many "out of bounds" would hurt you big time if you were playing like me.
So 3 three balls went out and 3 came in, all reasonably happy with their day out in the sun, funny how golf is that little bit different when you are on holiday. The beers started to flow as the Matarangi clubhouse is a nice place to relax. We were hob-nobbing it with the celebs and the wannabe celebs, but they were all overshadowed by the Carlsberg girls who made it their task to convert us to their brew. We were easy meat, especially when the beer was served on a stunning pair of legs.
Anyway to the prizes, Glugs mug was picked up by Glug himself with 29 putts, his putting wasn't outstanding but his chipping was on fire allowing him to putt from reasonable distances. The Plate was won by a local that plays every year Mr Dennis Crosland who has more movements in his swing than can be counted but connects with scary precision. He came in with 34 stabbies which playing on his local course showed how hard it was on the Day.
But out on his own basically playing with himself… in the zone… this time a winner, not runner up… was Broomy a whopping 10 points ahead of everyone coming in with 44 points. He picks up the Trophy and all $90 for the day, which didn't last long. He was happy he beat Begg who had kicked his bum a couple of days earlier so all-in-all a good day for Broomy, but a better night for Carlsberg beer.
The El Presidente
South Head Golf Club ~ 2nd November 2007
What a day, a day for the super fit, the well fed, the hard headed, a bit of golf and some designer beers. Yes it was a full and eventful day, one that won't be forgotten for a number of reasons. Any way lets start at the beginning, not a large number making up the field, 9 teed off, but we only had 7 in our little mini van that was paid for by fines from the last few outings. Henry who is in training for the Auckland Iron man decided to ride the 70 odd kms out to South Head on his push bike, and Crazy had a late meeting, but afraid of missing yet another game drove out to be just in time for the last 3 ball going off.
Now the day was grey and threatening but it only got better as the day went on. The course was in good order no real, lose your ball rough to talk of and the greens were good in the middle. The problem was they were widening the greens and the outer edges were rough, but still part of the green. There was no wind to talk of and that made the difference to the scores at the end of the day.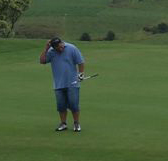 Now 3, 3 balls wouldn't seem like it could throw up too much but each group seemed to have their fair share of competition and excitement. Not 4 holes into the game we had our first casualty, Johnny gets a golf ball in the back of the head, hit from a guy off a tee not 15m away. In the words of Johnny it sounded like an aluminum baseball bat hitting a ball, with his head being the ball. Johnny's down but not out, but it took him a little time to get up. The guy that hit him was an unsympathetic spanker whose mate wasn't much better, it took all of Big Andy's self control not to hit one of them. Johnny had the dimples and the size of a golf ball sticking out of his head to claim a seat in the club house or as many were suggesting the doctors, but the tough Wellingtonian played on.
Crazy almost had a hole in one (don't they all)on the 9th coming within inches of going straight in on the full, the pitch mark telling the story. But he did get his 2 as did Broome and Grim during the day.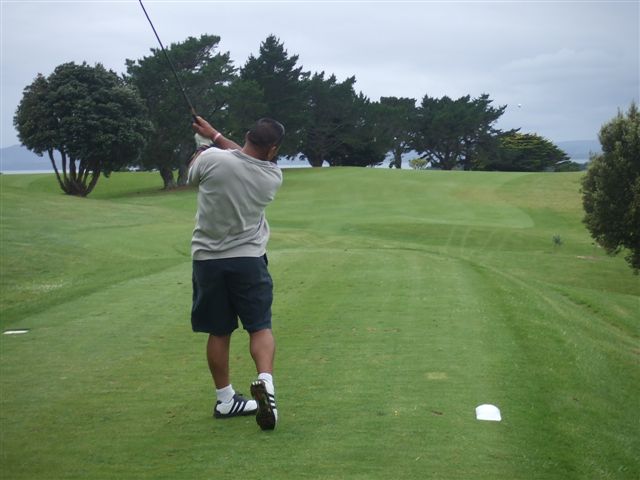 Back in the club house and we got our first taste of the Fines master. Crazy had a fine for every one, but to be fair he gave every one the chance with the honesty call that nobody took up, but when it came to it people were happy to dob in their partners for their misdemeanours. But the biggest fine went to himself for being missing in action for the last…12 weeks!
To the winners…. We said the greens were not bad and it reflected in the winning putting score being 29. Even with a mountain on the back of his head worth a Maori land claim Johnny had no problems reading the greens and putting it in the hole, and on a normal day his 36 stabies would have given him more but he was satisfied with Glugs mug.
Well to say it was a good day for golf is an understatement, the stabbies for the 9 playing were 31, 35, 36, 36, 36, 37, 38, 45, 45, …… which is unbelievable, especially when we had $650 in the pot. So it all came down to 2 players who both had the games of their lives sitting on 45 stabies, Broome and defending champ Big Andy, now Andy took it out on count back having to go back to the 14th hole to decide it, but unfortunately for Andy the day may not be remembered for the 45s that won, but getting 45 stabies and not winning, as Broome kept getting reminded of. So the trophy went o Big Andy along with $650 and the plate went to Broome both record scores…
Well with a few beers under the belt we headed back to Riverhead on the word of Grim that we would find a fine selection of house brewed beers there. And he was right and that's where we stayed for the next 3 and a half hours courtesy of Andy for the beers and Marnu for dinner. With all players dropped at their door steps courtesy of The El Presidente and The Fines master (the designated drivers for the day), it ended another great day of golf.
CU at the next day
The El Presidente
Pukekohe Golf Club ~ 14th September 2007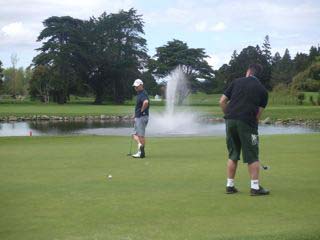 Another good turn out, even when on the other side of Auckland. 16 whittled down to 3 four balls on the actual day, but it was worth it for those that did make the break and get along to Pukekohe golf club. The weather held out nicely and the course was in magnificent order. Perfect greens plenty of grass on the fairways and there was a fare bit of water in the way of ponds to keep you honest.
We had the course basically to ourselves so we split the field, 1 four ball going off the front and the other 2 off the back, so we would get into the 19th about the same time. Looking at the scores we had our usual spread from 78 off the stick to 108, all being evened out by our great handicap system.
We had a new Pro in the field, Dennis who was introduced to the rest of the Slicers by Glug, who had given Dennis the appropriate run down on how the day works. The El Presidente was let down yet again by the El Judgeo, who again couldn't make it due to a lame excuse about not knowing the time we were teeing off, which was the same as we have for the last 4 years.
Fines were light bringing in $25 but prizes where lighter as I struggle to take and give at the same time.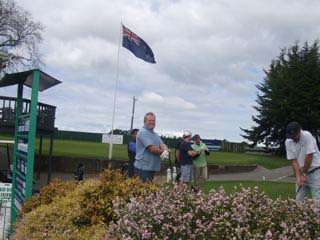 But to the winners on the day Big Andy had Glugs Mug briefly until it was pointed out correctly that Bangers actually had less putts winning with 29 putts. The El Presidente put $5 into the Jar.
It was bit of a log jam around the plate both Peter McDell and Boba coming in with 30 stabies but Grim and Bangers come in with 31 stabies. Unfortunately Bangers win at Manukau makes him a "recent winner" and ineligible for the "Winner of the Losers" Plate so well done Grim.
To the grand winner, out on his own shooting a 78 off the stick of a 7 handicap collecting 36 stabies along the way was Big Andy, No Mug but the ultimate prize well done mate. Unfortunately no money so the pot grows to be won another day.
CU at the next day
The El Presidente
Muriwai Golf Club ~ 20th August 2007
It was a great afternoon to break away from the commitments of work and play a bit of golf. A few looked at the pouring rain in the morning and thought better of the drive out to the West coast and stayed at home. Those that had faith in the El Presidente and turned up, were welcomed by rain on the 1st hole and then sun for the rest of the round. The course was in great shape, not a sign of a puddle or mud on the links course. The greens were true, slow up hill and fast down. The wind was the element that would come into play adding at least a club length when hitting into it.
We had 20 down as possibles for the day with 15 eventually teeing off. A bit of a rush with the 2 tee start, the 40 minute trip out catching most off guard but once on the course that was guickly forgotten.
There was all calibre of golf played, all having a bit of fun with tussock rough and the benefits and negatives of that wind. We had a few 2s scored from big hitters Mike, Russell, and Andy but we also had a 10 and a ball in the members car park to emphasise my point.
In the club house I looked to my left I looked to my right, finding no newly established El Judgeo to start court proceedings. Then realising Mr Craies was unavailable due to work commitments. Yeah right. So fines were given out by myself ranging from not engraving the Silverware (Rule 14), to double figure hole scores, putting off a green, not reaching the ladies tee with your drive to moving the ladies tee so some one believes they didn't reach the ladies tee with their drive. All together $35 added to kitty to fill the prize bag. Actually we have $75 I found an envelope with $40 from the court session we had at Mangawhai Heads last year.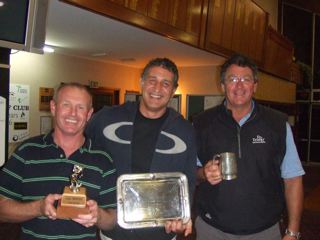 Glugs Mug turned up this month it was with Russell who wasn't at Pupuke last time to defend it or present it to Willy, only to pick the bloody thing up again with 32 putts. So Russ you need to get your name on for Manukau, Willy's on for Pupuke and yours back on for Muriwai and turn up to defend it again.
To the Winner of the plate, first time up with the group Graham Dowd looking more like a front row forward than a golfer he proved that not to be the case coming in with 34 Stabies, 2 ahead of the next player, not bad first time up especially with Mr McGahan and Broome in his ear . Unfortunately he couldn't stick around to pick up his Silverware ( Glenn had to stand in for photo) so there will be heavy fines next game.
To the Winner of the MWSS trophy, boy I love Muriwai, yes the El Presidente, Rocky defending champ of the Muriwai course. Now I didn't bother with my atrocious short game and tried just putting it on the green from out wide, mostly using a 1 wood and it came together. Unfortunately 37 stabies was good for the trophy but no pay day so the money jackpots for the next game at Gulf Harbour if we can afford it.
CU there
The El Presidente
Pupuke Golf Club ~ 20th July 2007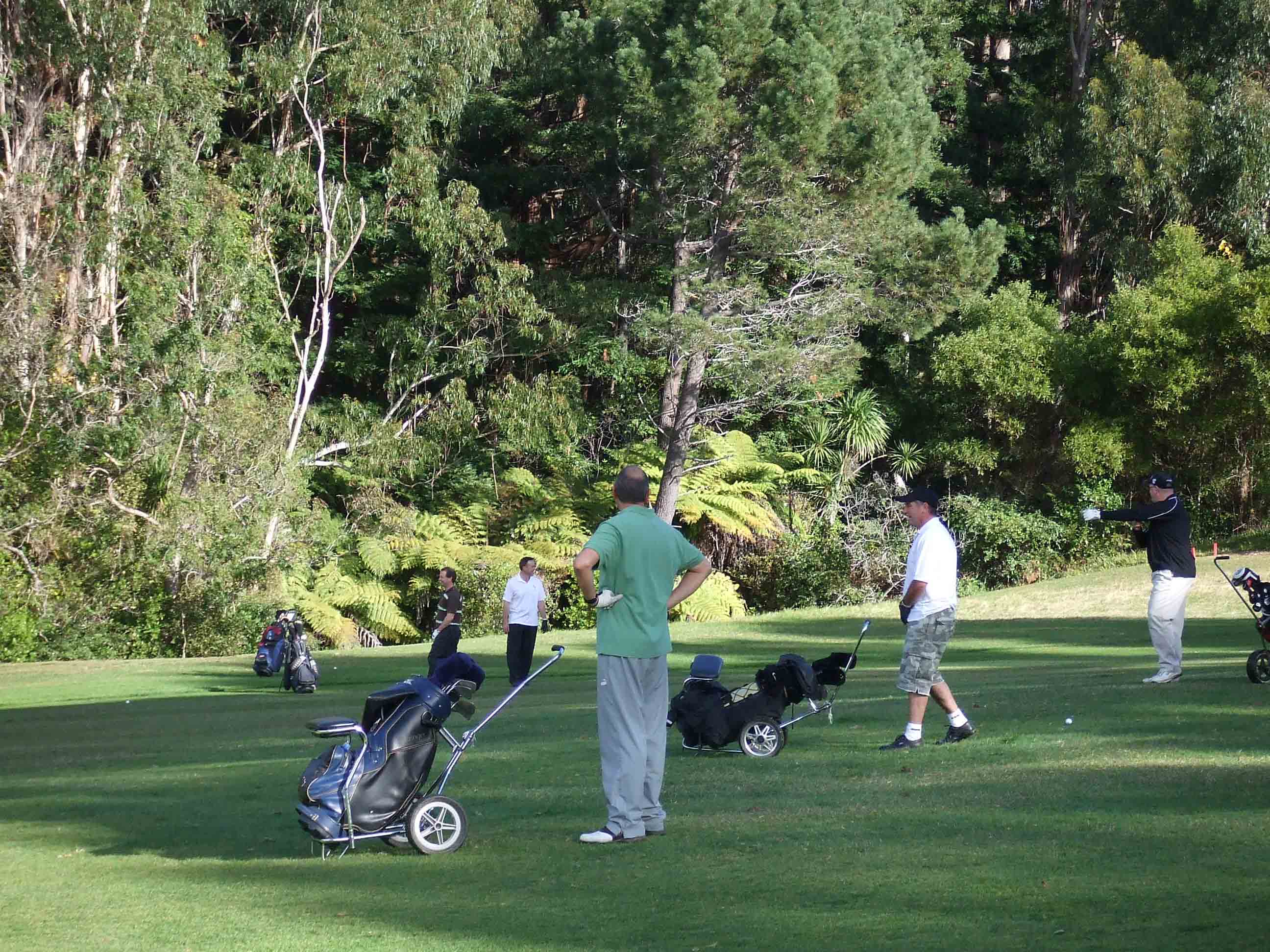 I am good at picking the days, if I do say so myself. It has been raining for weeks and I pick the break in the weather, although not tropical it was good golf weather, no wind no rain. The course, although a little wet in places, and a little hilly in most places, played OK. The greens were a little slow but consistent, but for some reason the round itself was a slow one.
We had 16 booked for the day and 18 started which is unheard of for us, usually we lose players on the day not gain them. So 3 four balls and 2 three balls teed off. Unfortunately our defending champ from Manukau, Bangers, couldn't make it, so there will be a hefty fine waiting him next game out.
On that point I feel I am stretched a little on legal side of the court sessions and justice is not being done. So I am appointing an "El Judgeo" to help the El Presidente to deal with points of law , and since I have a few lawyers in the group I will be appointing an accountant to the position. Crazy is well versed in the position sitting in on and adjudicating on more rugby trip court sessions than should be allowed. He will be that is, when he can make it in between his commitments to NZ Netball.
Anyway to winners on the day, as I said the greens were slow and this reflected in the putting scores. The lowest being 30 by first time starter to the group Mike Wilson unfortunately I could not present Mike with Glug's Mug as Russ the winner last time was not there or the cup. The El Judgeo will sort that I'm sure. He did pick up $50 in snake money though.
We had a tie for the winner of the losers Plate between Boba and myself both sitting on 33 stabies. Fortunately Boba had won the trophy less than 12 months ago( Peninsula Nov 06) unfortunately I hadn't so the plate went to me, confused…. Read the rules again.
To the Winner of the prestigious MWSS trophy, again proving that the game is won by putting, Mike Wilson coming in with 35 stabies clear by 2 points from the rest of field, not bad for first time up. Unfortunately not enough to take out the money but it just makes the next game more interesting.
It was good to get out again, 4 months is definitely too long between tee times so we are off to Muriwai next month, catch you there.
The El Presidente
Manukau Golf Club ~ 26th March 2007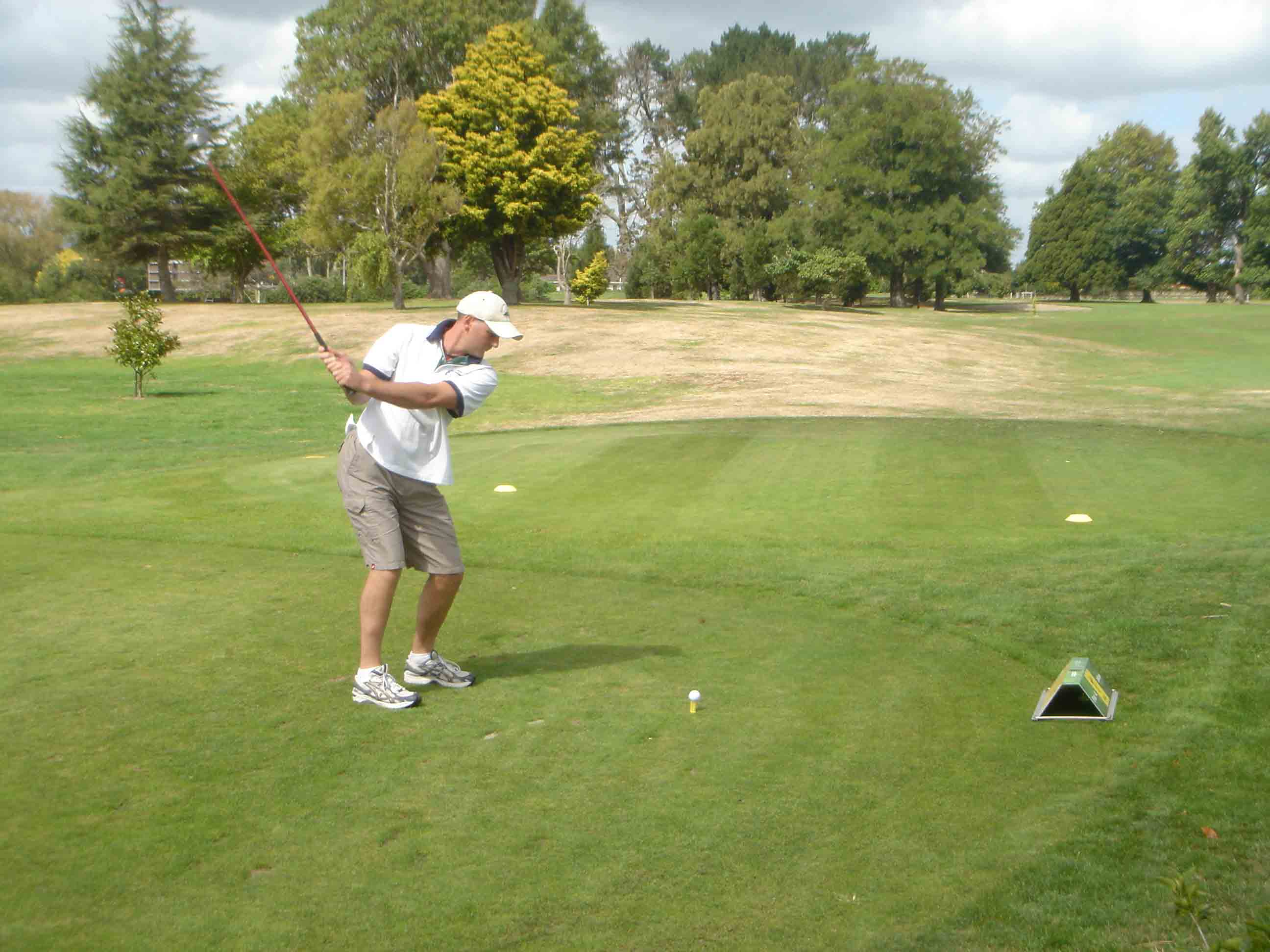 What a day, what a finish, 15 starters on a questionable day for weather that ended up beautiful, can the El Presidente pick them or what! Playing on a course that was dry with greens putting at moderate speed but true, the scores were always going to be good.
After a bit of trouble with the pro wanting me to do his job for him, in sorting out the green fees we were off. The course itself is what I would call contrasting, with the Manukau Harbour only coming into play once I felt a bit let down, but the 229m Par 4 4th hole where it does, provided some real entertainment for those playing. Reachable in 1 it saw some real birdie opportunities; if not eagle opportunities go by. Yes I missed my 5m eagle putt but got my par. The rest of the course was great to play but it is one where your club selection would change the second time you played it.
That said there were a couple of guys who had their club selection sorted. Umesh and Bangers playing in 2 separate 4 balls were playing the games of their lives. Both coming in with 43 stabies, yes 43 stabies.The feed back from both groups playing with these guys that it was great to watch, when you are in the Zone, You are in the Zone. Umesh hit 80 off a 15 and Bangers went 1 under with a 71 off his 6 handicap. But there can only be one winner, on count back Bangers took it out scoring a birdie on the 18th. Although this is the 6th time Bangers has won the Trophy it's the first time he has picked up the Money. 2 motivating factors would have been, being pipped at the post last time the money went and being eligible for the plate, he last won in October of 2005.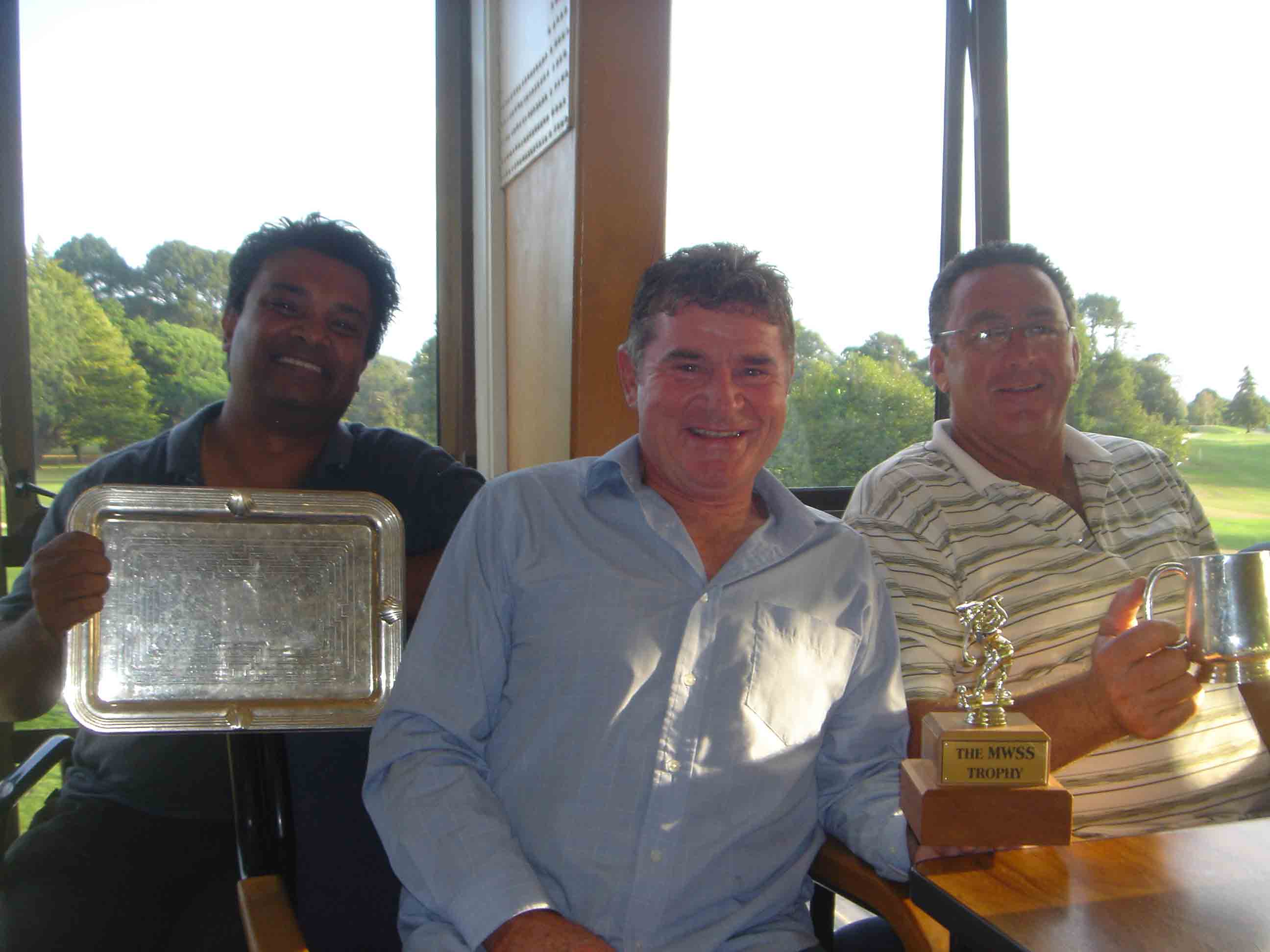 To the Plate Winner Umesh who has requested a rule change to the count back system and wants sudden death play off or drink off to be considered. A better second placer you would not find, happy to pick up a sports shirt for his prize, donated by Bangers and drink the beers and rums as donated by Bangers. We also had one other that played within reach of the money and that was Boba who came home with 39 stabies, great score without any glory, another day it would have cleaned up.
To the winner of Glugs Mug again we had to go back to count back with Johnny Coogan, Russell and Wixy all putting only 30 times in their rounds. We had to go all the way back to the 15th to break the tie when Russell had 1 Putt. To Russ the Mug and $40 which went straight on the Bar.
Now I can't finish without a mention of 2 players ducking off early. Wixy straight after the game to work, will receive a minor penalty next game. Crazy on the other hand will have to debate his penalty leaving after the 9th to go to his Mother in Law's aid. AT you were not there to defend your title so you're in line too.
A very memorable day, great golf and great to catch up with you all.
The El Presidente
Mangawhai Golf Club ~ Friday 16th February 2007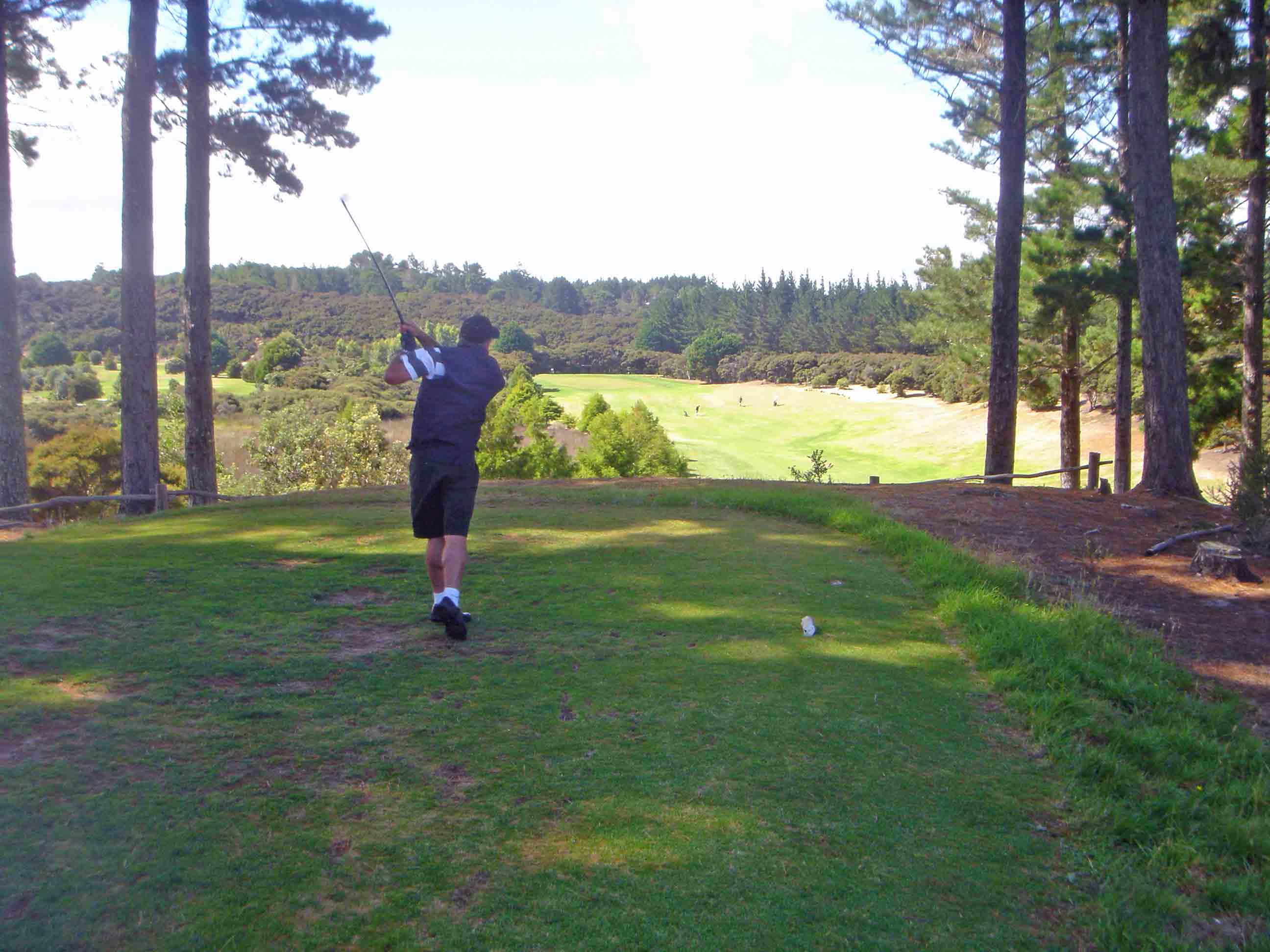 Slow start to the day as we had to wait for Marnu to get out of bed (I forgot about that when we had the fines). But didn't hold us up too long and I had allowed for someone to have problems with our 6:30am start. 12 in the bus, first stop, Top of the Dome Café for Breakfast then onto the course. OK I stuffed up the breakfasts again, but we were well fed with close to what the boys ordered, we were ready for Mangawhai Golf Course.
Now to say the club looked after us would be an understatement, for a small course they sure know how to lay it on. Cards were ready, carts available for those with Doctors Certificates and just bloody good service. The Day had been sponsored by Andrew Turner, first game back since getting the hole in one in July of 2005. It cost him about a $100 in products for prices and starter packs. Thought it was a good idea if any one wants to pick it up in future, just added to the day.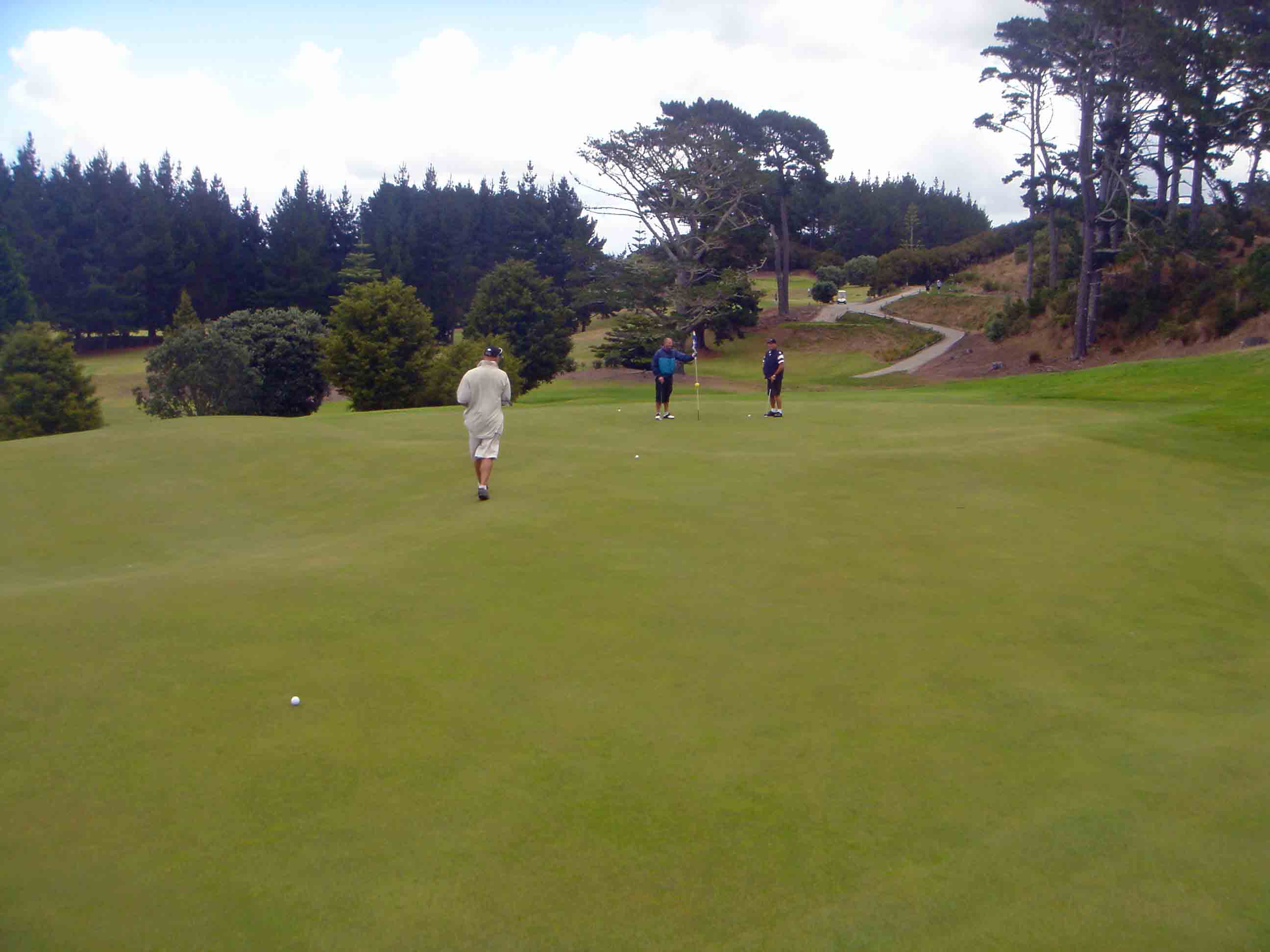 The Course was as usual in great nick, some of the holes sit perfectly with native bush and marsh lands like the 3rd, 13th and 14th, the greens were moderate speed, fairways were surprisingly green but still had plenty of run. We had the odd shower but mostly it was fine. I think the course was the leveller in the end with 16 stabies between the top and the bottom of the field.
The guys in the Pro shop tallied up all the cards for us so it was easy for the El Presidente to do his thing. We interrupted NZ thrashing the Aussies in cricket on the TV to do the official side of the day. There were no 2s scored, Grim and Boba were fined for not turning up to defend their titles at Matarangi, (a round was put on the bar). There was an Honesty Court session with fines ranging from $2 to $5 from being in a cart with out a doctors certificate, to using cell phones on the course, to losing your cool with a club. We raised $25 which will be spent on a prize for the plate winner next time around,(amateurs always get white wear in lieu of Money).
To the Winners, Glugs Mug was won by the El Presidente with 28 putts, yes I do like moderate speed greens. Ant was 2 back with 30 putts.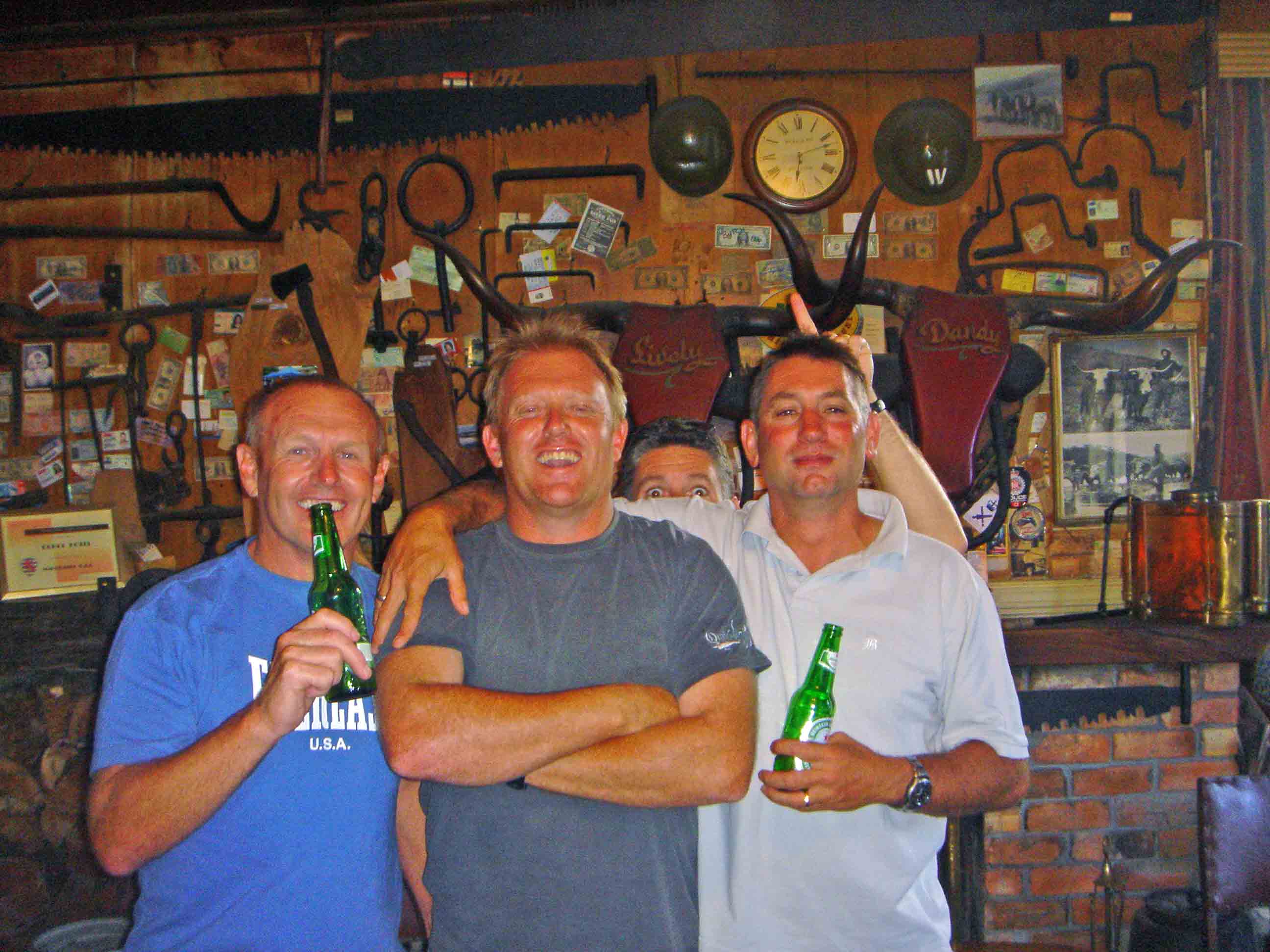 To the Plate, we had a tie on 33 stabies. We had newcomer to the MWSS Darren King or Wixy to his mates, an amateur put on a 20 handicap for the day up against defending plate holder JA who is in the pros division playing off a 20 also. On count back JA took it on the 17th par 3 where he picked up 3 points against Wixy's 2. JA actually played that hole really well with a 20 m chip to give himself a chance at par landing about 1.5 metres away and sunk the putt.
To the Trophy winner AT, Glug, Andrew what ever you want to call him he's a bit of bugger has played MWSS twice, hole in one the first time and wins the trophy this time but only the trophy. All in all it sounds like he just played consistent golf, nothing too flash but on the fairways most times. There was a huge putt sunk on the 7th but steady as she goes got him there to his surprise I should add. It was only with 36 stabies, so that kitty is still holding on and getting up there, $800 in the envelope before the next fields input.
We had some lunch (Yes got that right this time Kay) and headed off to the Puhoi Pub for a few beers and a Whisky supplied by Broomy. Always a good stop there with the locals and German guy. Then back to the cars which I'm happy to say were left there until the next day by those drinking. A few kicked onto the usual friendly Takapuna bars, some getting kicked out at 9pm for what I do not know (let it Go). All in all a great day.
The El Presidente
The Dunes, Matarangi ~ Friday 5th January 2007
Always awkward to get the group together over the Christmas period, and this year was no exception, but we stuck to our day and time and got 9 out on the track. Though I talked about minimum of 16 I decided we would play for the silver ware and Kitty. What's the use of being El Presidente if you can't change a ruling at the last minute.
The course was a little dry, the out of bounds were plentiful and the water was deep but the greens were true and fairways gave you good run. All in all you couldn't blame the golf played on the course. And it must be said the Money was never at risk.
Now Broome has been playing some average golf lately as he has been reconstructing his swing after a few lessons in Fiji, but there was nothing wrong with his putting going round in 30 putts, unfortunately he had more putts than he did stabie points, but the mug and $30 for the bar was better than I did.
There was a bit of a battle for the Winner of the Losers Plate, a 3 way tie, Brutus, BB and JA who took it out on count back all coming in with 31 stabies believe it or not.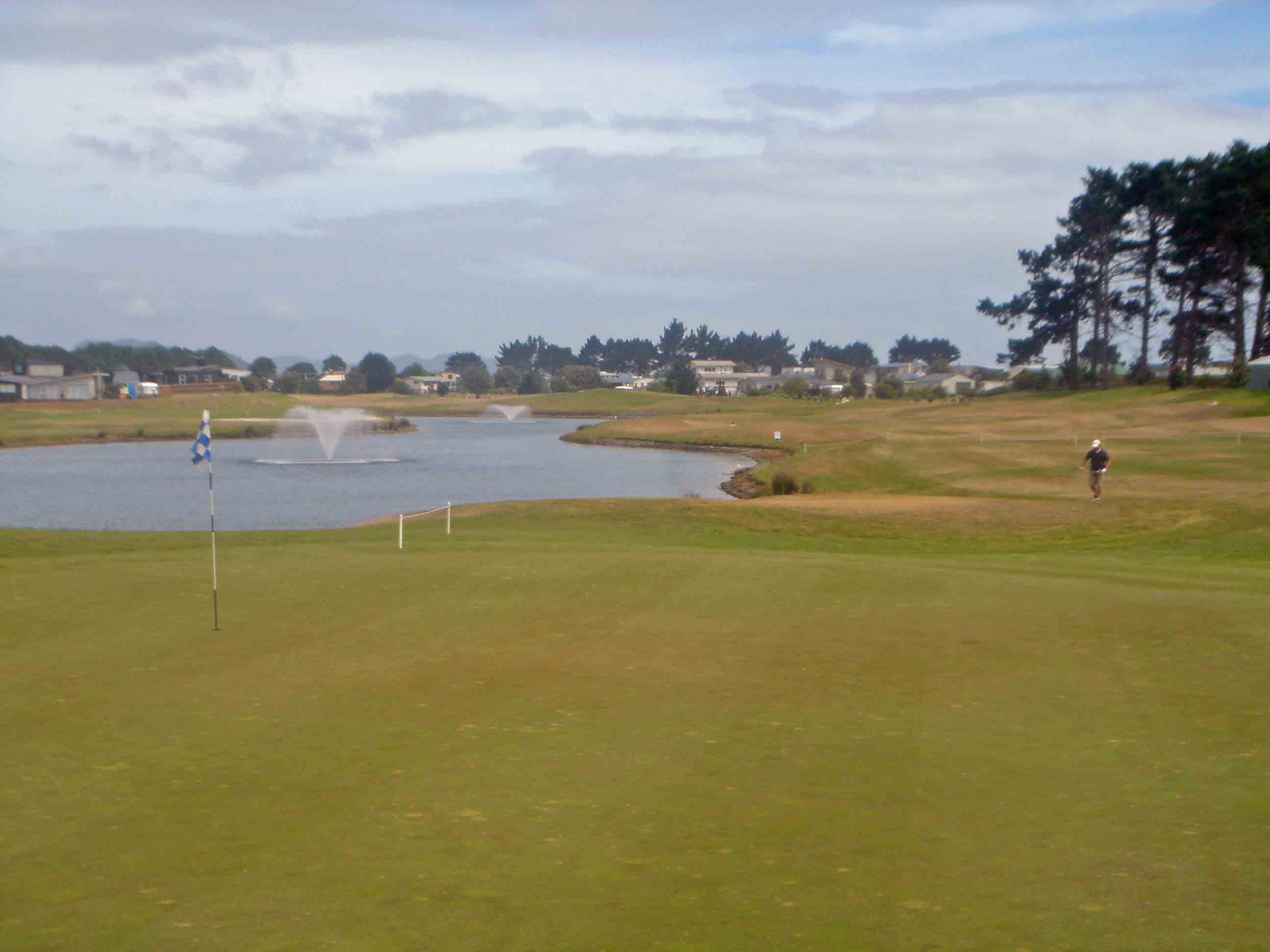 Now unfortunately the Plate and Glugs mug didn't get down to the day due to holiday confusion but it will be interesting to listen to Grim's defense at the next game, better check out rules 13 and 14 guys.
Ant Ford was the winner on the day. He must like the Dunes as he won it last time we played there back in March of 2005, beating me in a play off on the 18th not that I'm one to hold a gripe. I didn't think he could do it again knowing he was on leave from looking after his new born twins. But I was wrong, he played reasonable and the rest of us played rubbish, winner with 33 stabies, well done mate.
It is hard around Christmas, but it is always a good day especially when new guys come along and when people make the effort to get across to the Coromandel. We really do need to do that Tour of Coromandel, as we have been talking about, there is some great little courses down there, maybe mid winter. Ausie first
The El Presidente
Peninsula Golf Club ~ Monday 27th November 2006
We are on a bit of a roll, 15 players turned up to a windy but fine day, the golf course was in great nick although the last 5 holes are very different to the first 13. As showed up in the scores for those holes, especially the 18th, a tight dog leg right then up to a well bunkered green with rough behind it. Some of these course architects get carried away - but I liked it.
It is starting to show just how important putting is to your game, for the 4th time in a row the winner of Glugs Mug has picked up either the plate or the trophy. Grim picked up the cup with 28 putts outstanding on some differing surfaces (Brown Top versus Poa). But it helped him to 35 stabies to pick up the plate. Grims first win since starting with us, good stuff and well played.
Now the winner for the day played with me and he just quietly plugged away around the course, just quietly plugged his way to 36 stabies, his second win of the year he picked it up Pukekohe piping JA at the post on count back. Well done to Bob Aitkin, now that you have the golf sorted maybe practice driving your boat a little more.
Now unfortunately the club house didn't want to take our money over the bar, they were to buisy getting the club house ready for an event the next day. So after bouncing around Silverdale looking for a bar, we weren't allowed in the Wade (we think Russell has been banned). So we ended up at a small bar down in Red Beach called Merloz . The money came in left right and centre, but was all there so we are up to $445 for the Kitty as the attached spreadsheet shows. If you haven't played in any of the last 3 games we are up to $25 as your input to the Kitty to catch up.
Talking to most guys December is a bit of a write off, the end of January is full of those short weeks that stuff things up. So I'm booking a game in for Matarangi on the 5th January (to be fair to all we will need a minimum of 16 in the field to put the trophy and Kitty up). So if you can make it let me know.
The big Ausie trip, we have talked about it for long enough so I have set April as our month for 4 days of golf on the Gold Coast, a few of the boys have the contacts and know were to go. So give it some thinking over Christmas and I will be looking for numbers in January, I'll give you more info then but we will be looking to keep costs down as much as possible.
Sorry about the website being down - long story made short…… fees for web site paid on credit card…. credit card stolen…. payment missed …site closed down with 2 days warning…front end up… input end not yet available.
The El Presidente
North Shore Golf Club ~ Monday 30th October 2006
Well the day started out dodgy but for once the weather people got it right, although it was blowing like a bugger the weather on a whole held out, the few showers that came through were short but still wet. The course I must say was in good nick, the greens were faster that most appreciated, 5 putting is a bit embarrasing ah Nev. But when you came to terms with them they were true. Fairways, tees and even the rough were in great shape and the bunkers looked great except when in one.
The turn out for the day was also great too we only had 2 not quiet get there, BB was always in doubt after the 3rd phone call asking how far the course was. But we still had 15 for the day, showing maybe I just have to apply a bit of pressure running up to the event to get you guys out. The usual mix a few new guys in Russell and Tim and a few we hadn't seen for a while in Marnu, Dan and Mike and the regulars that hold the day together.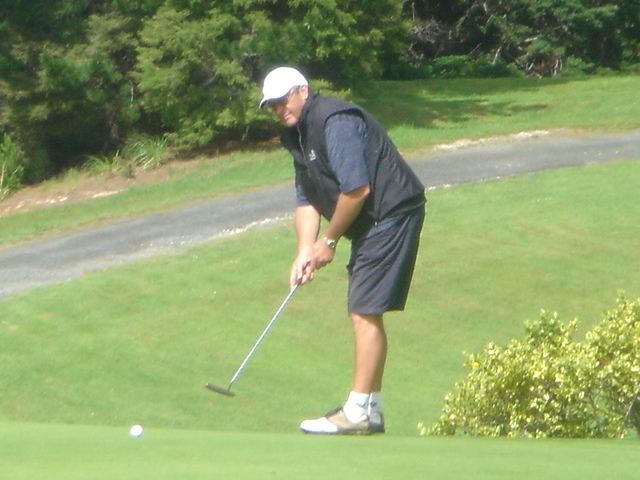 So how did the golf go. Starting with Glugs Mug, as I said the greens took a little getting used to, some took longer than others, putting scores varied, 45 (there was actually 5 over 40) to 30 putts scored by Crazy, he didn't try to talk it up but by the sounds of it he nailed some good length ones on the back nine. Peter O would have threatened but for starting off with 3, 3s, he worked them out of his system to come home with 32 including 7, 1 putts.
To winners on the day and it really did come down to a 2 horse race both coming in with 36 stabies. We had new entrant Russell Maloney, big hitting single handicapper, tied with cool under pressure, specialty drop kicker off the tee, Crazy.
It came down to a count back and the last hole, a 150 odd metre par 3 made it easy. A par versus a double bogey, Crazy taking the MWSS Trophy, and Russell picking up the MWSS Plate.
Congratulations to both on their esteemed victories, and we seem to be getting a bit of a trend, in the last 3 games new guys in the group have brought in the top scores. We started our new pool rules but with a small changing to the ruling as reported last time $5 catch for each game missed instead of $10 nobody argued. Cash just got put in the middle and to my surprise it was correct with $290 now in the pot.
Next MWSS Golf day is at Peninsula Golf Club in Orewa on Monday November 27th we are looking at a start of around 12:30 to 1:00 pm will update you as we get closer
The El Presidente
Whitford Park Golf Club ~ Monday 11th of September
A small milestone for MWSS we have played our 30th game and our 25th different course with 276 players over that time, not all different but we would have had about 50 different people play over that time.
Well we struck it lucky again first thing in the morning the weather looked sh…t but the feeling of the majority of the group was lets kick on, and it was a good decision as on arriving at Whitford Park GC the weather was great with not a drop of rain all day. The course was in good nick as they had just played a Holden Scramble the previous day. We had a smallish field of 9, but enough to get the kitty going again and some good scores rolled in
Glugs Mug was taken out by Lefty with 32 putts, this would have been less if he had putted half decent on the 18th but between his nerves and Grim in his face about golf etiquette he choked… isn't that right Grim. And it has just dawned on me, that putt also cost him $90 as he picked up the MWSS Trophy with 37 Stabies. He did play well though.
The MWSS Plate was picked up by a new member in Umesh Dewan, Mesh played steady golf as Crazy put it unlike Broomy who just couldn't come to terms with the greens, not like him. But there is always next time.
The El Presidente
South Head GC ~ Friday 11th August 2006
As usual we got a good day for the golf rained at the start of the day but apart from 2 brief light showers it was great. We had the usual last minute drop off due to work commitments but we still had 9 line up at the tee. The fairways were a little wet in places, the greens sped up as the day went on but for this time of year it was great conditions to play on. And the scores reflected that.
The winner of the MWSS Plate was Richard Wilson who was given a 23 handicap by the El Presidente for the day after watching him hack his way around the course a number of times. When his driving game started to come together his confidence grew and he snuck home with 35 stabies just 1 above his playing partner Jim Thompson. But Jimmy was more interested in Glugs Mug he didn't just want the mug he wanted the record and I thought he had it with the number of 1s on his card. But not to be, the cup and the record was taken out by a new player Eion Willis up from Dunedin to watch the Waikato kick Canterbury's Ar...e. He loved the greens, going around with 27 putts started of a 0 chipping in from the edge on the first.
Now Eion plays off an official 18.8 handicap, (home club St Clair) he now is thinking of joining South Head with only 27 putts the rest of his game only had to be fair to make him competitive, it was better than fair he scored 43 stabies a record for the MWSS golf day. Now Eion was a little perplexed by his score, not helped by the Jibes coming from Lefty and Grim who played with him. You have those days and you enjoy them, Eion has promised to get back and play again, overseas next month but look for him after that.
Now I did feel sorry for 1 Mr. Gary Bangers Bancroft who playing off a 3 played almost par golf to bring in 39 stabies, that would have taken it out any other day, but apart from missing out on the $700 Bangers shouldn't feel to done over, he has his name on the trophy 5 times.
Rule Change
Now we have struggled with this for a while and it was always going to come to a head with Eion's situation, comes in for the first time after the pools been going for 5 games, the pooled moneys up to a decent amount and he cleans up. The guys that have been there most months feel a little aggrieved and the winners not to comfortable either. The idea is to bring along friends and make them feel like they want to be a part of it. Hence a couple of Rule changes
Rule 3: Handicaps ~ Non Registered ~ the player can be set a handicap by the El Presidente after consultation with the players and friends. He will pay $10 per time he plays but is only eligible for the MWSS plate and Glug's Mug.
Rule 4: That there is a compulsory Haggle for those competing for the MWSS Trophy costing $10 (April 2004) per player per event. If you miss an event you must make up the difference. E.g. if you wanted to play in event 2 and you didn't play in the first but the pool still stands, you pay $20. All winnings go to the first MWSS winner with 38 plus stapleford points.
I looked at a probation period stand down for new entrants but I believe if you have a handicap, you pay your money up so you have put as much as every one else in the kitty to that point……. then alls fair as it can be. We need to put an element of trust in the guys playing now that they know the people that they are bringing along are up front, and I think to this point we haven't seen anything other than that.
I see this cleaning up a bit of a loose end, everyone standing on the tee whether he is there every month or there for the first time after 8 events (and the pool is a small mortgage) and has put the same money into it when it starts. When I put out the event I'll tell you what event it is since the pool started so everyone will know how much it will cost them. It also means our pool will build up quicker.
I changed Rule 3 because I believe non handicappers should be welcomed but I can't guarantee how accurate the handicap I give them would be so hence not being eligible for the Trophy and easing up on the charge for them.
Thoughts or sledging welcomed, but as El Presidente I still reserve the right to Rule 1

The El Presidente
Remuera Golf Club ~ Friday 5th May 2006
Well I think we may have found a day that suits most people and I tell ya it aint Mid Week, Friday seems to have found a good number of peoples liking. A few of us struggled to get out of bed after big nights at "Fight for Life", which was made worse by a problem with the start time or times, one email said 12:15 another said 12:45 start, sorry guys. With some quick ringing around and some scampering onto the 1st tee we all made a start on a wet Remuera Track.
The track was wet and there was a hell of a lot of construction going on, but the Poa Annua greens putted pretty consistently and stopping a ball on the green didn't require a lot of back spin, not that I have worked out how to do that any way. A few sucker balls on the fairways but not to bad on a whole, the thing that was consistent was the weather. At 11:30 from the North Shore I was considering calling it off, nothing to do with one hell of a hang over, but it had continued to rain from the time I had got home , 5am to then. But after a few calls to boys the consensus was …why not have a hit. The weather from when we got there was perfect not a drop of rain the whole day.
Anyway I'm starting to sound like Crazy, Winners for the day, The putting Trophy was taken out with 29 putts by Broomy the second time his name goes on Glugs Mug. I didn't play in his 4 ball but I would say his win was more a result of his deadly short game than his putting style… a wins a win though, well done. The Plate… The winner of the losers was taken out by John our left handed single figure handicapper with 35 stabies a good score when you almost have to play par golf to get points. And the winner of the illustrious MWSS Trophy………. with 37 stabies…… yes the money has not gone….. Me the El Presidente, yes Rocky's name goes on the trophy again. I wish I was there to have a drink and take in the moment but I had to be at a mini ball game, so missed the official results being read out… and a beer.
A good day for those that made it, shame on you if you didn't get there.

The El Presidente
Aviation Golf Club ~ Wednesday 22nd March 2006
Greetings fellow MWSS hackers, as El Presidente was away and couldn't make up the story for the day at Aviation, and Broomy had writers cramp from filling in his scorecard for the day (such were the high numbers on his card) Brett has asked me to provide a brief summary of the activities….
So there we were …..10 of us on the tee ready to show our wears….with a few late withdrawls…..the President being one of them…..I am not one to start rumours but it is a known fact that Nat has semi retired to do those sorts of things desperate housewives do…..(God knows what that is/??? Look at the pool man ?? or the tennis pro?? ) anyway….she has been loafing around home and the president had taken three days off to spend in bed…or so he said….!!! Sick he tells us all……actually we think that it is not sick…but downright depraved…..how can he do that after all those years of marriage…..no wonder he looked worn out when we saw him on Friday……anyway….back to the golf….
The usual suspects were there….Broomy, Brutus, Thomo etc…..the unemployed….Graham & me…and the keen, John etc…….and a boy in a black jersey who said he knew Ewan McKenzie and Tim Shadbolt personally……
The Aviation course although short, in parts provided it's challenges…..Broomy finding one par 3 of 150m just too much and playing it as a par 4…and then still double bogeying…..and Andy ( one of the 7s tour boys from out West) finding one hole that hard that he used up all of his handicap plus another shot in that one hole…..not bad for a 3 handicapper to have a 9 on a par 4…..something for you to aspire to Bangers…..instead of kicking our arse every month by playing down the middle…!!……the greens played very well….with Thomo once again picking up the putting cup with 30 putts….mind you….anyone that lays up just short of EVERY green should have less putts than those of us who at least attempt to get there in regulation……Andy also had a little trouble with the greens and to ensure he at least made his mark on his first outing 3 putted the last few greens to make sure he walked away with at least the snake….a feat only bettered by Brutus who managed the feat on no less than 5 greens and thus ruled him out of the money at the end…..it's hard to imagine that we play this game for fun when that sort of thing happens….and Jimmy and I took no pleasure in watching the man stumble after a fine first 9…
The plate …once the domain of such illustrious players such as myself, BT, Broomy was picked up by a new man to the tour Sam Black on 32Pts…..a fine effort considering that he had to put up with Graham hacking his way around 18 holes and John bemoaning the fact that he is so good on his home track of Whitford Park……but like the Warriors…so poor on tour……but it would be a hard group to play in both on the course and at the 19th……..so well done …….
The real trophy went to a man who couldn't be more deserving….after a long 3 years one month and 4 days on the tour it finally went to ME….yes staggering….I thought that after this long on tour without a win that I would have been sent packing to Q school with my old man and the pensioners at Waitemata on wed afternoons….but alas….hell must have frozen over..and I finally came thru with a win……( I guess a lesson there for all you Blues supporters ….you have got the Force at Albany coming up…so maybe you can make it up the ladder a little further…..just be thankful that your team doesn't play in Sth Africa and be threatened with relegation at the end of the season…!!!hehehee GO the Mighty Chiefs!!!) …anyway…I can relax for a year and concentrate on picking up the pool which was unstruck on Wed as I only managed 35pts in my victory…….so the pool has once again ballooned to $460 for next time…with a date yet to be confirmed due to Easter and Anzac day but the course confirmed as Manukau……so BT will be in touch to tell you a date…possibly late April…..
Once again a few beers created talk of a tour away…..and a motion put forward that we make another Friday day trip to a course….Ngaruawahia being touted as the destination….with a tour of the Ngarawahia and Huntly public bars being mooted ….we may also stop in at the Rangiriri as well…so watch this space….( and no Graham there will be no Wodka on the bus as Bobs mum has just got over the sexual harassment ordeal that you put her through after the Mangawhai trip….
Be good…get out there and practise…and look for BT's email for next mths date…..cheers
The Crazy Scribe
Pukekohe Golf Course ~ Thursday 16th February 2006
Good day had by all those that could break themselves away from work. Pukekohe is a great course for the right hander not so good for the left hander as we kept being informed from the one left hander in the group. Greens where good, not to fast but consistent. Fairways were like most at this time of the year a little deprived of cover but good for another 20 meters of length.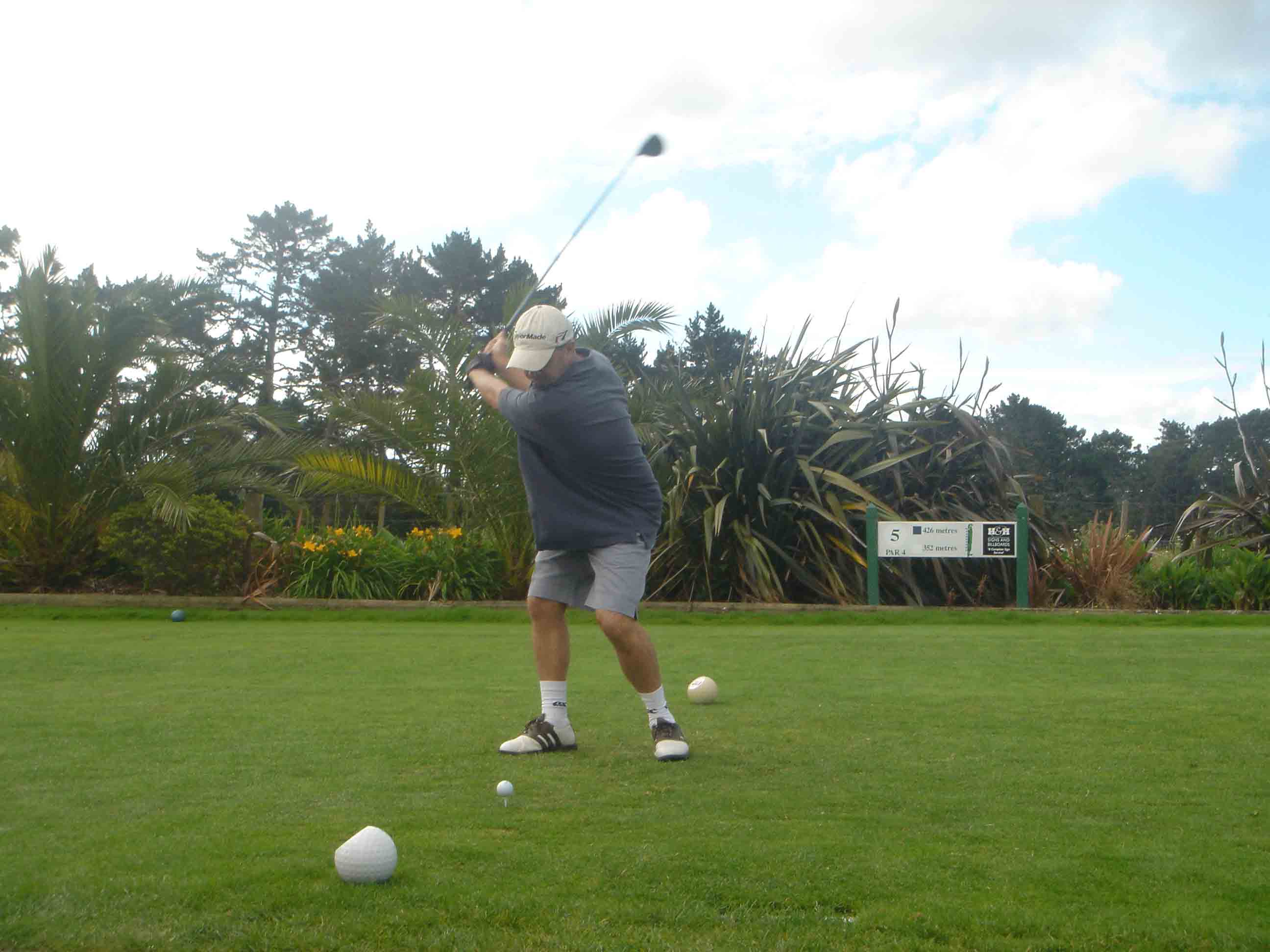 Now we started off with a cash injection. Rod Bell (who couldn't make it) had a free 4 ball for the course which he had picked up at a Blue light charity auction that needed to be used before the end of March. So I grabbed the $120 green fees from 4 guys and threw it into a day prize for the group $30 for the winner of the plate and $90 for the trophy winner, with 38 stabies the winner would have come away with $450. Unfortunately it was not to be.
It was a close thing though with the battle for the trophy played out against Aitken V Atkins, Bob V John. Coming up the 18th JA had 37 points and Bob had 35, Bob could only pick up 2 points and JA got something stuck in his throat and couldn't pick up the 1 point for the win or the money. So all tied up it went to a count back, the 2 points on the 18th gave the Trophy to Bob and the winner of the loser plate to JA. That's Golf.
It was a similar battle for Glug's Mug in that it came down to Broom V Broom, Paul V Brian, 30 Putts V 30 Putts, which needs to be said, are the lowest putting scores we have had out of the 60 scores since we started it. But again going back to a count back Broomy (that is Paul) finished off on the 18th in style with a 1 putt compared to Brian's regulation 2 putts. So Broomy picks up the mug for the first time.
Great competitive golf played at a nice course, we need to play there again, maybe in the winter to see it at its best.
The El Presidente
Lakes Golf Course ~ Friday 6th January 2006

6th of January saw the 25th game played for the MWSS trophy at the Lakes Resort course at Pauanui, the 20th course visited by the group. The course is VERY nice and worth a visit, fairways tees and greens were in immaculate condition but outside of those areas you did not want to be. Water, rough and marshland unforgiving to the stray ball and to add to the day, gale force winds and we had turned up on the club's Black Tee day, the scores were not pretty. It was good to see the Grunter in the group after a long break and some new faces to the day in Peter and big hitter Ces.

This showed in the winning scores most around the 100s, the Trophy going to newcomer Peter Broadhust who came in with 32 stabies showing his local knowledge and mastery of the testing conditions. He played well and was only really pushed by Brian Broom with 30 points who picked up the plate. Unfortunately BB became eligible for the Losers plate 2 days earlier as he last picked the trophy up last year at Matarangi on 4th of Jan. He was not impressed and gave the silverware scant respect leaving it at the clubhouse when we left. That's a penalty round of beers for the group next time the MWSS meet BB!!

The most contested was Glug's Mug where 4 of us ended up on 32 putts JA, Broomy, Grunter and myself and, of course, on count back the El Presidente took it out with a 1 putt on the 17th - not that it was questioned.

All in all a great day finished of with a few beers at the clubhouse and then for a few of us, a few more at the Coroglen and the Sports bar in
Whitianga and yet a few more at Matarangi. A suitable closure to a great day on the course.
The El Presidente
Mangawhai Golf Club ~ Friday 14th October 2005
The 24th "Mid Week Stress Slicers" golf day has been played at Mangawhai Golf club.Good to see the people that are invited to these days are made of tough stuff, at 6:30am on the North Shore it was not nice weather but everyone that said they would be there was… a bit doubtful but still they were there and ready to golf. The first bonus was the bus company sent a 40 seat luxury coach instead of the 24 seat bus booked. The second bonus was we had a great bus driver who made life easy. Our luck was to continue like this through out the day, breakfast was ready for us on arrival except for JA's scrambled eggs which he is still looking for, the weather broke as we arrived at the course and by the 5th hole we where applying sun screen. Just a great day to not be at work!
On the golfing front, because of the large field of 19 and a small sponsor's war going on between Westpac and BNZ (thanks again to Dan and Henry) we had a few more things up for grabs. Longest drive on the 9th into the wind was huge from Hippo.Closest to the pin was taken out by Graham Welsh which was about a metre from the pin on the 13th. I would have been happy to reach the green.
We had two 2s, Beej dropped one on the 17th a tricky little green, and Graham dropped his closest to the pin on 13. Glug's Mug came down to a count back between Jim and
Warwick both ending up on 32 putts – Jimmy took it out 1 putting on the last 3 holes.
Warwick was happy though he took out the Plate with 37 points playing off an unofficial 24 handicap, he had a great day but that does tend to happen when you play with Bangers.And the Trophy goes to Bangers on 36 Stabbies with a net 75, the same as Bevan Stratton both playing off 3 handicaps, both from North Shore GC.
It was good to see a few new faces there on Friday and a few that have been on the list for a while turn up. Great bus trip home via the Puhoi Pub would have been a few more stops but one 4 ball thought they where playing the NZ Open and slowed the group down. I would tell you what happened on the Bus trip but you know the story… what goes on Tour.
The call is for another Friday Feature next month, will come back to you on that one we are looking at Pukekohe GC.The only thing that did go wrong was the lack of food at the club house with drinks that were going down, my poor management skills there. But there were a couple of guys that drove off after getting back that shouldn't have, that's bad management on your side. I don't want to lose any body on my watch to DIC or worse so please manage it correctly.
On that sobering note will be back to you with the next date and course. A few of the pictures from the day are attached.
The El Presidente
Murawai Golf Club ~ Wednesday 21st September 2005
Greetings all, on behalf of the President who abdicated for the day yesterday to concentrate on his golf (with considerable success I might add) here is the report.The day started as any other Auckland day. Brilliantly fine with a hint of torrential downpours and strong winds…..but the lure of golf rather than work saw a field of 13 commence.
It was supposed to be 15-16 starters, but in a re-run of previously well publicized police ineffectiveness, Rodney Bell thought he was still a policeman and when he received an urgent call from a West Coast beach from a distraught member of the public (replace Piha and Irena with Muriwai and Brett) he said he would be there…….needless to say, this time he sent 5 taxis not one and did not front. So if any member of the public sights Rodney Bell please contact your nearest golf club to let someone know that he is still alive – being a former high standing policeman I am sure that he will come up with some concocted bullshit story to cover up the incident.
But anyway…on to the important stuff……unlike the World Match play champs, the additional prizemoney at stake drew competitors from far and wide. Representatives from all the main political parties were there…..some not sighted for many a month….namely Mr. Tohu of Rangitira tanga infamy was there to claim that they owned the golf course ( unlike Raglan, this West Coast course remains in Ngati Pakeha hands) and Uhot's card reflected that if they indeed invented the game and the courses, like the Scots, every other bastard has mastered it apart from the inventers….., Bangers was there to represent Winston and proceeded to abuse some of our recently Imported Kiwis from the Asian region, John a representative from the liberal GREEN hithe key swapping, drug snorting suburb was there and even Rob represented the whinging lefty unionized Reds…..( a dispute did arise in that 3 about NPC picks but let's keep our abuse to the Asians Winston (whoops Bangers) not at our fellow MWSS golfers), to complete the picture we had the burglars on parole ( namely Ant who once again wore a stocking over his head for warmth…and those criminals on the other side of the law…..yes the lawyers…), and lastly us HONEST LAW Abiding Accts..who like Don Brash ran a good honest race and once again came up empty handed…..and can claim only the high moral ground…Pete Broomy and I.
……..anyway the golf was of varying standards, at varying times…..some brilliant some shit….some both at the same time……..I managed to show on the first tee that it had been a while since I had held a club…..I think my driver flew further and straighter than any of my next 18 tee shots……..yes I did fine myself for that….and was very fortunate that it missed the merc parked in the carpark……!!!
The trophies….yes well believe it of not Jimmy collected the putting award (with 31 putts on count back from Pete O) …..yes the enquiry siren is still ringing loudly ….but two accts confirmed the fact…….showing too well that accts too can be corrupted by the dark side…..the well respected and sort after PLATE …..I managed to score again….meaning that like Broomy's Junior Boys team I showed that I was the "BEST LOSER"….and the President after choking more times than Greg Norman managed to hold his nerve and putter for the last 3 holes to score a respectable 39 pts and take the Trophy and the prize pool ( a meagre $45.75 if you are reading this NAT…which you shouldn't be!!!) …..he did the honorable thing and shouted a couple of ales in the 19th and we discussed next month's venue. Mind you I think the other 12 of us should be ashamed that a man could use his putter from 75m on three of the last 4 holes and still beat us!!!!! BT where is the honour in that!!! ??? who said you had no course management!!!!?
Anyway…….let it go Crazy……yes ..under the immense pressure that is BT's psychological game I choked badly in the home straight and handed him the victory…..despite my repeated sledging he still held his nerve and won thru….if only rugby refs were made of this stuff …the judiciary would not have to meet so often would it Jimmy!!! Ha ha
NEXT MONTH – tentative arrangements…..Friday OCT 14th – Mangawhai Heads…..BUS TRIP….all day event….who is keen?? Diarize it now and let BT know as we need to arrange numbers for the bus etc….we will ensure that the Friday is NOT the Friday before Labour weekend and BT will chase you for numbers soon so that we can sort out the bus and travel arrangements….all those keen please let him know asap…..
Well that is it…another month…another few beers…and another few hundred shots….till next time…..ciao
The Crazy Scribe
North Shore Golf Club ~ Tuesday 23rd August 2005
A good field turned out at North Shore Golf Club to try and pick up the money and the Trophy on Tuesday. Although a bit wet in places you couldn't blame the course for any poor scores that came in. Yes there where some bad holes played, some at critical times (talking from experience), but that's golf.
Straight to the Trophies and as predicted by the El Presidente in the last update, Bangers on his home track, off the back of a Golfing holiday played well enough to pick up the MWSS Trophy. But with only 35 stabies it was not good enough to pick up the monies, which is now sitting at $500 going into the next round. Bangers by all accounts played his usual meticulous golf which he has to when you are playing off a 4 handicap he hit a Gross 76 which gave him net 72 par for the course. But that's why we play Stableford as I hit 90 gross but my course handicap brought me back to 74. I also picked up 35 stabies which I had in the bag playing up the 18th, but knowing I was close to the money I uncharacteristically choked and hit a 7 for no more points. To add salt to the wound I 3 putted to hold the snake going into the club house, much to the delight of my playing partners.So I picked up the MWSS Plate instead of the trophy as it came down to a count back and it didn't get past the 18th , 7 just doesn't compete with a par.
I added yet another piece of silverware to the cabinet it is called "Glug's Mug", to permanently mark AT's hole in 1 at Formosa last month. Glug was his university nick name many years ago and I thought Glug's Mug sounded better than AT's Cup. Anyway the deal is, it simply comes down to the number of combined Putts you do in your round. There were a few moans about how to keep them tallied up, but all groups sorted it and I will organize something to help for next round. To spice it up, who ever is holding the snake at the end of the round in each group throws in $10 to the cup for the winner, they also (together) fill the mug with the winners preferred beverage. Bangers picked the inaugural Glug's Mug up with 32 putts the rest of us averaged around 35. Pissed me off, as I said I held the snake in my group and that was why my group gave me shit. Bit of strategy required for this as you can have no putts registered if you are putting from off the green, there was a couple of these.
The usual happened second beer downed in the club house, the Road trip was brought up again. Thailand was put on the table by Bangers, Gold Coast by JA, Jimmy and Brutus but we settled on a bus tip to Mangawhai Heads on a Friday. Will price up but will aim to do that for Friday 14th of October. So if you are at all interested can you come back to me so I can look at what size bus that will be required.
Next month we will have a practice run with our local links course, Muriwai Golf Course Wednesday 21st 4 tee times $30 green fees. Will also send out an "appointment", can everyone answer so I know the emails are getting to you. Good turn out this month it would be good see the same or more next month, if you haven't been out for a while get you arse in gear and get yourself out on the course.
The El Presidente
Formosa Golf Club ~ Friday 1st July 2005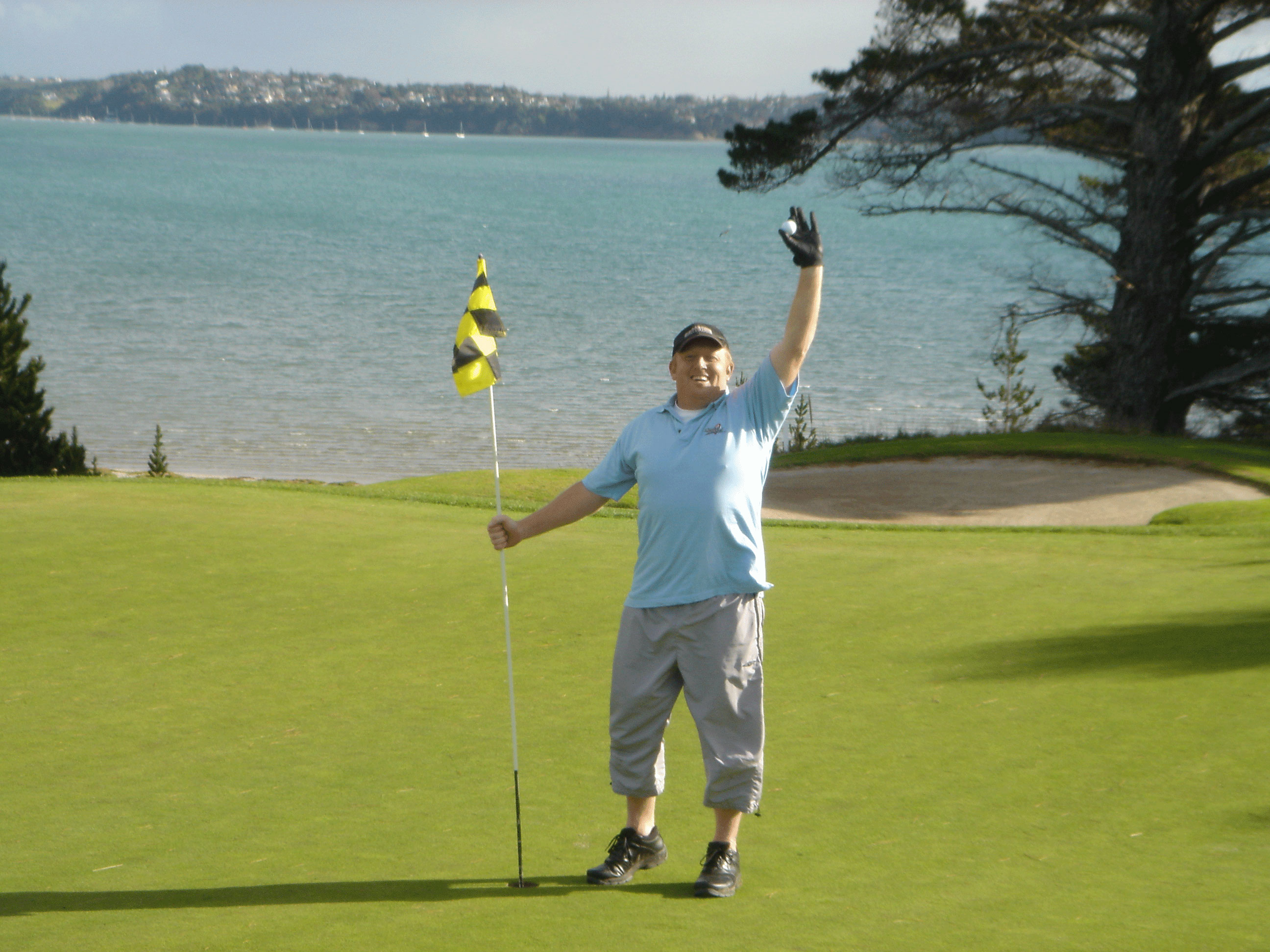 Well you wouldn't read about it… you put someone on our MWSS list more to piss him off because he lives in
Japan
for 10 months of the year then when he does get in the country you have to apply a bit of sibling pressure to get him to play. He doesn't have an official handicap so you give him an 18 as you know he plays as erratically as Michael Campbell, he's never broken 90 but hovers around the mid 90s. He then goes out with borrowed clubs and gets a Hole in One with 5 out of the 6 playing watching him. It gets even better… you get back to the 19th and find there is nobody in the bar to talk of so we have to hang around until he has run up a half decent tab by shouting every one - including the cleaners

.

Now I don't mean to sound bitter but Andrew Turner you are a tin-arse!

But that was one GREAT SHOT.
At this point pressure was applied by certain members wanting AT to be awarded the Trophy. Their rea
soning was he did get the most stabies, combined with the Hole in 1 and with at least 3 previous winners
picking up the trophy without an official handicap, it was a sham.The first time I had to apply Rule 1, my reply was "that is why Rule 4 was put in place" it became too subjective with an unofficial handicap as in the case of 3, previous unofficial handicap winners. Case closed.
Now the Hole in 1 and the rule in question threw the El Presidente to the extent he stuffed up the official trophies. The winner was again Broomy on 31 stabies (lowest winning score in history) with his official handicap, well played Broomy. I thought you would have played better with a bit of sledging from your old foe Crazy but with him pulling out on the morning of the event you were mentally ill equipped. That leaves us with the plate section which Andrew was over looked for. With so much talk of him getting the trophy I didn't look hard enough at Rule 4 that made him eligible for the plate on stabies, on his 18 that gave him a 20 course handicap giving him 36 stabies good enough for the plate, not the money though. (Even on an 18 he collected 34 stabies). So sorry Mike you are not the Winner of the Losers this month, I know you were excited about being the first back to back plate winner. We now have $360 in the kitty, so it is getting up there ready to be taken.
By the way 2's on par 3 were scored by myself and JA on the same hole to the dismay of Mike who had putted first and lipped out for his 2. Not a good day for Mike but thanks for the ball.
All in all a great day, but a pity about the small field… but then again we had a few pull out because of sickness. The next MWSS day is in the 23rd of August at Manukau Golf Club with a first start so get yourselves organized and book yourself in early. There will be over $400 up for grabs as well as the Famous MWSS TROPHY
The El Presidente
Auckland Golf Club ~ Wednesday 24th May 2005
The Days are shorter golf has got too hard to fit into a ½ day as was seen or not seen by the last 4 coming in at Auckland GC last month. The course was in great nick the weather was nice and we seemed to have the whole course to ourselves. Some good golf played but not enough to pick up the money. Also some humorous golf, there was one hole where I stood in the middle of a small postage stamp par 3 green and watched as all 3 of my fellow golfers went from 1 bunker into another and in one instance back into the bunker… well I thought it funny at the time. I will try and get us back there next year. It is a nice course, not spectacular but a well maintained reasonably testing course that was great to finally play.
We had 2 new winners Peter Obourn who played spectacularly on the front 9 and but just kept it together on the back 9 to pick up the trophy with 36 points. We had Mike Martin a new member of the group take out the plate on 35 points. There was a suggestion of an additional handicap for Mike as he had played the course often before and also for the amount of sledging put on Brutus. Both where over ruled on the basis that both issues were a part of the game. Anyway as was stated the money was not picked up as we did not get to the elusive 38 points so it has jack-potted to $290 + the next fields takings so we should have in excess of $400 up for grabs.
Due to the short days we are having a day tournament out at Formosa on Friday July 1st, first tee-off time being . We are looking to Taxi Bus out there and back from the Shore and City as suits. The tee time should see us miss the traffic at both ends for those that want to kick on can get an early start or in the situation of the Cote boys get them back for their usual start at the Copper Room. Green fees including cart are $58. I have booked 4 X 4 balls so client's friends are welcome. Apart from the usual prize list for the Mid Winter Tournament I am looking for a longest drive, closest to the pin and most golf sponsor for prizes. Come back to me on that.
Have a look at the date and book yourself in as soon as you can so I can organize transport
The El Presidente
The Grange ~ Wednesday April 12th 2005
Well Grange has come and gone. It was a little disappointing and didn't meet my "The Grange" expectation of something outstanding. The greens where huge, constant and good to putt on, the fairways where dry as expected but I don't know… it just lacked something.
Some players also lacked something, most scoring under 30 stabies. However we did have three players out in front. With the late withdrawal of the defending champ Ant (he would have been playing off a 14) we where always going to get a new trophy holder. It was a good finish with the three being within 1 stabie point of each other. Myself on 36 points along side of Crazy but finally after 2 years 2 months, 18 courses, 324 holes of golf Broomy picks up the trophy on 37 stabies. I don't know if he was happy to have finally won or relieved that he isn't eligible for the plate for 12 months.
The plate went to Crazy after a short discussion on the ruling, I explained that a play-off would be a waste of time as no body wanted to be "Winner of the losers" and that it is something I wanted shared. With a good understanding of the dictatorship rules, Crazy rightly did not lend into an argument with the El Presidente.
Some of the boys had won a hamper at the golf tournament on the Friday and had brought that along to throw in as a prize. This was decided by the international "Spoofing" (did I spell that correct) rules, which after three tight rounds Warwick picked up. Maybe another thing to add to the days proceedings, the prize being donated by the lowest stabie scorer of the previous Golf day???
We are looking into Auckland Golf Club next month but I will confirm shortly, with Broomy 1 stabie short of the money it jackpots to $190 next month so added value in getting yourself and your guests along.
The El Presidente
Matarangi Golf Club ~ Sunday 27th March 2005
Due to the numbers of players down at Matarangi over the Easter Break we organized a sanctioned event for the Sunday afternoon. This pulled in a 12 strong field made up of 9 existing members and 3 new players, including me Mum. Brutus unfortunately scratched himself from the field after searching for his dog for 3 hours the night before only to find him wedged under a neigbhours deck in which he had to be dug out of. The emotional and physical tax on him was too much; to the point of impacting on his tennis game 2 days later.
The track was good but the greens a little slow for the 2 single handicappers that where playing. Most suffered with the tight fairways and the over powering "Out of Bounds" and "Water Hazards", the strong nor-westerly made it even harder especially on the new front 7. The course was especially tough on the day but good form and personal persistence would see 2 players emerge from the field tied on points to fight it out in an elimination play off (the first in the tournaments history).
The play off saw Ant Ford the defending champ, (who had dropped himself down from a 20 handicap to an 18 unofficial handicap on the day) pitted against the anything can happen on the day (14 official handicapper) stalwart Brett Turner (that's me). We played off on the par 3 18th, both tee shots short off the green but Ants was about 10m closer than mine. I putted in to leave about a 3m putt, which I put down in 2. Ant chipped in to leave himself a 2m putt which he missed leaving him a 30cm putt. Being the sportsman I am I told him to pick it up which he happily did? At this point we were informed that Ant had won as his handicap gave him a shot on this hole. Feeling completely f$cking gutted I shook his hand and congratulated him and walked off to console myself with alcohol.
Ant picked the trophy up on 37 points as was mine (money was not picked up) and I picked up the new plate section as my last win was back at Titirangi on March 10th last year. Other good scores where registered by Bangers on 31 points who had an off day by his standards and 28 points brought in by both Broomy and Mark Matthews. I registered the only 2 and am still waiting for my balls Broomy, Bangers & Dennis!? The night did not develop as it did at Christmas into a drunken mess, as wives and children strategically turned up. All and all a good day.

The El Presidente
Helensville Golf Club ~ Wednesday 17th March 2005
The weather was great, course was bloody dry and the greens where a little slow but the calibre of the golf on a whole wasn't too bad. With things being so dry you got the run on the fairways but if you where slightly off line with your approach to the green you could go anywhere. This told on us players that have problems with their short game. Those with the stronger short game such as Broomy came through and picked up the shots.
This was to prove the difference at the end as Broomy looked like picking the Trophy up for the first time, finishing with an 84 for 36 points off his 13 course handicap, unfortunately he was pipped at the post by Ant Ford a self professed part time golfer who was playing off the maximum 20 unofficial handicap… bringing in an 89 for 38 points for the trophy… and the money. Good day away from work, the group decided on The Grange as April's venue.
The El Presidente
Road Trip No 1 ~ 27th – 29th August 2003
Good Morning gentlemen & lawyers, just a quick attachment that El Presidente asked that I forward to the group as a possible tour next year...Sunshine Coast golf , races, a few beers, ( bit of a Hundy tour Beej but will room you with the President so that at least one room has both beds used for 12 hours each night!). anyway ..if we are (or someone is) keen let me know & we can string something together...think deposits are supposed to be in by end of Nov so we would have to make our minds up pretty quickly....maybe at the next golf day....if we ever have one!!!!
and the other thing is a quick report on the tour to Taupo....a thoroughly enjoyable few days....except for those of us with hearing at the pub on day one..for those absent imagine Broomy & Brutus 11.30 pm out celebrating the epic NZ triathlon win in Athens by singing at the Karaoke Bar.....not only are they both tone deaf & off key but their song selection left a little to be desired...."Stand by your man" may be a great country ballad for a good looking blonde girl to sing ...but hardly the first choice of TWO Jafas in a Taupo bar full of locals (most of whom are in the claim for the lake bed ..if you know what I mean!) anyway...we managed to get out alive....but resisted requests to revisit the scene of the crime the following night......we thought that our level of performance could get no lower...however the enduring performance (or lack of it) by the president was about as great as the Auckland NPC team this year.....full of promise but short on follow thru...he cried off each night with some lame excuse about not being hungry or thirsty and slept most of the tour....you have to ask what he & Nat had been up to prior to his departure.....I guess on the plus side was that we had a sober driver each morning....the other highlight was the footie where the MIGHTY MOOLOOS disposed of the Queen City immigrants & overstayers.....although this has been diminished somewhat by their other losses....golf...oh yes we did play golf too.....Wairakei was awesome....even snowed at one stage.....which worried us because we thought that hell was freezing over and Jimmy was going to hand a card in, but it didn't & neither did he.....Tokoroa was pretty good & Waikere on Sunday proved challenging...maybe we were a little tired....
I think Bangers won the money...or was it Jimmy again....all I know is that Broomy & I weren't in the picture...
a great trip...and to those that missed it....tough you soft little men.....next time....
catch ya later Crazy
ps read the attached & let Brett know if you are keen....I know he is....and I will be seeing if I can get a WINZ grant to get there & say it is a hikoi or something..maybe that we are going to investigate the origins of "Stand by your Man" possibly in a gay karaoke bar on the Sunshine coast...or is it hiphop we are meant to be looking into???? Ciao
The Crazy Scribe
Murawai Golf Club ~ February 2003
OK we're up and going 50% turn out, that's going to happen, things come up, but overall a great start, apart from my golf on the day. The "skins" concept was a good one and I think we should keep it until someone comes up with a better idea. But it's now a $1 a hole (put forward by Broomy, seconded by Bruce). Crazy is putting up a trophy of sorts for the best Net, well done Bruce on being the first winner of that.
The idea is to make a date which I thought could be the 2nd Wednesday of the month, book a Golf course, book a couple of tee times and off we go. The concept has worked so far all the people that didn't make it are keen to stay on the list for next month. I was unanimously made president / treasurer / secretary ( no short skirt), bugger, at the end of the golf over a few beers (the 3rd beer to be clear). Other issues that were brought up were:
A name for the group? send back your thoughts please, "Wednesday Wankers" is not appropriate Crazy
Who should be invited to be part of the group? the thought was any body we thought would fit in, nominations are open from the group
How many people? 20 is on the table, not to big, not to small.
Do we organise an away golf trip? has been tabled (didn't take long), has bee started, for those that want to go at the moment we are putting in $10 a month we are planing to go to Pizza Hut on that. I will come up with some costing on destinations so we can look at what we really need to put in. will table at the next days golf for those that want to be apart of that
Next days golf is as stated on the First Wednesday of next month (14th of May Michael Scott Lang), Huapai Golf course, the following 3 tee times have been booked but it would be good to get every one there just before . If there is one thing you can do for me, and has been done up to now, tell me as early as you can if you can't make it (things come up), I don't want to piss clubs of by booking 3 4 balls and only 3 people turning up.
This is all a bit of fun, by the way as per my signature sorry about my spelling and Grammar but I am but a product of Birkdale Collage, and you take the e-mail as they come. 1 other thing many of us come into contact with unpolitically correct emails that may be appropriate to some but not others get my drift, please let me know if you don't want such material to be sent, don't want to upset any one.
The El Presidente
Murawai Golf Club ~ February 2003
Hey Great start out of the 11 invited we have 2 Four Balls lined up for the first Inaugural golf game.Thought we would make the day a bit interesting and a bit different without breaking the bank. (I'm playing shit so I don't have a problem putting it forward). Thought each 4 ball could play Skins, start off first game at 50c a hole you win the hole out right (taking handicap into consideration) you win what's in the pot. If its not won out right it goes into the pot and played for at the next hole, it keeps building until some wins it. Putt off if it isn't won at the end. Bring your $9.
Still meeting at the pub at Kumeu at 11 for those that can make it other wise and are our booked Tee times at Muriwai
See you there.
The El Presidente