11th December ~ Huapai Golf club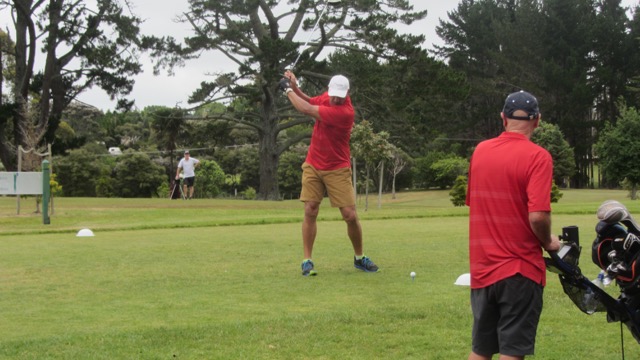 'Twas the round before Christmas and all through the land the wise men of the MWSS headed to Huapai out West.
Generally pleasant conditions for all bar the last couple of holes and some fine scoring along the way. Bangers had the best real score with 72, with El Presidente picking up the MWSS Plate with 39 stable ford points. Broomy, not to be outdone, grabbed Glugs Mug with 28 putts and Boba came home strong with 4 points on the last to take the trophy and the money with 40 points. His first win since February 2012 and seeing as he flew up from Nelson for the game he well and truly deserved it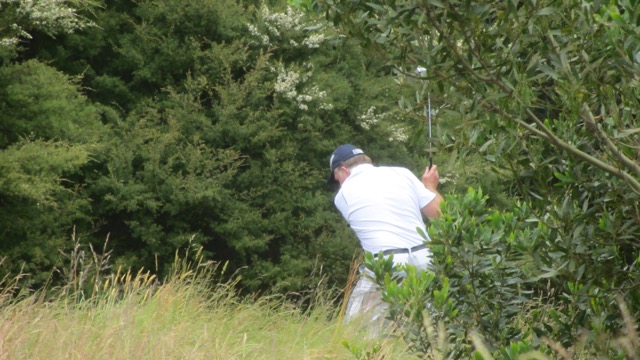 Longest drive went to 4 Door who contributes so much and will one day remember to bring his own towel along. Slightly soggy, he nevertheless managed to tally up some embarrassingly big scores and identified Big Andy as winner of the "Putted Like A Pig" Award (36), and Roscoe for the Batting Award with a stellar 103.
The course was in good nick, with over-night rain doing little to soften fairways and greens. A lone complaint from Macca, who has vowed to clear-fell a tee-to-green passage on the dastardly "Devil's Elbow" before venturing out there again. (Fuelled by the frustration of 'the right-angle wrangle', he then drove his three wood through the back of the twelfth.)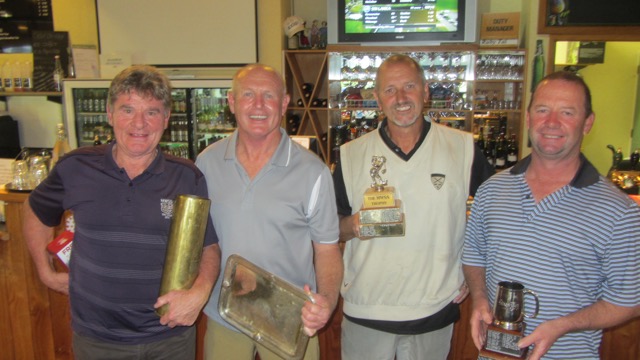 Also noteworthy was Ant Ford who celebrated his early retirement by taking home half a pig and a bottle of wine for his nearest the pin effort.
The shortest fines session in recent memory followed, as a large number of the boys were keen to head on to Macca's and make sure they had relinquished driving responsibilities before a gaggle of MWSS WAGS arrived.
There was some discussion that a new category be included on the awards listing, for those who talk it up but don't back it up. The "Lara Bingle – Where the Bloody Hell are Ya? Award" goes to Crazy who, upon seeing 4 spots of rain, re-affirmed some long-held beliefs about just how tough Northcote backs really were (or at least that was the chatter coming from some Bays lads).
Merry Christmas everybody.
Rosco
PS

A huge thanks to Macca and Sue for hosting us at their place for a second year for the Christmas game. To open your beautiful house to such an unruly bunch of men after last year's antics of gymnastics down that long hallway of yours is truly admirable. Thank goodness there was a good balance of lovely wives there to stop things getting out of hand this year.

It is good to take some time and catch up with everyone and I know it was good for a few of us to put names to faces and get to know everyone a bit better. All up it was a great night, good music, great meat cooked by Macca along with all the other food provided by the team, a good mix of conversation and an abundance of drink partly financed by Boba's winnings (thanks Mate). It was a great way to finish off the 2015 MWSS year. It was so relaxed that I did not grab the opportunity to officially thank the hosts, so I dropped a huge bunch of flowers around on the Saturday Lunch time on behalf of us all. Sue was up cleaning with Macca fast asleep.
Have a great Christmas

The El Presidente




Day 5 /9th Nov ~ Bridge Pa ~ The Wine Tour 2015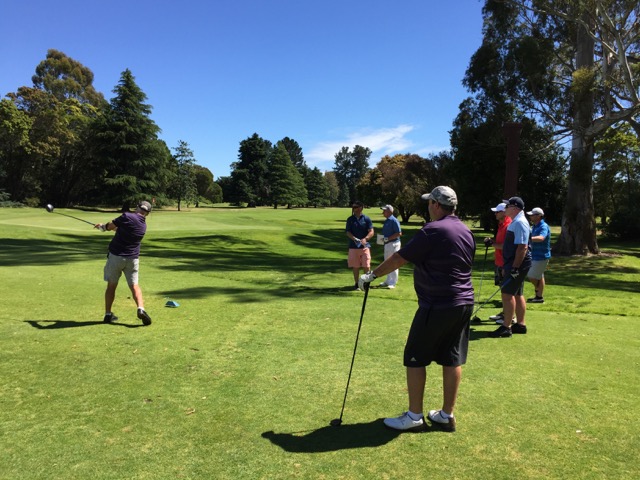 The most challenging day on tour, largely due to the fact that the day before we had spent a number of hours at Black Barn winery. What a great afternoon that was! Followed by an enjoyable court session run by the Rt Hon Crazy.
Bragging rights were up for grabs with several of the MWSS competitions having a number of candidates still in the hunt (writer excluded)!
Over the past 24 hours we lost several of our tour party - our tour competition leader (Chief), who must have known in advance that no one would catch him, as he caught an earlier flight, this proved to be a correct decision, well done Chief.
Ernie (after reaching his 50th MWSS match) buggered off to sell some milk, Rosco (great tour virgin) had to go home and polish his left or right not sure which and Jimmy and Brutus who had to go look after some legal stuff!
It was the hottest day on tour, with minimum wind (this didn't help some peoples general condition). Bridge Pa was in amazing condition and a pleasure to play and take it from me I played a plenty of the course! Everyone playing said they would be happy to return some time in the future.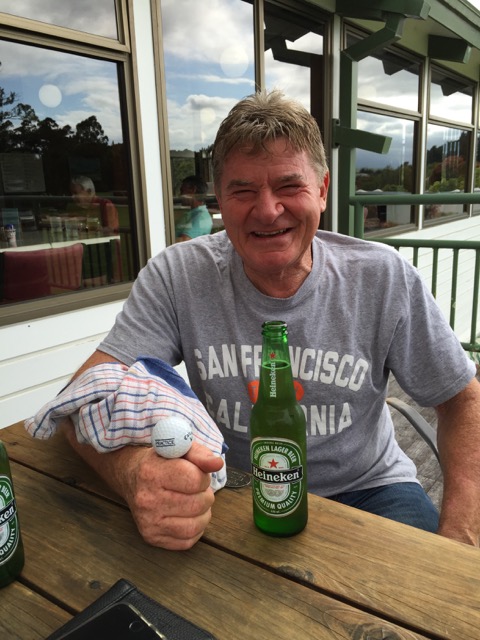 Boba and Leylow teed off early due to their early departure times, Boba with a firm grip on the least stappies/highest gross award and like Chief did not let go of either title.
The groups were split with half teeing off from the front 9 and the other off the back. Starting off the back nine with a blind dog leg plus with savage greenside banker was the undoing of the writer! 4 shots out of the bunker pretty much ended any chance of cleaning Broomy up and left him to relax and enjoy another win (7 & 6).
Hatts picked up closest to the pin on the 10th, and the one armed Ferg somehow won the longest drive on the 18th passing Broomy's feeble effort by some 30 metres!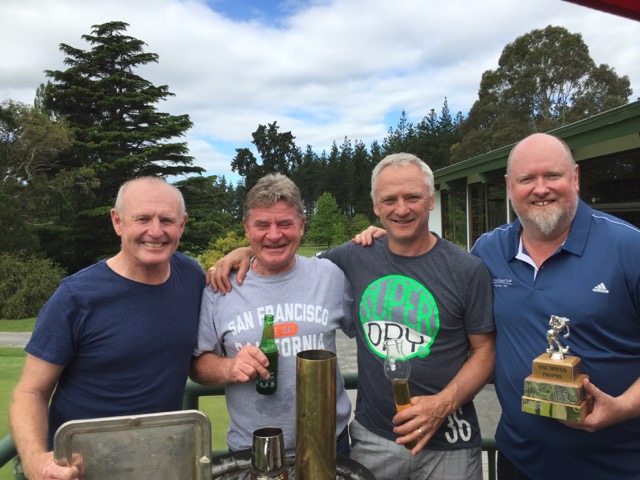 Big Andy who had a fine tour came away with his second win 39 Stappies with El Presidente taking out the dreaded plate with 38 points. Played like a Cote Scooner 20 points plus also putted like a lake backline (leaked plenty of points) with 38!

4 great days of golf, 1 amazing winery, 1 court session, 3 MWSS virgins, several tour virgins, 2 noise control call outs 2 injuries Ferg and Bangers (both golf related) 1 beer spillage (Crazy), special mention to Nev who was a great Minister of Music and keep everywhere we went Rocking!! In general a great group of guys and a great deal of fun!! Roll on the next tour 2016!!

PS. Official one on one score card ~ Broomy 16 v Scooner 0


Finally spelt right
Scooner
Day 4 / 8th November ~ Black Barn Winery

Well this was probably one of the best ideas of the tour. We have historically played golf every day, this time it was decided that you can't go on a tour of the Napier region without sampling the local wines. Now Scooner had done a bit of research and there was a little bit of worry about the boys behaviour with many of them known to drink vino like water, so a small botch vineyard was chosen by the mistro thinking they would look after us.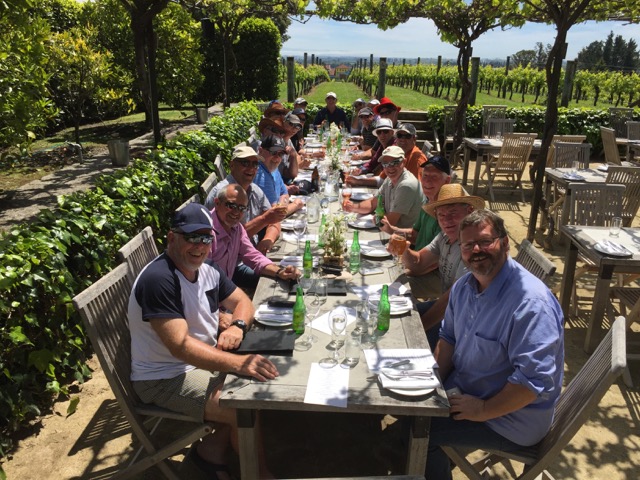 So after a bit of breakfast we set of for Black Barn Winery about 20 Km south, we had to pick up chief who had turned Abo on us and had gone walk about and of course was heading towards where the next drink was and trying to dry out from the night before. .He did pretty well we picked up at about the 15km mark, not bad for a young guy.
Well the setting was stunning, as you can see from the pictures, the weather was perfect and for those that had forgotten the suntan lotion there was that and free hats. Scooner had organised a set menu with the right amount of choice to keep everyone very, very happy. Good NZ produce cooked exceptionally well, mixed with the red or white of your choice and of course good entertaining company made for a great relaxing afternoon.
After 3 hours the boys where just starting to get a little load and funny enough, the bus turned up to pick us up. The organisation skills of our party are exceptional. The bus trip back with a few quiet beers and back to the hotel for a most entertaining Court session that involved just the right amount of Alcohol consumption, a little bit of physical exertion, a huge amount of laughing and even a bit of man bonding. But I can't go into detail.
The day saw breakaway groups forming to find some dinner, most went into Napier to an Irish pub where we had a good feed was found along with and Irish band.
The best Rest day ever
The El Presidente
Day 3 / 7th Nov ~ Cape Kidnappers ~ The Wine Tour 2015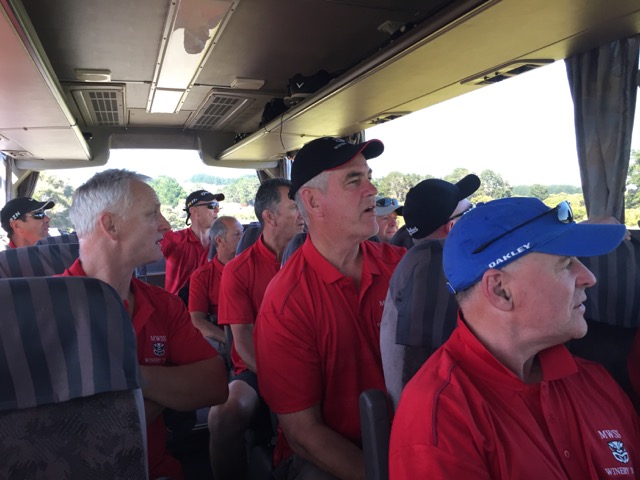 So this was the game that we had all been looking forward to. Cape Kidnappers is rated in the top 50 courses in the world and it can be a great experience or a nightmare depending on your golf on the day, and also the weather. We were lucky enough to wake up to blue sky with a hint of breeze - we were off to a great start.

Many of the guys hadn't played it before and got a little excited at the gate, unfortunately there is still about 8km to get to the club house, but it was definitely worth the wait. First class service when we arrived, carts were ready, clubs were put on the carts for a us and we were off to the first class practice area for a warm up.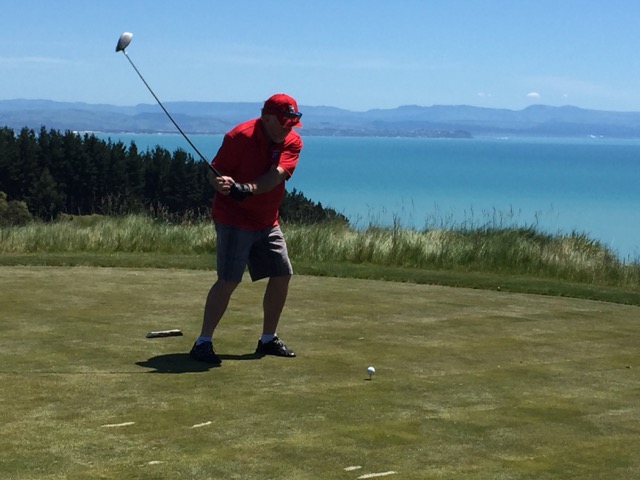 Rules for the special game allowed for good mates to play together as much as practical, usually I stick guys together that don't like each other. We allowed a red marker call for all the fescue rough, that was probably the best call of the day as it was hard to keep out of it and many of us probably wouldn't have finished otherwise.
The course itself was stunning. The first 2 holes are understated as they take you inland but on the par 3 3rd, you turn into the stunning sea views and they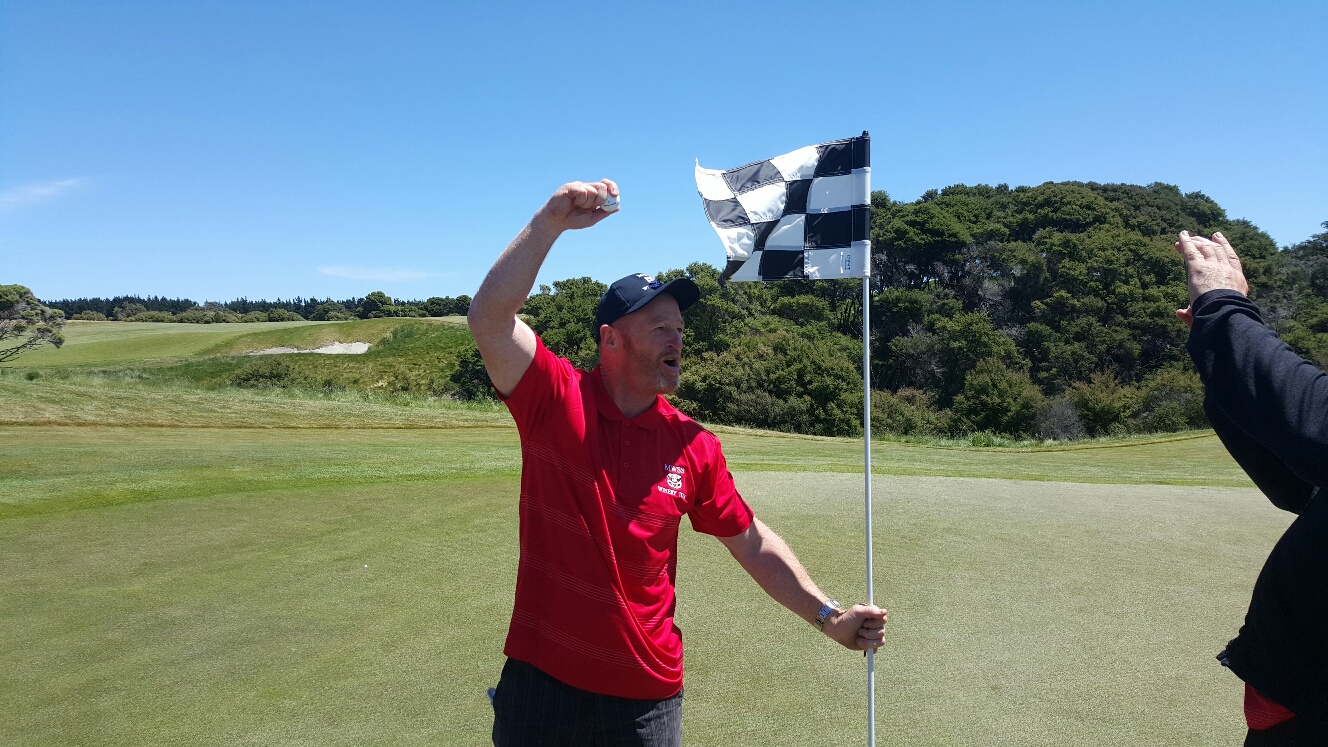 almost remain through the next 16 holes. Each hole was restricted by ball consuming rough or shear drops to the sea 100m down. The greens were slick, the fairways were like most courses and the greens and bunkers were deep, but those views were outstanding.
The only thing that could make it better, was to play the perfect shot. I was playing the hole behind this group, when I thought something was not right. I heard a scream (that should never be heard from a man) and then a shout, joined in by another roar that could only mean one thing if they were playing a par3. We raced up to the tee to find Rat with an unnaturally big smile on his face and the rest of the 4 ball just rocking back in disbelief. Rat who for some reason only known to himself, decided to teach himself to play left handed 3 years prior, played the perfect shot and rolled it into the hole. It set the day off perfectly.
For the rest of us humans, we had a mixed bag- with scores from 109 to 7. Boba picking up the 'Batting award' and Bangers grabbing the 'Bangers Shot'. Putts varied from 39 to 29 with 2 Guns 'Putting like a Pig' and Scooner netting 'Glugs mug'. There was even a big swing in Stabbies from Thomos 22 giving him the 'Played like a Sheila' award to the 40 points for the winners of the plate and the Trophy, Chief won the plate separated only in count back with Rosco. A great day at the office for all.
You can guess the fine session was an entertaining one dominated by the now, against all odds, story from Rat on his spectacular shot on the 8th.
Huge on detail with arms flaying all over the show we were all there with him and by the end of the story sore with laughter.
With that all done, photos taken and winners shirts purchased, we hoped on the bus and headed back. But we didn't get to the gate before stopping for a piss stop (we are of that age group). With a few beers purchaced on the way we headed back to the hotel for a quick shower and a few beers then off we went across the road to a restraunt bar that was right on the beach with the perfect night.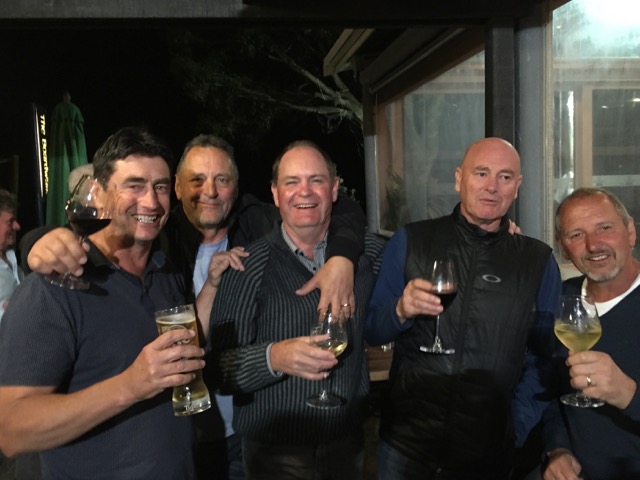 Now what goes on tour stays on tour but the night involved without going into detail, a great meal, a bar man with calves bigger than 2 guns guns, spoofing lowered to its lowest level, arm wreasling that also involved the barmaid, good music, bad music a mens wet tee shirt competition and a very happy but stitched up hole in one winner quietly leaving before falling over.
It was truly a great day.
The El Presidente
Eye Witness Account of that Hole in 1
Onto the first hole and off we went, good drives by all but unexpendantley the longest drive card appears which we hadn't expected for a few holes. It seemed Bill had got a little excited by his own drive and decided this needed to be the long drive hole. Now Bill does have a tendency to take control of the situation and this may have an impact on the dwarf throwing at the end of the day.
I was fortunate enough to be paired up with Rat, Thommo 2 and Slim with Slim being my partner . A side bet was placed within our game that the losing team had to acknowledge that the other players were better players and citizens in every respect for 2 hours following the game, and looking at the opposition this seemed an easy bet. Surprisingly it did come down to the final hole with a 30 foot clutch putt by myself dropping and Thommo missing a 4 foot slider for us to half the match.
The weather was good and the course fantastic but obviously the highlight of the day was Rat's hole in one on the 8th. He hit it flush with the 7 iron and it never looked like missing, although his eyesight was so poor I'm not sure he saw it drop but the rest of the group did and celebrated accordingly. A hole in one at Kidnappers on a MWSS day is pretty special with only two other occurring previously of which I have been in the four ball both times and both times it's also been by a ginga.
The Broomy

Day 2 /6th Nov~MARAENUI GC ~ The Wine Tour 2015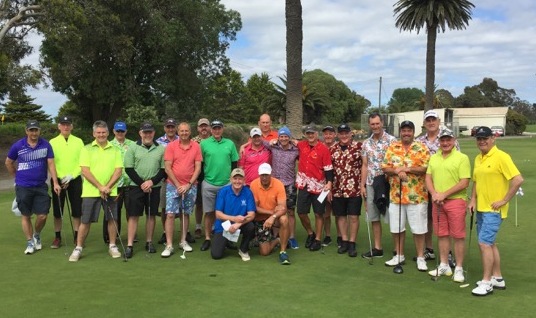 One of Hawke's Bay's finest Golf Courses, just off Marine Parade in Napier. With the gentle sea breeze slipping through the summer sun, this 6,125 metre 18 hole picturesque golf course is supposed to be a pleasure to play.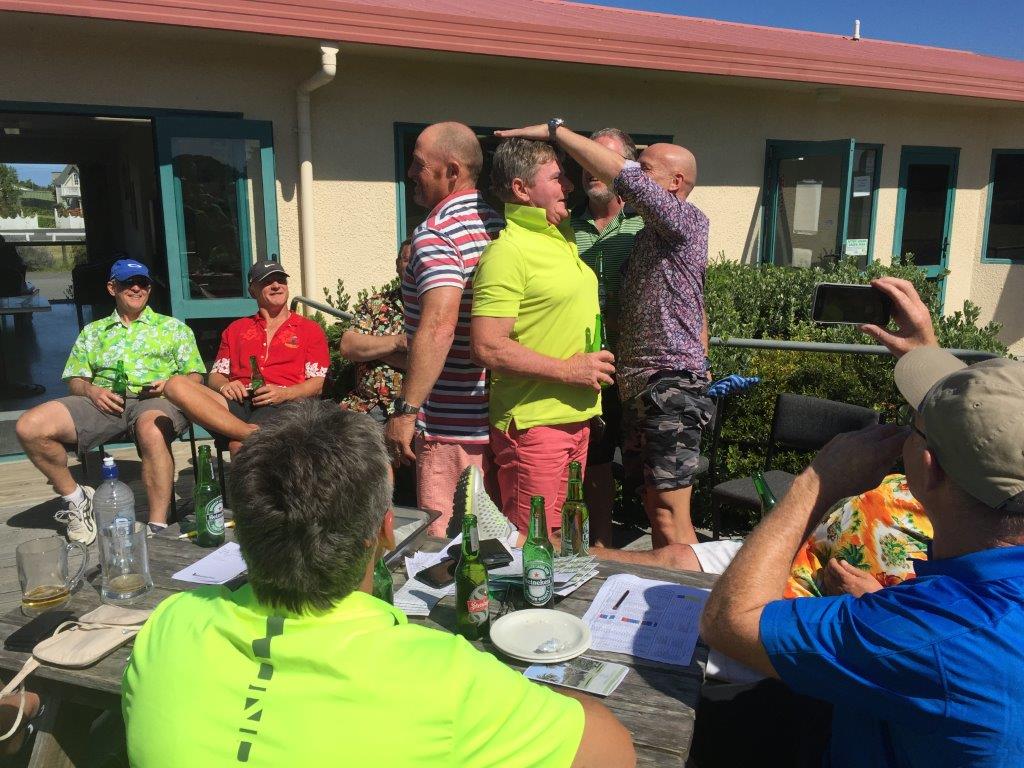 Although flat and easy to walk, the course offers tightly sculptured multiple tree lined fairways with creative greens with complexing and taking the piss bunkering.Warmer weather, pretty course, only slightly hungover, got to be good to go Or so I thought. The dress call for the day was load and everyone made effort. My group was last off, me, PC and Leylow, Muzza, course actually did play well greens were true and one putt Muz, couldn't miss. I on the other hand couldn't buy a shot all freekin day, lost the match with 6 holes top go.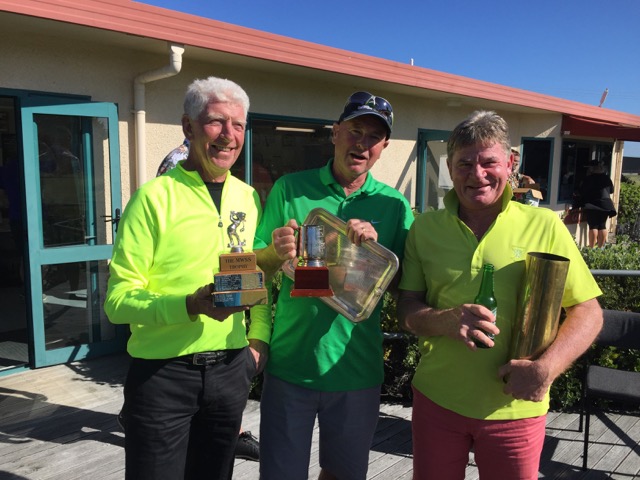 Beers and prize giving next door at the public course, and once again fine sessions galore & topping up the kitty (mostly by me).
Highlight of the day Bangers story of trying to jump a 1mtr creek and coming unstuck on both attempts. Happy ending.
Apart from the measure of with the big men the after match was reasonably quiet. I unfortunately picked up the cricket score 111 and least stabies with only 20, Bede putted like a pig with 38.
To the real players on the day Muzz picked up the Mug and the Plate and Bangers picked up the Shot for the second day in a row. But the quiet winner on the day was Pissy the pom who killed it with 43 points.
Another great day, all building up to the big one tomorrow at Cape Kidnapers, Bring it on my golf can only get better
Long distance member BOBA
Day 1 / 5th November ~ Napier Golf Club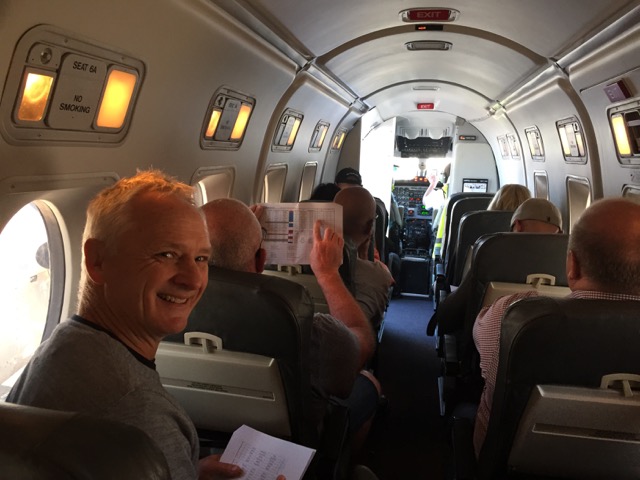 "A committed group of 24 MWSS members descended on the mighty Hawkes Bay for our annual golf trip. It was clear from the outset that the organisers had done their homework and everything set up a weekend total debauchery.
Whilst the weather threatened we all managed to stay dry and warm be it with the help of some Jägermeister on the first tee. Clearly this early indulgence affected Two Guns to promptly sliced a ball into the carpark confirmed by the sound of his ball hitting metal. Pay's to be in insurance.
As the afternoon evolved word got round that the early tournament favourite Chief and the Dark Horse or more appropriately the White Knight from out West, Big Andy, were in a ding dong for first day honours. Both achieved 40 stabs with Big Andy winning the MWSS Trophy on a count back and Chief picking up the Plate. Game on for the weekend.
Bangers predictably managed to wrestle back the Shot from the current holder Ferg and Fanta Pants "Rat" slaughtered the greens with just 28 putts to pick up Glugs Mug.
The bus trip allowed time for a few primers on the way back to our digs before we headed out to make an impact on some Napier locals. Being a gathering 24 good looking lads, we stood out like forest of penises at the local Speights Bar reputably owned by Ex-All Black Aaron Pene. Aaron never showed but fortunately or unfortunately as the case may be, there was only one woman bunter in the bar who was up from Wellington ironically on a reconciliation trip with her ex-husband.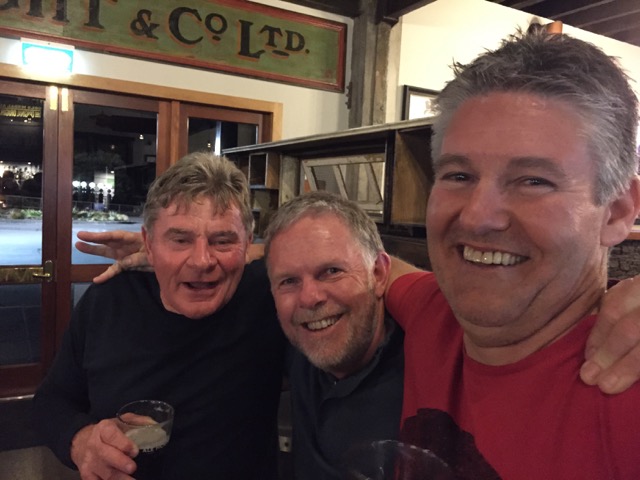 To her credit she managed to foot it on the dance floor with our best "Dancing With Stars" contestants in Two Guns, Pissy and Thomo 2. All showing that they were still light on their feet given ages and the afternoon on the golf course.
Shots were drunk, lies were told and full credit to Big Andy for setting the bar so high with his contribution to the tab. A Great First Day."



Slim

PS Reasons for the least stabbies. From 2 Guns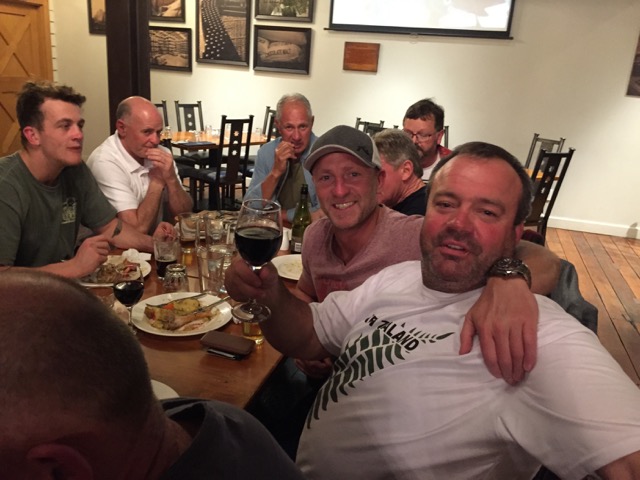 The tour did not start well, and I should of known things were going to go from bad to worse from the moment I left my wallet on the plane arriving in Napier- Luckily I was able to retrieve prior to jumping on the bus. Whilst I am not one to make excuses, the Guns had had a significant work out the day before at Les Mills which would have been very visible and admired by the other MWSS members, of course. As a result of this the bicep extension was not stretching enough to take at the hook out of the drive, the overrun with the putter and finally the verbal abuse from my other team members. As they say 'any horse can start a race, it's who looks good at the finish? ', quite clearly I was able to live up to that, this also continued with my cat walk manoeuvre's to Tom Jones in the Speights Ale house. There you go, comments from TWO Guns on lowest Stabbies.

2 Guns

Mangawhai GC ~ 15th October 2015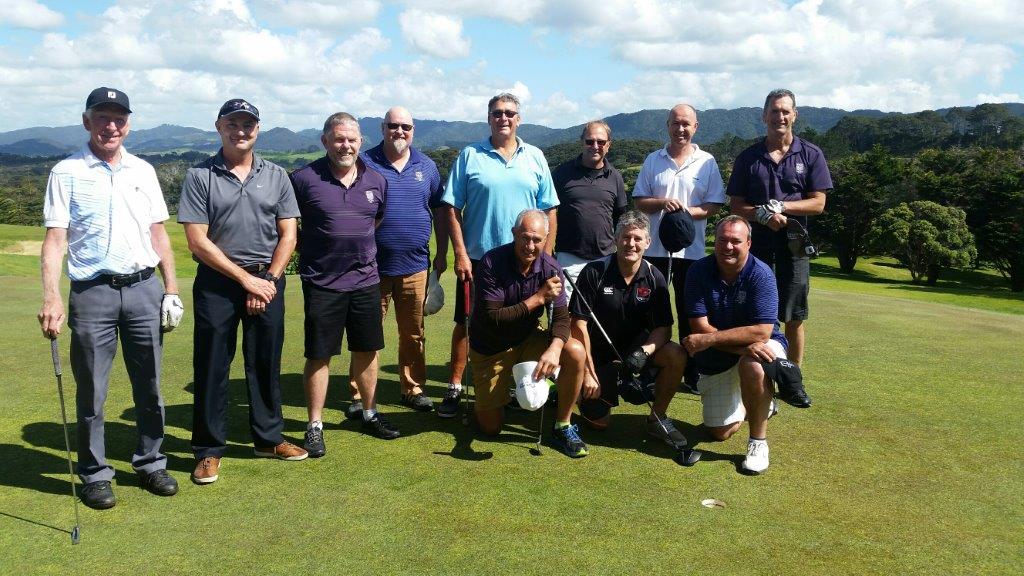 Another trip and another success.. With the president and his right hand man on the European tour - it was left to the Ferg to take the reins this is either due to his profound ability to organise golf and beers.. or because he too has too much time on his hands.. Regardless of the reason, he managed to round up 11 others for the trip to the majestic Mangawhai course.. Like the RWC, Grandad did what his rugby team did and didn't make the bus for the serious stuff.. in his defence there was only 15 emails stating that he was on the tour that he didn¡¦t reply to.. So the Chief pulled out of the station and collected the boys who were committed.
A leisurely brekkie in Warkworth at the Choccy/Brekkie place set the tone another great call by the Ferg. We should have known something was up when Ernie turned up with Cat wearing a thermal and claiming he was on a 14!!! The only thing missing was his balaclava¡K which he donned on the track!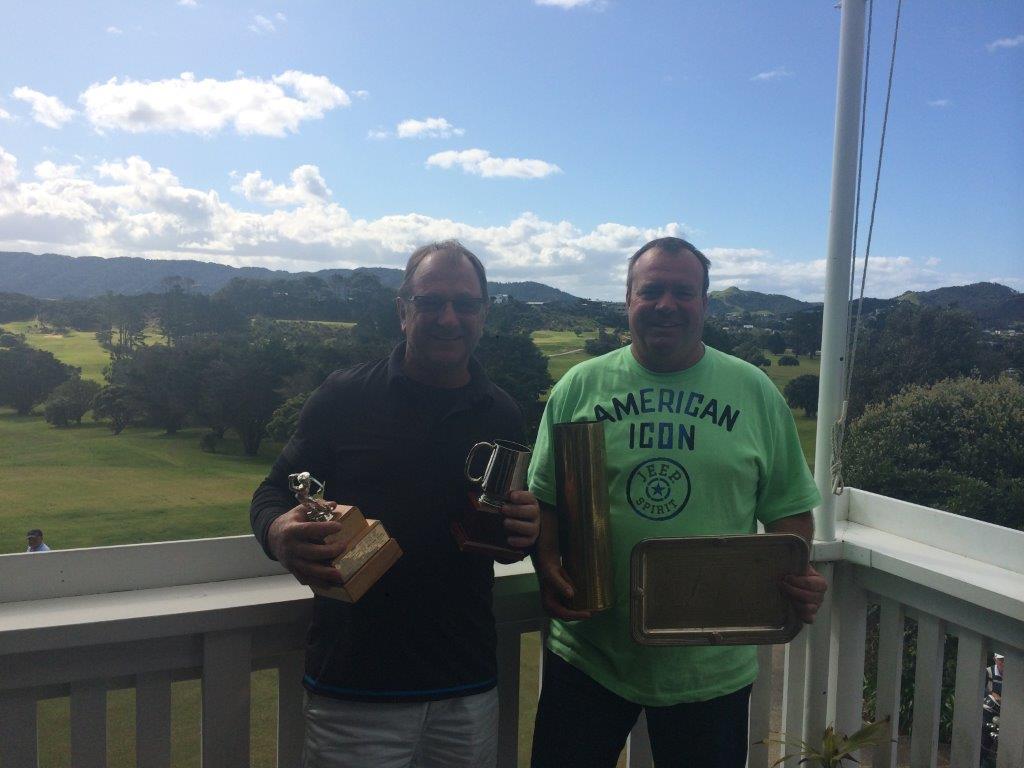 I was fortunate to witness first-hand Ferg on fire. Hole 1 good drive, stunning 2nd and holed the 30 foot eagle putt¡K. He managed to hold it together and pulled into the 19th with a 1 under 71 and 44 points¡K. Obviously we were excited¡K as it meant we weren¡¦t going to be paying for any beers. !!!

But as the groups rolled in, it was Ferg that was feeling like Bangers does
on many occasions. Throwing out one of his best performances only to come up short¡K. The story of Ang¡'s life sadly.. The perfect conditions, sunny, a
light breeze and a lovely spring temperature suited the boys.. with no fewer
than 3 players scoring 40 plus¡K as the big Russ lodged a very good 41 points.
But it was to be the Cat Burglar who stole the day with 45 points as he
pipped Ferg and took the $.











Cat and Ferg shared the goodies, with Cat also taking the Glugs mug on a countback from Ferg we had to countback 7 holes to separate them on this.
Bangers Shot was proudly collected by Ferg for his 1 under 71 and he also picked up the plate for being the BEST LOSER.. I am not sure if anyone has ever broken par, shot 44 points and received the plate. Maybe you can confirm this Bangers. !!
Not to be outsdone ¡V Hatt completed a nice trifecta ¡V least stabbies, most golf, most putts FB he missed you !!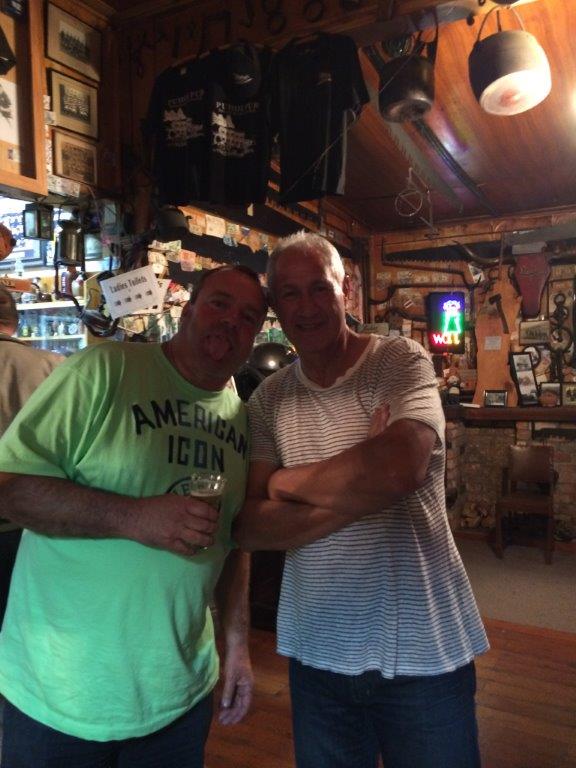 We bailed from the golf club and were hosted by Russ for a couple of cold
ones to enjoy the majestic view over the sand bar to the off-shore islands and
magnificent Hauraki Gulf.. what a spot !!! Needless to say, at Russ's insistence and fired up by a few amber ales the boys took up the challenge to see who could drive the bar across the water¡K¡K despite the fortitude of the beers, no one was successful maybe Ernie could have threatened it, but he was a no show maybe because his partner in crime was too embarrassed to show his face or was still busy putting his winnings down on a local property!!!!
The Chief then took control, we bid farewell to The Fat who looked in great shape for a family feed, we stopped to ensure the boys had enough liquid to make the trip home¡K hydration is the key! then the Chief sorted his best disco and blues music and hit the road. The lure of the Puhoi was too much for the Maori boy at the wheel and he insisted the boys stopped in for the compulsory quart It all got a little hazy from there¡K but we didn't want to overheat the van, so had another stop and Bill ensured all were home safely.
Big Ups to the stand in Pres Ferg another great trip, he led from the front both on and off the course and has put another game between him and the Aussie shopping trip boys ( you know who you are!)
Thanks to Mr & Mrs Maloney for your hospitality nice views Russ
To the Chief awesome driving mate¡K tho on Sat am I am not sure our heads were concurring with that thought. For those that missed it you missed a goodie see you in Napier.
MWSS Trophy Cat 45 pts
Plate Ferg 44 pts
Glugs Mug Cat 29 putts
Bangers Shot Ferg 71 (1 under)
Putted like a Pig, Least Stabbies, Most Golf Hatt the trifecta!
Crazy

Pupuke Golf Course 11th September 2015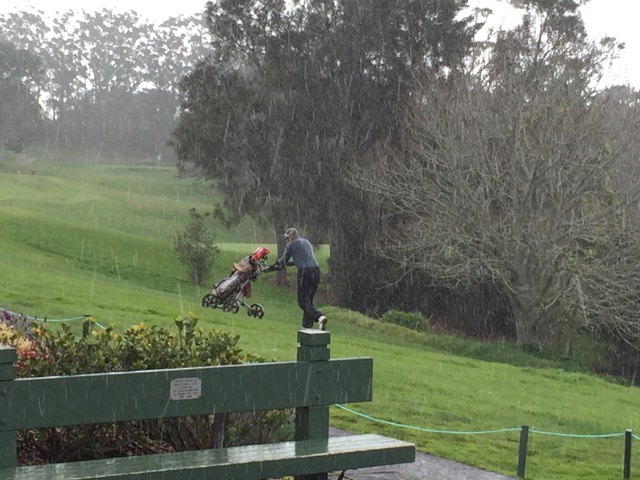 Pupuke is an interesting course and one that polarises golfers, but I decided to put it through into the winter mix because it wasn't too far travel and at this time of the year at least the ball will stick to the hills.
We had had a good amount of rain building up to the day and when the 1st 4 went of the 1st tee the sky¡'s opened up. The rest of us headed for cover but where in good position to see Chief drive his shortest drive of the tee, questions where asked where the ladies tee blocks were but no fine was put up. 2 minutes later the sky¡¦s had cleared and stayed so for the rest of the day.

To be fear to the track wasn¡¦t too bad the greens played well as did most of the fairways but it was the lower areas that where hard going and wet. To balance things we had a visit from the Club President no less, on a golf cart to provide us each with beer for our troubles and to welcome us to the course. Grey is well known by most of the guys from the bays and he is one that knows how to run a great social golf club.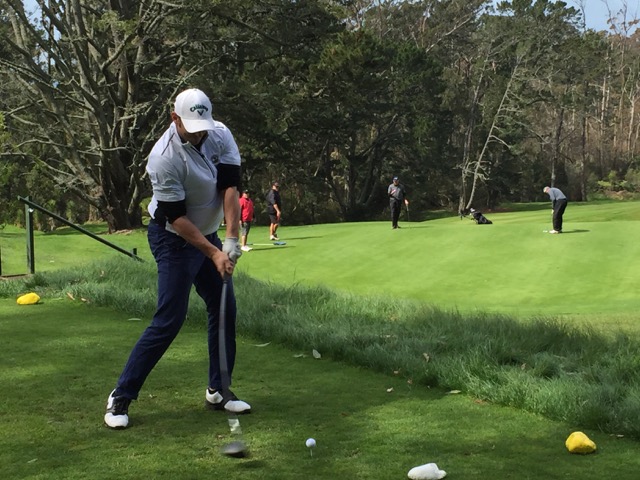 Now we had 14 in the field, we nearly had Ernie but for some confusion on if he would make it from a meeting. But 14 it was with an average handicap of 15, we ended up with averages of 87 gross, 34 stabies and 32 putts across the 14 players so it wasn't a bad day at the office.

To those that got scores at either end of those averages Tiny Tim picked up Most putts with 38, and Otis Picked up the Batting Award and Played like a Shella with 100 not out for 29 Stabies. At the other end Ferg cleaned up with Glugs mug 26 putts, Bangers Shot with 74, and the Plate for 28 stabies. Not good enough to pip The Plough who came home with 39 stabies for the Trophy but no money. Bugggger.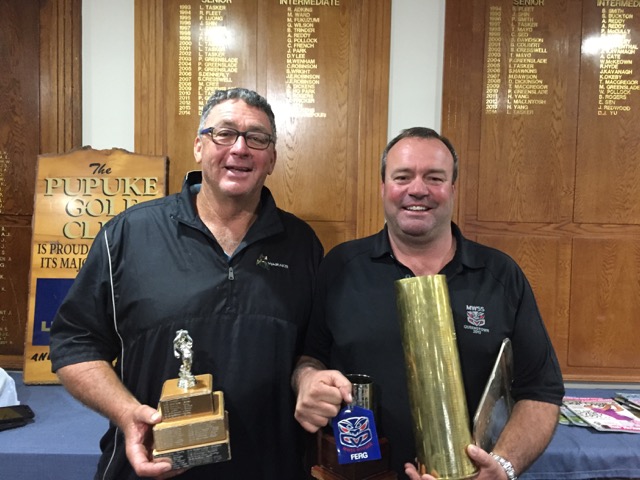 Now we were well looked after by the club and were given the opertunity to thank them and Grey for the day. At 6pm you will not see a fuller club house anywhere in the country. Very impressive. The only other thing to happen was the awarding of official Bag Tags for members of MWSS. They come in 4 different colours to represent the number of games played. White for 1 to 17 games Blue for 18 to 49 games, Red for 50 to 99 games and Black for 100 plus games. They come with your nickname and The MWSS logo. A little bit more bull shit ¡Kbut what¡¦s life without it.
Well I¡¦m off to the world cup till the Quarters so have left the next game in Ferg¡¦s and Chief¡¦s hands so I¡¦m sure it will be a good day up at Mangawahai. Go the ABs!!!!!

The El Presidente



FLOG Comp- Muriwai Golf Course 21 August 2015

This year we came prepared, we even had 2 subs.
The weather was great, the bus trip up was uneventful and you could feel the tension build as the first teams from FLOG and MWSS went head to head in the 3
rd
annual play off. 26 from the MWSS and 24 from FLOG made up the day and actually there wasn¡¦t much tension, it was very much relaxed and over 18 holes the enemy became reasonably good friends. Very much like ourselves most of the group are good buggers. The competition was closer than it has ever been though and we could smell a win.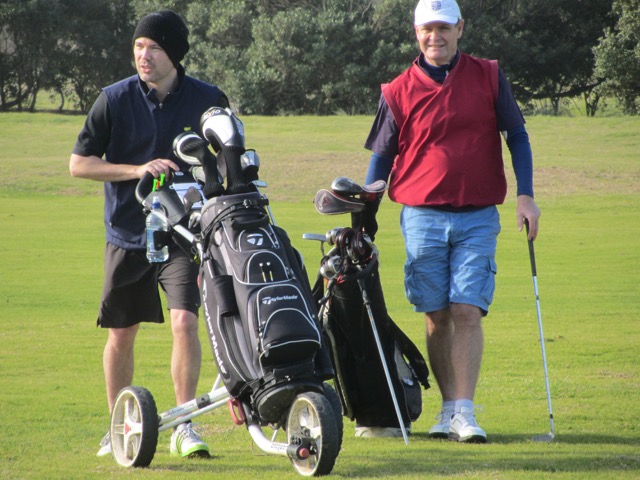 Groups had been selected randomly to mix it up a bit and there were no excuses from the course, a light breeze a bit of sun, plenty of grass to play on and the course was in good nick. It was a slow round for some reason, didn¡¦t seem to beto many hold ups but we all got in a little later than we wished we had even
with a 2 tee start.
The battle of the day was between our own Johnny McLaughlin who was on fire coming in with 39 stabies but only to be cleaned out by FLOG¡¦s Neil Plummer 4&3 who had 42 stabies. Hone did his part evened it up 4&3 against FLOGs el Presidente Bill.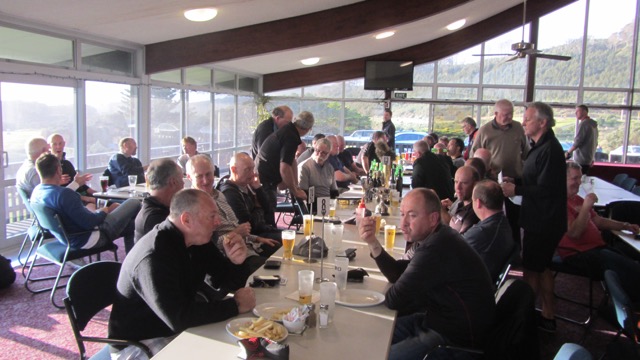 Ernie and big Andy took out the teams comp with their FLOG team mates Joel and Garry with a combined 141 stabies between them for a bottle of wine each. To the overall comp working on 2 for a win 1 for a draw it came down to the line and one game in it FLOG taking it out 25 points to 23. There¡¦s always next year!
To our comp some good golf played and all the silverware went out but no money ¡K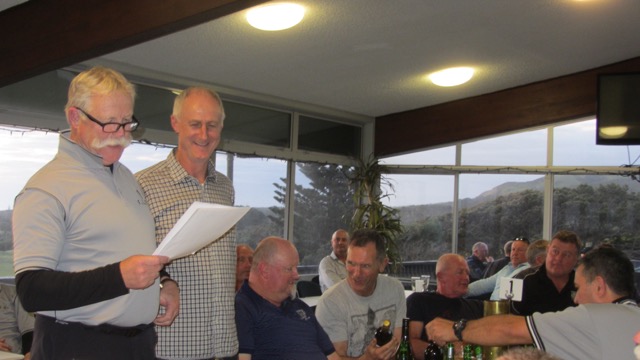 Cricket Score went to Two Gunns

Most putts went to Virgin Andrew Maddren

Played like a Sheila also went to Two Gunns

Glugs Mug went to Broomy with 29 putts

The Plate was taken out by John Mac with 39 stabies

Bangers Shot was taken out by Ernie with a 75

MWSS Trophy was also taken out by Ernie with 39 stabies on count back

A great day out and again another loss, but we don¡¦t have to wait four more years, we will train hard and play more strategic next year.
We drunk our fair share at the club and because of the late exit from the
course and prize giving doubling in size the bus trip was straight through to Greenhithe and onto the Poe. A few splinter groups drank on but all clubs and bags were accounted for so it wasn¡¦t a bad one. Thanks to 4 door and Andy for all their help keeping the FLOG boys honest. See you at Pupuke.

The El Presidente



New Zealand Herald
Press release
Saturday 11 July 2015
MWSS in stableford points shock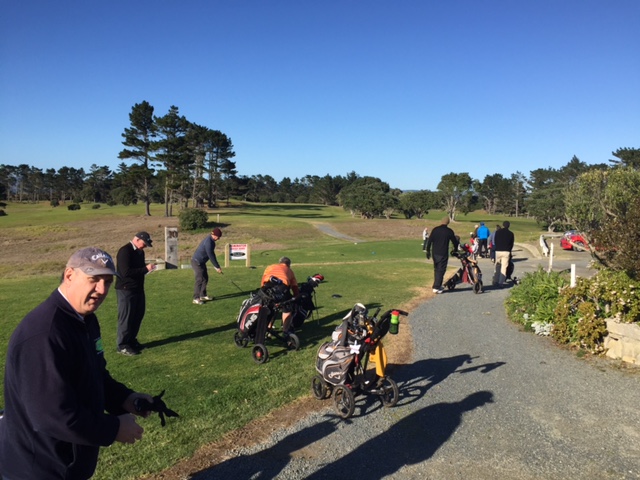 The MWSS Presidente Brett (Rocky) Turner (54) is in hiding on the Coromandel Peninsula after the golfing group was rocked by a stableford points addition mishap yesterday.
The Presidente was inconsolable when he discovered on Saturday that he added his stableford points incorrectly and ended driving the MWSS van back from the Waipu golf day, on Friday, as a result.
¡§It wasn¡¦t me that played like a Sheila¡¨ he bleated and ¡§sentenced to watch and listen to 9 grown men talk shit for 5 hours¡¨. There is also concern for his health after he consumed of up to 5 litres of Coca Cola during the trip home.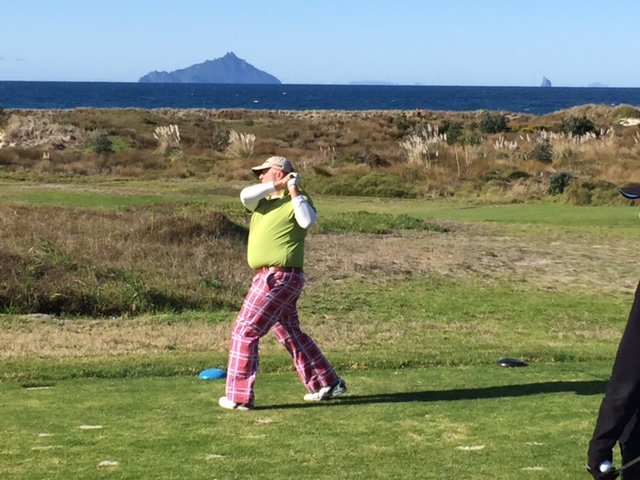 All Black great Graham (Dowdy) Dowd expressed surprise, ¡§we knew he couldn¡¦t spell but thought he could count higher than 26 for God¡¦s sake¡¨
Authorities are also concerned at the whereabouts of MWSS financial controller Paul (Broomy) Broom who was last seen walking unsteadily home from Stafford Road Wine bar late on Friday night. Peter (4Door) Forde, the last MWSS member to see him, said ¡§not being able to talk could be a problem if he is lost in Le Roys bush but the ¡§putted like a pig¡¨ head cover hanging out of his back pocket will make identification easier I guess¡¨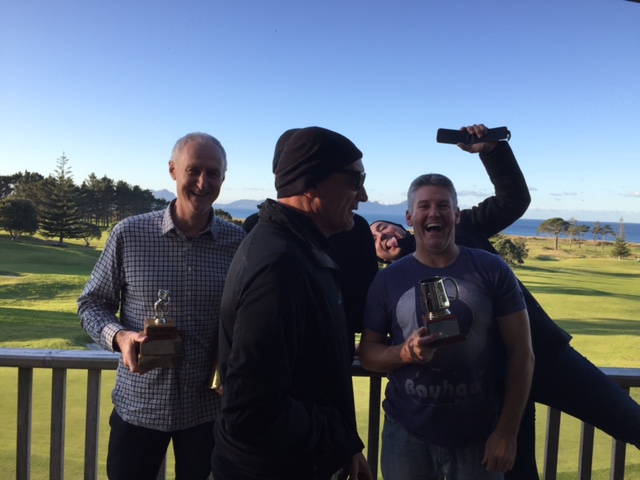 It was a bad day for the MWSS executive with Fine Master Brett (Crazy) Craies mixing up the plate winner and the trophy winner during prize giving. Paul (Ernie) Leonard was preparing his acceptance speech when the mistake was discovered. ¡§Being presented with a Waipu Golf club used dinner plate instead of the silver platter because some dickhead forgot to bring it was the low point of my MWSS career, especially after the mix up¡¨ he said.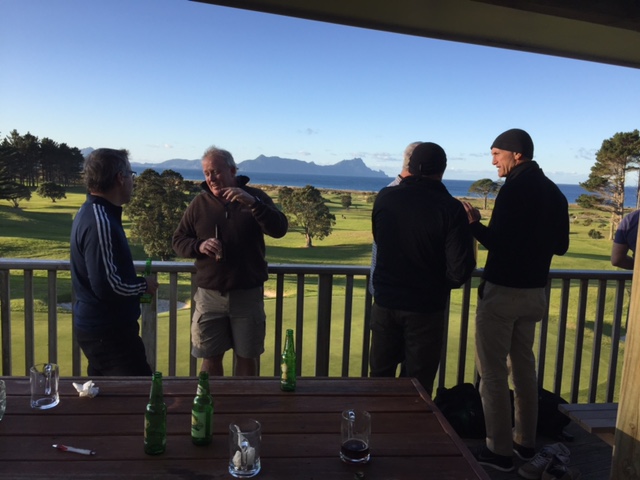 It had been the usual clock work MWSS day prior to the trip home. A beautiful blue sky, a cold southerly wind and 16 of MWSS¡¦s finest players teeing it up at the fantastic Waipu course. The greens were in superb condition, blue tees, difficult pin positions, a couple of virgins and the golf was well contested. The 10 seater van was ideal for the majority of the field and all agreed that whoever scored the lowest stablefords would drive home.
It started to unravel after the fourth or fifth beer in the sun, on the deck with Whangarei Heads in the background and the Hen and Chickens shining in the distance. The Orchard Workers Union are investigating allegations of Statutory Rape after MWSS virgin Mick (Big Cherry) O¡¦Reilly had finished his initiation speech and who knew that Grizzler was a big fan of Debbie Harry until MWSS virgin, Phil (Uncle) Tushingham, had finished his.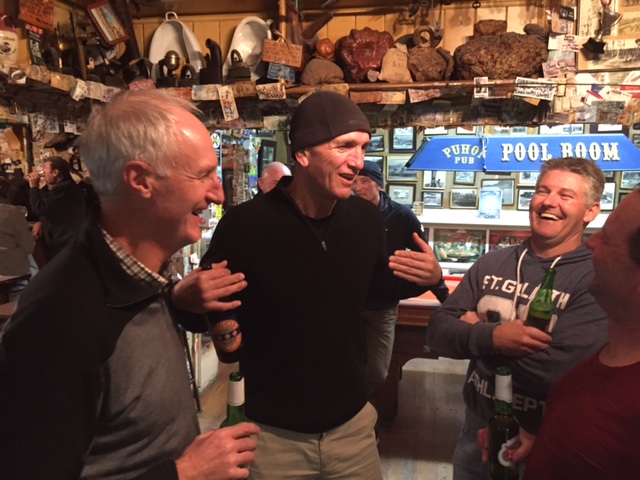 Crazy snapped up Glug¡¦s Mug when the actual winner had scuttled off to the exclusive, gated, Langs Cove community before prize giving had been completed.
Eventual winner of the MWSS trophy and Bangers shot 4Door was sympathetic with El Presidente¡¦s situation, ¡§I know I wouldn¡¦t have wanted to miss being involved in drinking 120 beers, half a bottle of scotch, 16 rum and cokes and assorted other specialities during the trip home because I couldn¡¦t count¡¨ he said when questioned.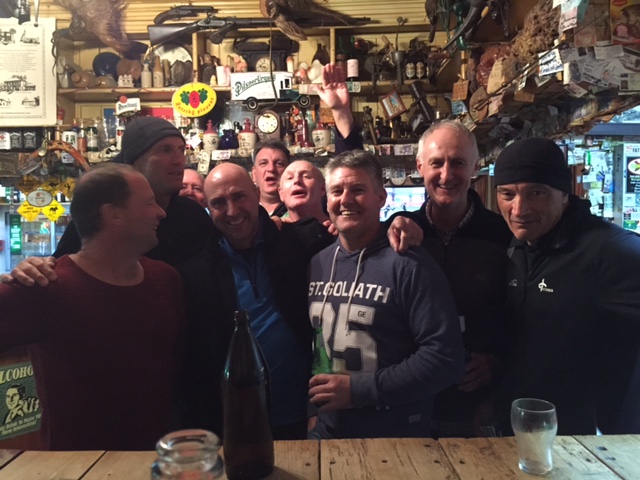 A rumoured coup attempt by Bill (Chief) Kapea fizzled out when he fell asleep during the last leg from Puhoi Pub back to the Shore. John (Hone) Leonard said he was supportive of Chief as a future leader of MWSS ¡§because at least he can bloody count¡¨ but would worry about him falling asleep at the wrong times.
Another memorable day in MWSS history no doubt but some members are worried that perhaps the leadership is leaking oil and it might be time for a change. Authorities are also concerned that the culture is deteriorating although some of the normal trouble makers were not playing. Regardless of that, MWSS marches on, even if some of its members are marching to different tunes.

The El 4 door
MWSS Akarana Golf 12 June 2015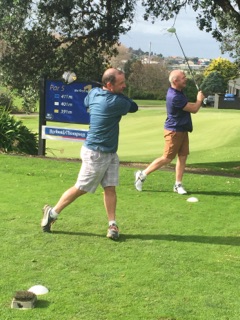 What an auspicious occasion the 114th MWSS day was, two legends of the game, BT and Broomy reach the 100th game milestone!! Crasey got proceedings underway acknowledging this fine feat. BT and Broomy then had a quick dram courtesy of Nev and then headed over to simultaneously tee off to get proceedings underway. These shots were meant to be Mulligans however one of the centurions (Broomy) decided it was better than his next attempt and decided to play the original shot (the things you can get away with when you¡¦ve played 100 games!!)
There was a great field of 30 to mark such an event and while the enthusiasm was high unfortunately so was the scoring. The greens were extremely slick, with even the best of putters struggling!
Crasy having been away for a life time quickly made amends during the fines session, it was literally raining money from the fines he generated. Well done and great to have you back!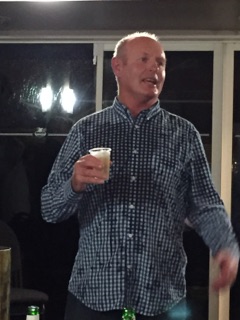 So to the awards, Steve (where¡¦s my driver) Williams becomes only the 3rd person in the history of MWSS, following in the illustrious footsteps of Bangers and Ernie, by making a clean sweep of the awards - best score 74, best stappies 36 and least putts 28, well done Steve!! Glugs mug and most golf were won in convincing fashion by the one and only JA!!
At the prize giving BT and Broomy were presented with some champagne and in true formula one fashion opened and spray the contents around, while BT was content to spray his champagne to open space, Broomy took the opportunity to drown BT with the contents of his bottle!! Once BT had dried out a dozen hardy members continued the 100th celebrations at the Sweatshop bar in town where we were well looked after Hannah (Bangers) Bancroft!!
You will all be pleased to know that Ferg did make it home 1) safe and 2) with his mobile after losing it twice on the way home!!

Scooner (Aka Puna)



Gulf Harbour ~ MWSS Pro Am ~22nd May 2015
With one sleep to go it looked like we were going to have a wash out but the day broke with cloudy but warm conditions and we were lucky enough to get through the day without a shower. The field was divided in two with 30 on the bus and the remainder making their way to Gulf Harbour ¡K all in all 67 in the field 50 of us hackers and 17 pros. A larger field than last year and a record field for MWSS. We had been lucky with Mike and Richard Lee working hard and picking up some quality Pros for the day, many of them fitting in from the get go on what the day was about, a bit about Golf but more about the bull shit and enjoying the day out. Richard unfortunately had organised the pros but not himself and was a little late for the allocated shot gun start but the club was all cool and we eventually got started.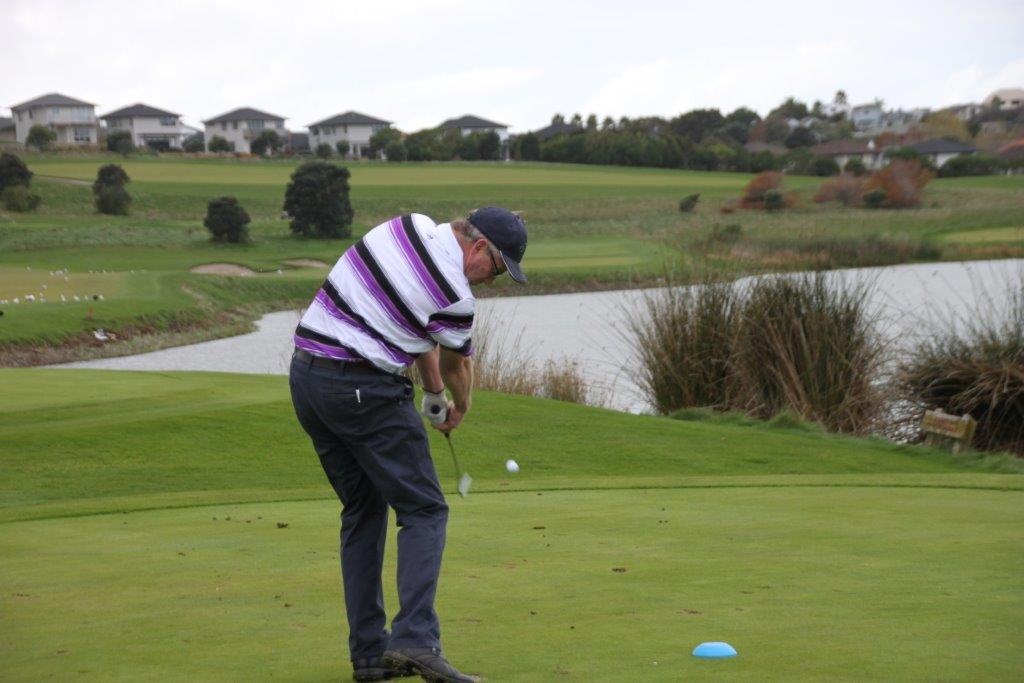 After a brief from Mike the Local head Professional and a little from me, we hit the slopes. Now ¡K excuse the ski terminology but when we hit the first green we realised the course had been set up for the pros not us amateurs. The greens were running about 11 feet on the Stimpmetre which is designated as ¡§fast¡¦ at the US Open, but taking in the slopes of the greens some were near on impossible if you were above the hole, with many puts ending off the green. Also the pin placements were at number 1 position on near on all the greens ¡K so it wasn¡¦t going to be an easy day out on the course. Gulf Harbour was hard.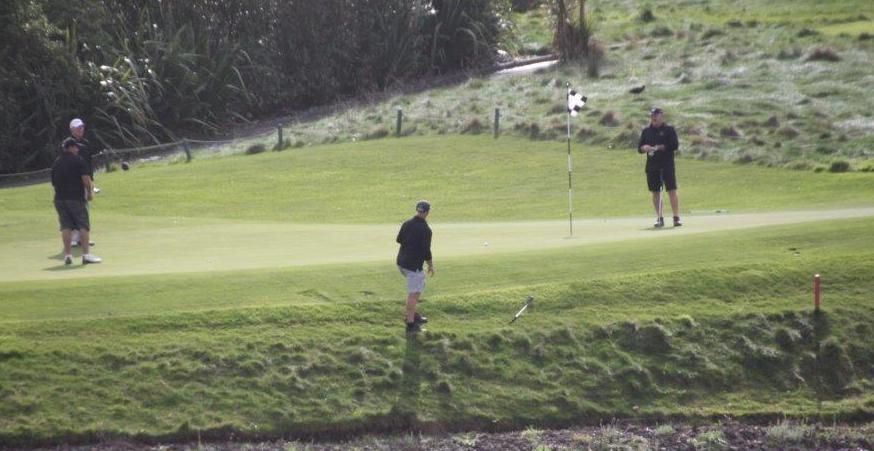 Add the foot high fescue rough, some huge ponds and cliff top holes and you have a recipe for a few a large score. Some Pros even struggled, but we were there and not at work, it wasn¡¦t raining and we knew there was a beer at the end.
After a quick shower we were all up in the clubhouse, there was even a few out on the balcony taking in the last of the great day. The Master of Ceremonies was the always animated 4 Door and his first course of business was bestowing the ¡§MWSS Hall of Fame¡¨ on a third member.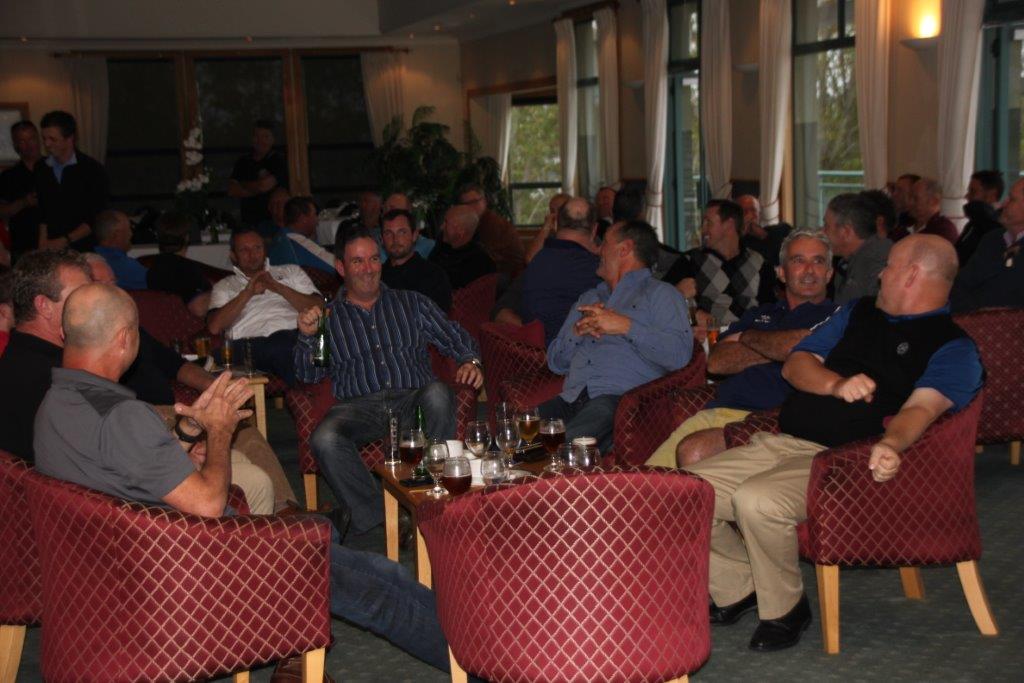 It went to Bangers who without doubt is our most prolific winner of the MWSS silverware of our group and it was the easiest of nominations. It was well received and Bangers was humble as usual, the way great sportsman usually are. The prize list was long with the addition of a number awards like closest to the pin and longest drives so it took us a while to get through but here are the winners:
Longest drive amateur 4 Door - Pro Kang Woo
Closest to the pin Amateur No Body - Pros Rob McCarthy
Putted like a Pig, Cricket award and Played like a Sheila - Browny who was awarded a Forest Gump Tee shirt to wear for getting all three, somehow it ended up on Nev by the end of the night
Glugs Mug and $170 - Jam Boy
Bangers Shot - 4 Door
The Plate - Wristy
Best Team Score was the team of Hatts, Wristy, Al and pro Rob McCarthy
Pro 4th place - Johnny Ratcliff 72
3rd Place - Brad Shilton 71
2nd Place - Frazer Wilkin 67
1st Place - Dang Woo Kang 67 on count back
MWSS winner - Hatts 39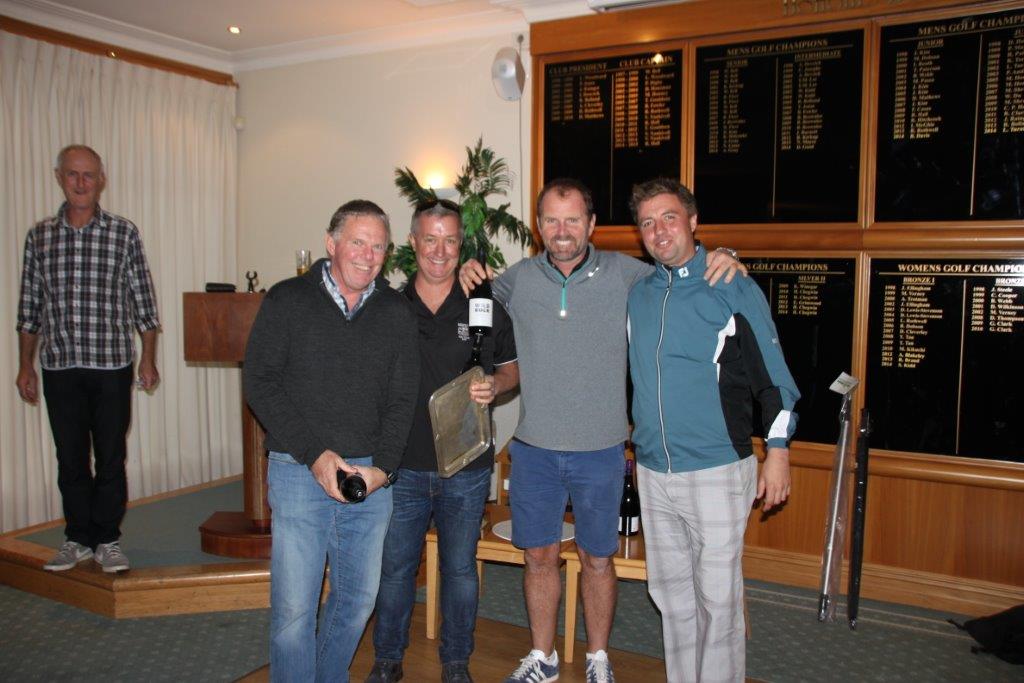 Some great scores on a bloody hard course, but not all were as lucky as the fine session was about to unearth. Now Crazy was throwing his usually suspect fines out but the money was slow in coming forward $1 there $2 there. He worked his way through the individual acts of stupidity for the day and we weren¡¦t looking good until right towards the end the ¡§The Raise your Bat call went out¡¨ for those that scored over 100 $5 fine, 18 people approached and paid then the points short of your handicap and again all bar 9 people came forward to pay a dollar per point. Before you know it the food was covered with a little over for the short fall on the bus.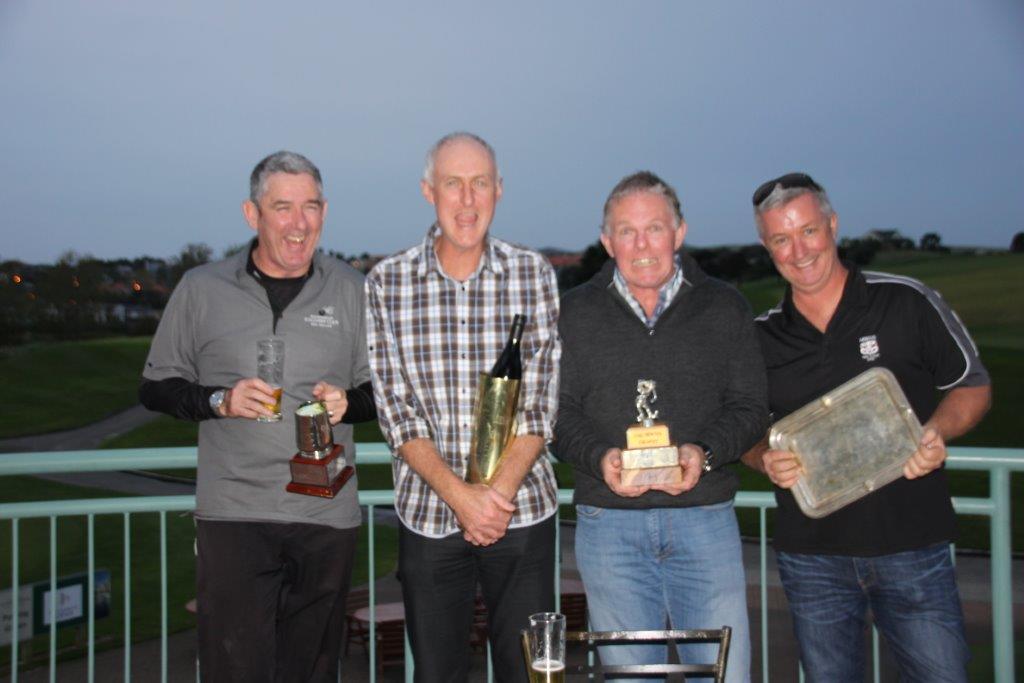 At that point the proceedings were closed and official part of the day was over. Special thanks to Mike and the Boys in the pro shop for doing the cards, 4 Door and Crazy for their great input and RS for putting up the Prize money. A great day but always things we can improve on and the feeling is this will get bigger and better.
A few more beers at the bar and the group started to move off. The bus that was supposed to leave at 5 left 40 minutes late, the one beer at the Wade turned into 2, with Ian chased down by the Bar Manager trying smuggle out his precious glass of Red wine.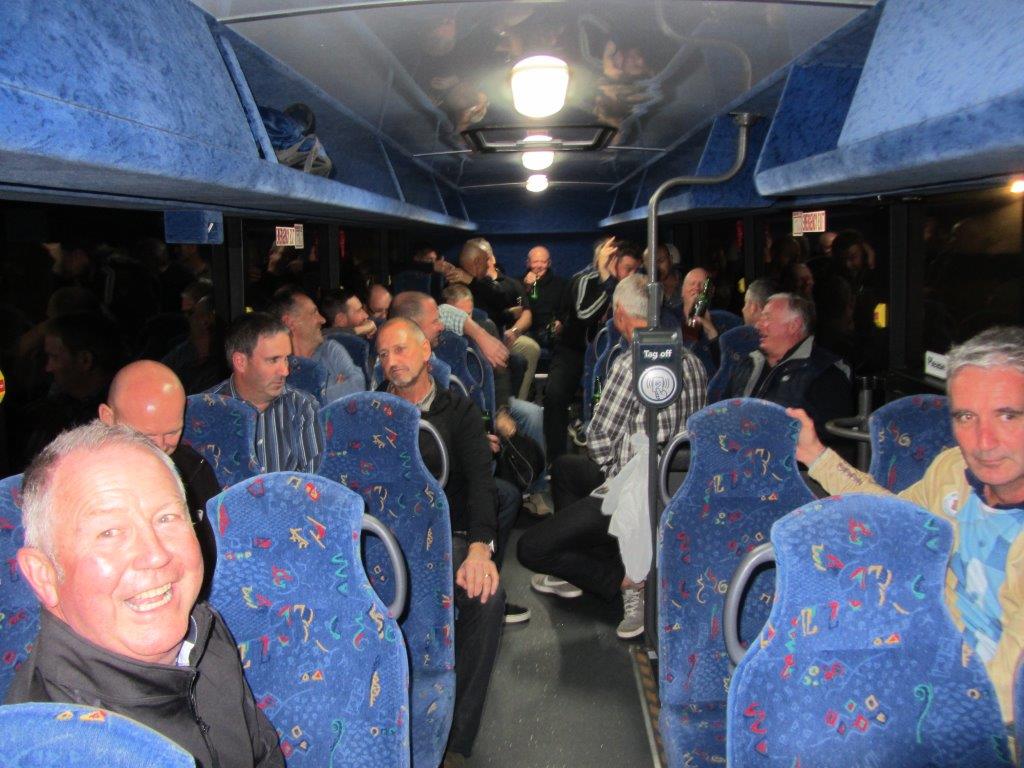 The Wade also saw confirmation of the November tour dates but I can¡¦t remember what they are. Onto the Poe and a little confusion with what was happening with clubs and an overzealous door man not allowing some into the Pats Garage took a bit of an edge of things. But a cool and collected Ferg used his Club Captain powers to smooth things over and we all ended up around the same table in the end. Great to see Kay there, JA¡¦s better half, the only partner brave enough to turn up and drink with the boys. Eventually we all moved to Taxis after talking one hell of a lot of Bull Shit¡K. But that¡¦s what it¡¦s all about. A Great Day guys, see you next month!

The El Presidente
Masters Monday 13th April 2015

One of the top 5 games to attend on the MWSS Calendar is Masters Monday.
We all woke up to the thought that this day in April was going to be a bit wet, but in the true tradition of the event, good numbers turned up to eat some breaky and watch the last holes of the Augusta challenge where Jordan Speith prevailed by quite a good margin.

Now it was our turn to wrap up warm and get into 18 holes of our own. Black and Green jackets to be contested, as well as all the other important trophies including some cash as always.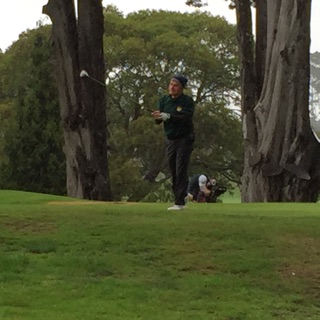 Some of our members decided that golf wasn¡¦t going to be the winner on the day and snuck off after the Masters had finished. ¡§You know who you are¡¨ just fess up and pay!! plus someone borrowed from the kitty to pay the club entry . ( names for your information only Slim/Granddad Tim Grey, Alex Sharp, Macca $5 from kitty to pay the club entry) Some of the crew didn¡¦t even make it to North Shore Golf Club at all, even though they had emailed their intention to play.(Craisey, plus) Fines will be forthcoming know doubt. (Chief, who ran the court session with distinction, will have the details of culprits and fines that were unanimously voted on. (Where a hard bunch sometimes)
(we voted that the fines for accepting the entry fee refund would be entry $20+$10=$30 and Macca+$10 lenders fee on the $5 he borrowed. El and Broomy got fined for absenteeism in short being in the sum while we were being drenched matching that of the deserters $30)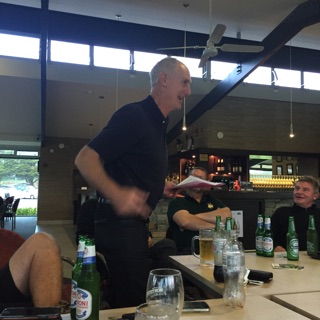 Anyhow the field that played only had to endure a couple of nasty weather holes, in fact the golf scoring was outstanding considering the average start to the round. slim won all the unwanted prixes , puuting like a pig played like a Shella and the Batting award , Hard day at work for the Big Man
Winners on the day were
Glugs Mug Grim
Bangers Shot Bangers
MWSS Plate Dowdie
MWSS Trop Birdy
Black Jacket Bangers
Green Jacket Birdy


Special mention to Bangers who scored a memorable 3 under 69. What an awesome round of golf.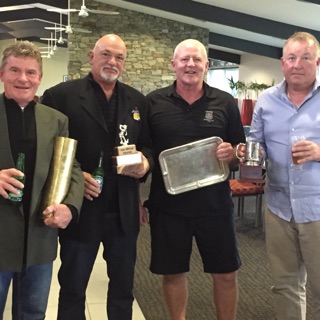 Not quite enough to take the money thanks to a 45 stabies from Ian (The Kauri Tree) Bird, with only 2 bottles of beer under the belt in no thanks to Bangers his partner, played like a true champ. Thought he was going to chin Grimmy at prize giving for being a little inconsiderate at prize giving. (And others)Enough said.
As always when the normal doesn¡¦t happen (The El Prez not there) someone steps up and this time it was 4 Door who played Club captain for the day and ran proceedings. It would be fear to say a Tellent discovered. He did so well, kept proceedings on track and entertained so well, that the El Prez is keen to utilise his skills at the Pro Am. But don¡¦t tell him may do a runner.
Once again a few beers and some laughs were had, which is what it¡¦s all about. A few hardies ended up at the New Brew. Pretty sure I saw at least one of the virgins there. Good day fellas, looking forward now to Gulf Harbour and the now famous ¡§bus trip¡¨

El Ferg

Aviation~ 12th March 2015
This was one of the smaller turnouts in recent times perhaps due to the proximity, no bus trip and the fact that the pot had been cleaned out at the previous encounter at South Head.
4 groups headed out and with same late scratchings this resulted in a couple of 3 balls. The usual suspects El Presidente, Ferg, Schooner, Dowdy, The Leonard brothers, PC plus some boys that are trying to make it a regular occurance, Muzza, Mike Martin and Steve Williams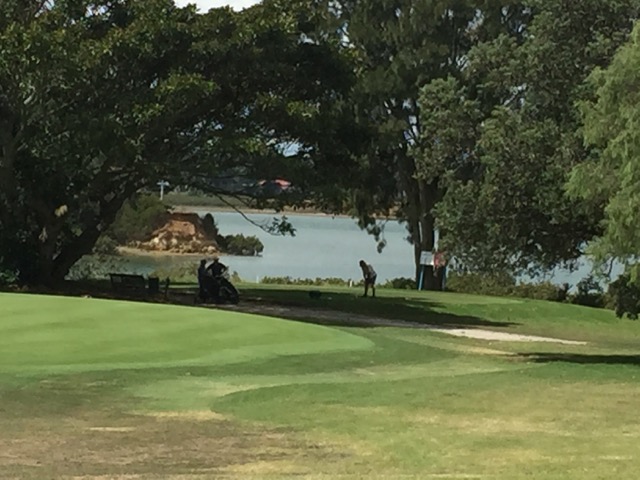 The first hole is always a bit interesting as it is quite a short par 5 but with an out of bounds down the left hand side. Once again the fine calibre of
MWSS golfer was shown up on this hole with a high percentage of golfers
reloading after only their first hit of the day.
I was fortunate enough to be paired up with PC, and Grim . Grim had not been to many MWSS in recent times but obviously the trip across the bridge enticed him to join the boys and bring his unique sense of humour to the game (As Birdie was to find out at the next outing, Masters Monday, please read next game report).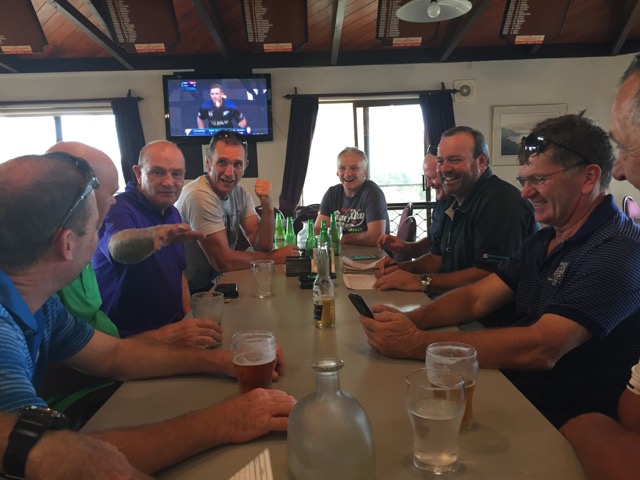 Whilst I¡¦d like to say I burned it up , any chance of a good score soon evaporated with the constant chatter of Grim reminding me what a great golfer I was, als it was fair to say from there some of that magic golf rubbed off on the rest of the group.
On return to the clubhouse for refreshments and prizegiving we came across a first at MWSS. A RUNNER had been done by one of the players. Yes
that¡¦s right Hone (Brother of the only man who has attempted a coup de tat
in MWSS ) had taken off ass a sore loser without paying his share. When his brother Ernie was approached to restore the family pride and honour the MWSS tradition of reaching into his pocket, he didn¡¦t want a bar of it, saying not my issue. The feeling around the table was it was a sad day for the Leonard family and how far the mighty had fallen.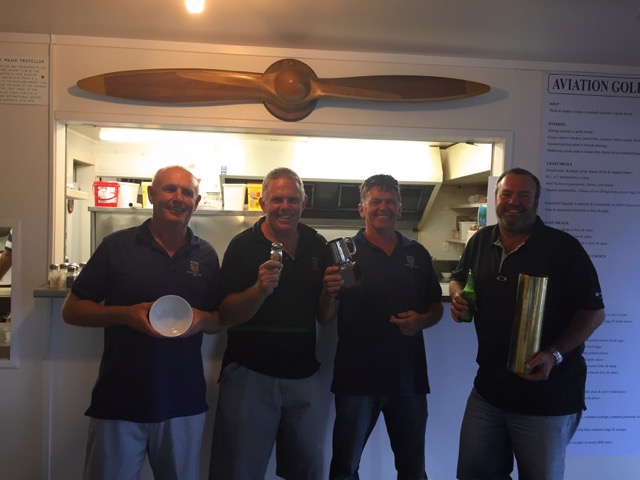 Overall some good scores were returned with Hatts winning the trophy with ¡K. Well earned points. Well done to Hatts as he had been out of the winners circle for some time. The winners for the day were as follows:
Trophy Hatts
Plate El Presidente
Glugs Mug Grim
Bangers Shot Ferg
Overall a fantastic day , some good laughs and some new lows by a certain family that we hope does not become a regular scene.
Broomy



South Head Golf Club ~ 20th February 2015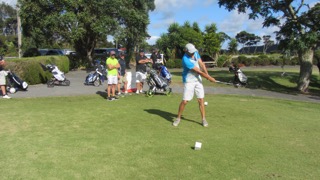 Great day to play golf but unfortunately we had only 11 on the bus out of 19, but as would be found out by those not on the bus, it comes with a price. The weather was great and it was great to catch up with everyone as we took the 50 minute ride out to the course. Being Aucklander¡¦s we couldn¡¦t quite get to the course without a stop for coffee which actually saw us arrive at the course 5 minutes before I believed I booked, but the starter said we were actually 25 minutes late ¡K bugger!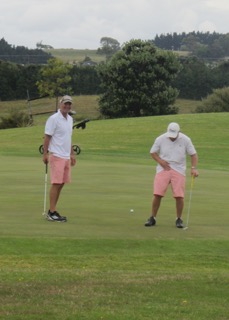 No problems though ¡K he pushed us through. The four balls made themselves up as people were ready, best laid plans of a draw out the door. But everyone seemed ok. Now for $20 you don¡¦t get better value when it comes to sport, that¡¦s less than $5 an hour on a great little course in excellent nick looking at a spectacular Kaiapara Harbour at full tide. The golf matched the day and the course with everyone coming in with 30 points and over and 5 bringing over 40 points.
No real stories from the golf as the fines master Ferg could attest to. Hard to pull the money in when everyone was well behaved and scoring well. Although I thought the 2 guys in ¡§Salmon¡¨ coloured pants got off lightly. To bolster the fines up those that came up in cars had to put there case before a jury of Ferg, Dowdy and Schooner on why ¡K although provided, the bus was not taken. Unfortunately their cases were weak and lacked any kind of inspired untruth, so they were all fined $20 that combined with fines money and the money that those on the bus paid, covered the bill for the bus.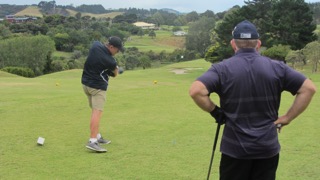 Now, talking of inspired untruths, two good stories from our virgins of the day Brett and Troy ¡K good detail, good embellishment and good stories all round. Welcome to MWSS guys!
Now as I said it was a good day for golf and even the back of the pack winner¡¦s scores weren¡¦t that bad on another day:
Fruit Boy Al picked up Putted like a pig 37 putts
2 Guns Phil picked up Batting award 97
Muzz / Murray Played like a Sheila 30 points
Definitely not embarrassing especially when you take their handicaps into consideration. But the real crunch was at the other end, not often you can hit 40 odd points and come away with nothing.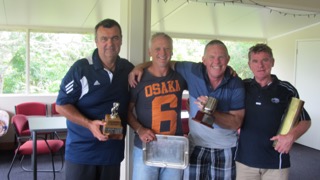 Hatts / Richard Glugs Mug 29 putts
Bangers of course Bangers Shot 73
Schooner MWSS Plate 40 points
Brett Collins (virgin) MWSS Trophy 41 points
Broomy who was in control of the score sheet had a battle to sort out the Plate and Trophy as he also sat on 41 points but lost on a count back so wasn¡¦t eligible for the plate. As wasn¡¦t Bangers who sat on 40 points and Schooner took it over Hatts who was also sitting on 40 points. What a mess to sort so well done Broomy.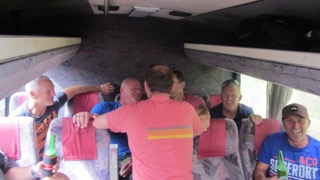 So history repeats itself at South Head ¡K a Virgin comes in takes out the money with Bangers and Broomy left holding nothing¡K that¡¦s golf at MWSS.
Brett was very hospitable at the bar and when we left a fair amount of beer had been dealt to before heading on the road.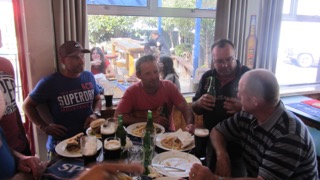 Two things to register about the trip back:
1: the Bus protocol in relation to the back seat and seniority is alive and well with Rat on the bus ¡K great to see!
2: a great place to watch NZ batting performance against England, the Kumeu Tavern while eating one of there famous works burgers.
Another game done!
Great Golf, Great Bus trip and Great Cricket ¡K what more can you ask for in an afternoon with the MWSS.
The El Presidente


Dunes Golf Club ~ 3rd January 2015
A good field turned up for the annual New Year¡¦s game again this year at the Dunes. Due to the course being upgraded for a Pro Am that unfortunately didn¡¦t go ahead ¡K it was in amazing shape.
24 starters with Ferg, Slim, Elvis and Grandad coming down from Auckland and Russ, Shanklinjohn and the Snake Master coming over from Whangamata and Macca and Boba from Tairua, shows great resolve for a bad game of golf and a beer.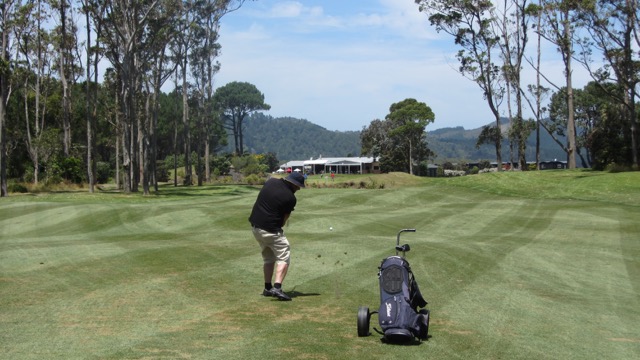 As I said the course was amazing and we were lucky enough to have the Superintendent make up the numbers. Neil Tombs is not bad at looking after the turf and also handy with a golf club. He was one of four Virgins on the day, the other 3 being Elvis, Burg and the Snake Master, who in real life are Scott Whitton, Peter Burgess and Martin Bell.
The course proved enjoyable but hard, averaging only 29 stabies. The field struggled with the greens being the equaliser with an average of 34 putts per player. Anyway ¡K enough of the stats, the Back of the Fielders were:
Putted like a Pig Burg
Batting award Zany
Played like a Sheila Dago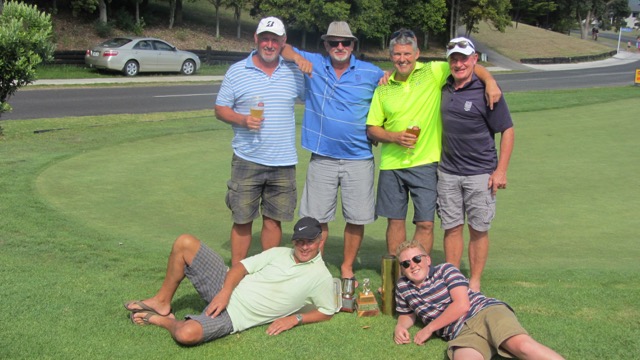 Can¡¦t have winners without losers:
To those winners the Inquiry siren sounded when all the prizes went to 2 players that where in the same 4 ball. Fortunately KP was also in the 4 ball and he is a man of ethics, we weren¡¦t to sure of the 4th being Crazy but the winners were:

Glugs Mug 27 putts Birdy
Plate 28 Stabies Birdy
Shot 75 Gross Bangers
Trophy 39 Stabies Bangers
Well done to the winners but sitting at the 19th on one of this summer¡¦s warmest days sipping a beer you couldn¡¦t help but feel that golf was secondary to catching up and enjoying the moment. Again we were joined by other family and friends and over a few more beers and pizzas the bad shots were forgotten.

A few of the guys where organised into billet¡¦s for the night, where others travelled back with sober drivers. There was talk of a certain tent being visited by the council¡¦s noise control when neighbours complained of their snoring but that would be telling. A great start to the year!

The El Presidente


UNDER CONSTRUCTION